5 Signs You're Wearing The Wrong Workout Clothes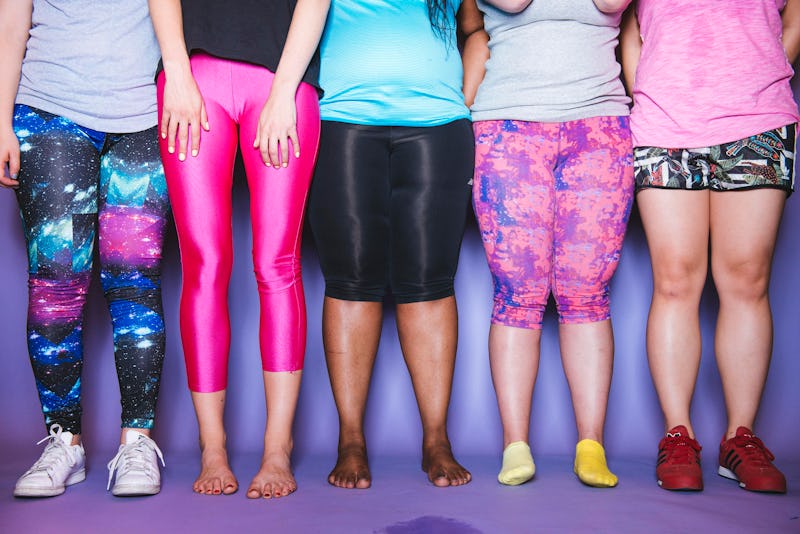 When you have a busy schedule, finding time to exercise can be tough. Understanding how to know if you're wearing the right workout clothes, and then actually doing the exercise, can be even tougher. But one thing that should never add extra stress to your workout is the clothes that you're wearing. So, how do you choose the best workout clothes for you?
It could be as simple as realizing when to replace your running shoes. Using sneaks that are too worn can be as annoying as wearing the wrong workout clothes, as they can cause you unexpected pain and injury after you've run in them too many times. To fix this issue, you'll need to replace them every 500 miles. Another next step to achieving your fitness goals with the help of great workout gear is to ditch your baggy workout clothes.
Baggy fits can weigh you down and keep you from paying attention to your form and posture during a spinning class or a squat workout. Instead, trade them in for pieces that are lightweight and form-fitting, like a pair of machine-washable compression shorts. They are often made of quick-dry materials that will keep your body cool (helping to reduce breakouts or chafing), and they'll stay in place with their comfortable stretchy fabrics.
1. Your Undies Trap Moisture Against the Skin, Which Can Cause Irritation
You're wearing your new active pants, and your first instinct is to wear a thong, so you won't have any awkward panty line moments while moving into a tree pose. While this can be a good idea for everyday use, you want to steer clear of underwear that isn't quick-dry and moisture-wicking. Otherwise, you could be creating a habitat ripe for irritation and even infection.
Breathable Micro-Mesh Panties Offer No-Show Coverage
These performance panties will be your personal lifesaver: They're lightweight, breathable, and keep infection-causing moisture out. This pair of active undies has flat lock seams, so they're totally no-show and will be invisible under pants of any fit. For extra comfort, the Climacool fabric also has an awesome 4-way stretch, too.
Tagless, Machine-Washable Undies Feature A Comfort Waistband
If you want a pair of lightweight undies to rock at the gym, look no further. This pair is soft and breathable and has a moisture control technology that keeps you dry. Plus, the tagless design will make a world of difference in your comfort when you're on the move.
2. You're Wearing Cotton Workout Clothes, Which Can Dry Too Slowly From Sweat And Cause Rashes
While it's definitely comfortable and can seem great for your pilates class, cotton absorbs moisture and is really slow to dry (aka, your sweat won't be disappearing until long after you step off of the mat). When your sweat sticks to your body, it can cause body breakouts and skin irritations. Stick to materials that evaporate sweat and keep it off of you, so you're cool, comfortable, and ready to kill it during your next workout.
Choose A Stylish Sweat-Wicking Top With Comfy Four-Way Stretch
This active top with cute strappy details will keep you cool while you break a sweat. It's made with Luxtreme fabric, a sweat-wicking material that has a four-way stretch for added comfort. As an added safety feature with a slight reflective detailing, you can wear this top during your next night jog. Plus, no sports bra needed — this performance top has a built-in supportive shelf bra.
And Pair It With Compression Fit Active Pants With Quick-Dry Climalite Fabric
These compression fit pants are easy to move in and are made with a Climalite fabric that sweeps sweat off of your skin to keep you dry faster than other active pants. They also have Techfit technology that supports muscles, so you're equipped for making the most of your workout. (Bonus: You'll also feel completely comfortable with the thick soft waistband at the top.)
Get Arch Support From Sweat-Wicking Performance Socks
When thinking about workout gear that is an absolute must, it can be easy to forget that having quick-dry socks can be a total game changer. These socks not only keep your feet cool with a double-dry technology, but they have extra arch support to keep your workout comfortable and free of strain. One user raves about these socks, saying, "They're very comfortable. Unlike other socks, these stay in place."
3. Your Running Shoes Are Worn Through & Cause Bursting Blisters, So Replace Them Every 500 Miles
Melissa Paris, a New York City-based personal trainer and a Lululemon ambassador, told Women's Health that runners should replace their sneakers every 500 miles — and way sooner if they run every day. What shoe should you pick next? Make sure to find a sneaker that is just as functional as it is fashionable — otherwise, a shoe low in proper support can lead to bursting blisters and other annoying skin issues.
Run In Seamless, Irritation-Free Sneakers With Gel And Foam Technology Cushioning
These running shoes have fuzeGEL technology that brings together foam and gel for a beautiful combination that keeps your feet comfortable and happy while you clock extra miles on the trails. If you've ever experienced frustrating irritation from the seams in your shoe's design, you won't get that with these seamless kicks. Plus, ASICS also uses high abrasion rubber, which is placed in just the right places to make your shoes hold up way longer.
Or Try Breathable Mesh Shoes That Support A Natural Stride
This pair of made-in-the-USA sneakers has technology that supports a natural stride to amp up your form and make running a breeze. They're also made with a lightweight, breathable mesh that keeps your feet cool during your toughest workouts, and a soft fabric lining that feels natural.
Or Go For Sneaks That Offer A Smooth Toe-To-Heel Transition
If you're not moving correctly from toe-to-heel, you'll be hurting areas like your knees or back in no time. These sneakers prevent that with a specific outsole design that makes that necessary movement easier and more natural to carry out. These sneakers also have a smart interior that makes your ride smoother and cushions your feet. One user raves about these sneakers, saying, "for the first time in my life, I can run over a mile without stopping because my toe doesn't hurt from the pressure of the front. Even after my whole workout, my feet don't hurt."
4. You're Wearing Oversized Pieces, Which Can Make It Tough to Work On Posture & Form
If you're not into wearing a skintight workout outfit, I'm with you. But, if you're pursuing an exercise like pilates or yoga (where understanding your body's form and alignment is crucial), it's worth it to level up to clothes that actually fit you.
Stick To A Moisture-Wicking Dri-Fit Half Zip To Stay Cool During Chilly Hikes
While your first instinct may be to throw on a big sweatshirt or a baggy fleece to stay warm during a chilly, early morning hike, stick with an active, form-fitting half zip. If you're a super-motivated exerciser, you'll appreciate the reflective element on this jacket for before-sun exercises, and as an added detail, the sleeves have thumbholes to keep your half zip in place as you move.
And Wear Machine-Washable Compression Shorts That Move With You
These tight-fitting compression shorts are moisture-wicking to keep you dry, and they have an elastic closure, which keeps them in place during your toughest workouts. These shorts are great for leg days when you're working on your dead lift or squat game and need to pay attention to your form. Bonus: These performance-ready shorts have a power mesh internal waistband that gives awesome support and an inside pocket to secure anything you need to take with you during your workout.
5. If Your Sports Bra Causes Chest Breakouts, Stick To A Compression Design That Wicks Away Sweat
If you're feeling uncomfortable in your sports bra, your whole workout can be thrown off. When choosing a good sports bra for your needs, make sure to find one that coincides with the types of movement you'll be doing, like a tight, compression design bra for sprint workouts. Also, always choose bras that have a quick-dry material to avoid chest breakouts and irritations.
Get Support From A Racerback Fit With A Double Layer of Cups
This is definitely not your average sports bra, as it's made with a stretchy, moisture-wicking microfiber blend and has double-layer unlined cups to give you comfortable support. As a back up, this bra has a thick band underneath to keep everything in place. While many sports bras have uncomfortable back closures, this one simply stretches and slips right over your head, so you can forget you're even wearing one. (Pro Tip: One user recommends ordering your true size for maximum support and sizing up for more moderate activity.)
Or Find A Full-Support Bra With Mesh Paneling For Breathable Comfort
If you have a larger cup size, it's vital that you're getting the support you need while working out. This full-support bra by Champion is made with a breathable mesh panel at the front to keep you cool and chafe-free, and it has gel-infused adjustable straps at the shoulders, which results in the most comfortable bra you'll have in your drawer. Inside, the molder cups will give you great shape and the perfect amount of support to keep up with your exercise routine.
Bustle may receive a portion of sales from products purchased from this article, which was created independently from Bustle's editorial and sales departments.
Images: Bustle (1); Amazon (12)