5 Common Signs You're Using the Wrong Hair Tools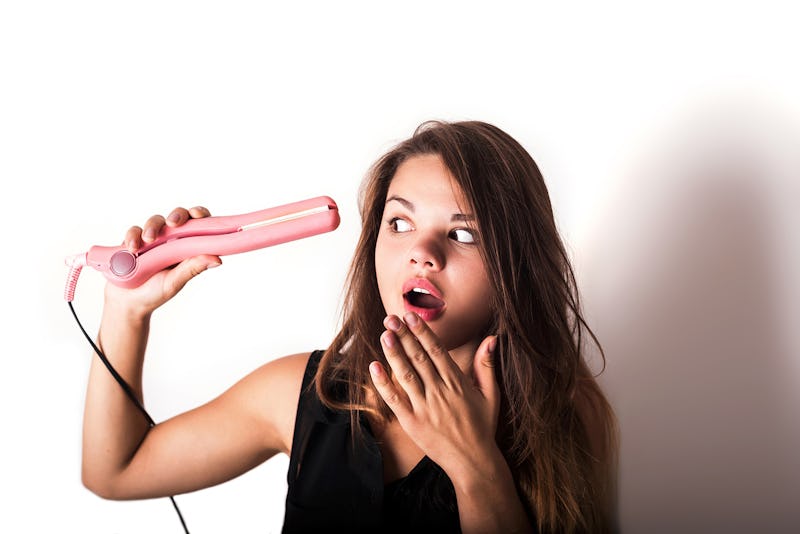 Despite my lack of styling skills, having the best hair tools for every style I like to do has saved me on multiple occasions and made doing my hair a little less complicated. If you want the tools that make hair styling easy, too, you should first familiarize yourself with the common signs that you're using the wrong tools to style your hair. Some of them aren't obvious and can be totally hard to realize — like knowing that there are tools that combine several steps into just one time-saver.
What's this magic hair styling tool? It's a heated brush that straightens and smooths while it detangles your hair (without any frizz). Another hair problem solved by the right tools is a lackluster blow drying session. After reading on, you'll learn the most helpful attachments for meeting your hair type's specific needs, in order for your style to come out the way you'd like. (For example, a curl shaping diffuser will take your natural texture and amp it up to create great body and a near-perfect curl.) Want to know the other ways you tell you're using the wrong hair tools? Ahead, nine best hair tools for every style (and how to tell when yours aren't quite measuring up!).
1. You're Using One Brush For Everything
If Your Hair's Wet, Use a Damage-Free Detangling Brush Made for Showering
When your hair is wet it's in a fragile state, which makes brushing through it with any brush risky because it creates stress and tension and can split and tear out strands. By using a special wet brush, you can move through your hair with ease and loosen any pesky knots that are stuck in your hair. It can be used on any hair type and can even be used to glide through dry hair, too. Bonus: This brush won't cause excess frizz in your strands.
If Your Hair's Thick, Glide Through Hair With A Handmade Comb
Perfect for thick or coarse hair, this handmade comb contains a faux tortoiseshell that runs smoothly against your strands and makes even the worst tangles a breeze to work through. When using a comb like this, you'll notice your scalp won't become as irritated from continuous tugging and snagging, and it will result in way less frizz and breakage. Several users rave about this comb, and specifically call out its ease when working through thick hair.
If Your Hair's Thin, Create Natural-Looking Volume With A Triple Layer Teasing Comb
If your hair is more on the fine side and lacks the volume you want, you need the specific comb that solves your unique hair woes. This teasing comb has three rows of teeth that create three times the amount of volume as others similar to it. It's also great for backcombing or sectioning fine hair. One user praised this comb, saying, "This is the best comb I've ever used, and that's quite a statement. I've literally tried them all."
2. Your Curls Aren't Holding Past The Afternoon
Keep Your Style Longer By Using A Professional Set Of Rollers
Taking extra time to lock curls into your strands with a set of heated rollers can give you confidence that your style will hold all day and night. This professional set of 20 rollers has a fast heat-up time and comes with metal color coded clips to help you style easier. One user gave it five stars for working wonders on her thin hair, saying, "I have fine hair, and these rollers are great for giving it body and volume for that blown-out look."
3. Your Hot Tools Are Causing Damage, Instead of Protecting Hair
If You Wear Your Hair Straight, Smooth Hair With Moisture-Trapping Ceramic Tourmaline Plates
This straightener protects hair and keeps it as healthy as possible after a straightening sesh. To do this, it uses ceramic tourmaline plates and infrared heat technology that decreases frizz and helps hair maintain moisture as it becomes smooth. Bonus: This quick-to-heat flat iron comes with a travel size argan oil leave-in hair treatment that gives your hair a healthy shine.
If You Wear Your Hair Wavy & Curly, Create Twists With A Lightweight Ceramic Wand
Curling wands can be one of the most effortless options when choosing a curly hair tool. They're free of clips, which results in less damage to hair and less creases. The ceramic technology in this gold hot wand creates a smooth finish, and if you always forget to shut off your hot tools, you can save yourself stress with this wand's 60-minute automatic shut-off feature. One user gave it five stars, saying, "I tried this iron in a last effort to see if I could ever have curly hair." After using it once, this reviewer said the curl was still going strong two days later.
4. Your Blow Dryer Isn't Cutting It, And You Don't Have Attachments
If You Dry Your Hair Curly Or Wavy, Try A Texture-Supporting Diffuser That Defrizzes
This diffuser attachment locks right into your blow dryer to help you create a natural curl that's full of volume. It defrizzes as it scrunches your hair, shaping each strand. When you're done, this helpful attachment collapses for easy storing, too.
If You Dry Your Hair Straight, Add A Comb Attachment For A Smoother Dry
This snap-on attachment combines a nozzle with a gentle comb to concentrate air downwards and work through strands while they dry to result in a frizz-free and super smooth look. Plus, the round tips on the comb won't irritate your scalp and cause annoying flakes.
5. Your Hair Takes Forever To Dry & Style, So Streamline Styling WIth 2-in-1 Hair Brush
If you're always rushing around the morning and can't find time (or energy) to dry and brush your hair to style it, this heated hair brush will definitely come in handy. It has soft, thick bristles that easily glide through any hair type and detangle any knots without causing damage. Say goodbye to the intense arm workouts (am I right?) and frustration that come from trying to hold up a blow dryer and brush to dry and style.
Bustle may receive a portion of sales from products purchased from this article, which was created independently from Bustle's editorial and sales departments.
Images: Fotolia (1); Amazon (9)