13 Plus Size Summer Styles For Your Inner Goth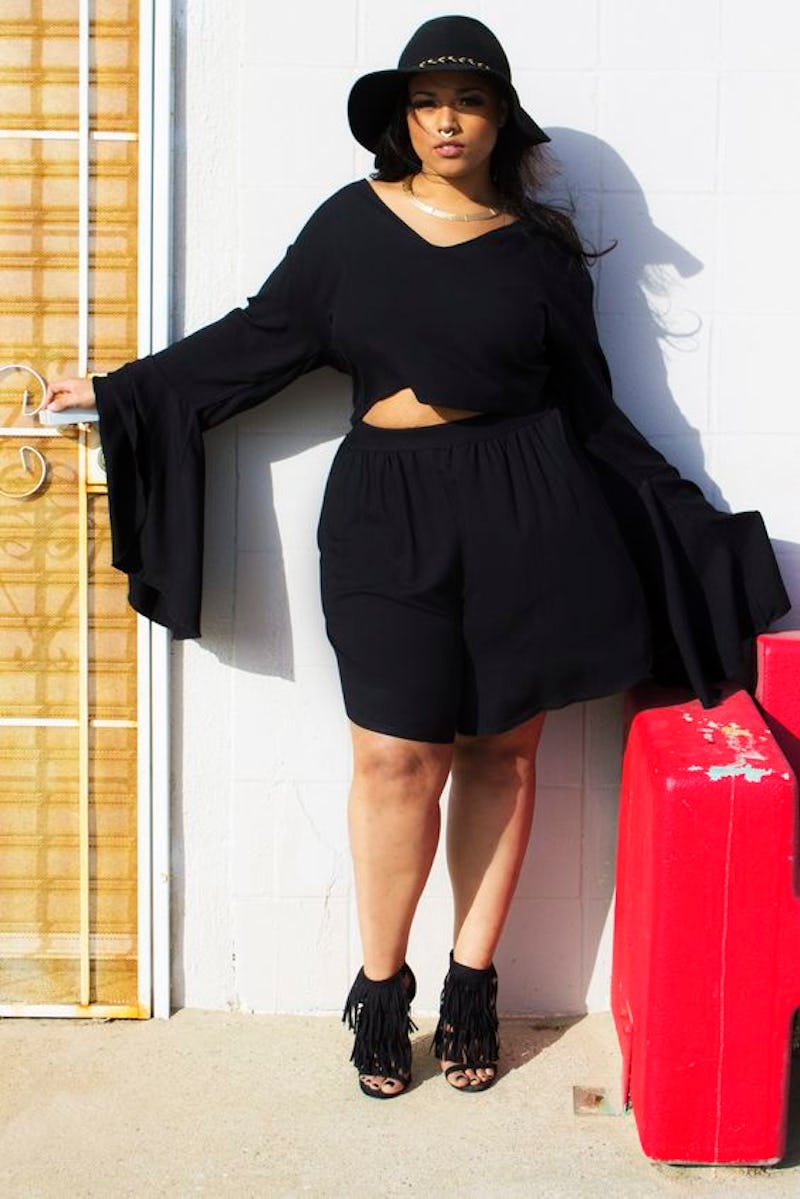 For many, summer style means brighter colors and lighter looks, but for those with darker sensibilities, gothic plus size summer fashion is just starting to heat up. When you're committed to wearing all black, no matter the temperature, summer can be a bit of a challenge. Airy cotton sundresses just won't do, but heavy layers and dark hues can get a bit uncomfortable in warmer climates.
Luckily, there are plenty of options out there for gothic plus size fashionistas, whether your look skews towards dark Victorian romance or edgy modern glam. After all, what better time than summer to pull out all your barest bodysuits and strappy crops tops? While it might be a bit too warm to wear your favorite velvet maxi dress or leather leggings, breathable mesh and sexy cut-outs should help make your favorite dramatic silhouettes more comfortable during the hottest months of the year.
So go ahead, embrace your dark side with designs that are sure to stand out in a sea of pastel sundresses and sweet floral prints. With so many great, edgy options available in plus size summer styles, there's no reason to give up the looks you love. Check out these 13 sexy, goth-approved designs for warm weather style that's anything but standard.
1. Dangerous Lengths
Boleyn Dress, Sizes 1X - 5X, $95, Chubby Cartwheels
When a little black isn't nearly enough, this sheer mesh maxi will have you covered. Wear it as an edgy swimsuit cover-up, or pair with your favorite bodysuit for a super sexy going-out look.
2. Cool Crop
Brody Bralette Crop, Sizes 1X - 3X, $72, Youtheary Khmer
For an easy look that's never boring, this cut-out crop top is simple perfection. Pair it with leggings for the ultimate glamorous lounge look, or wear it with a black pencil skirt for a bold take on summer minimalism.
3. Edgy Essentials
Snap Button Cutout Tank Top, Sizes 00X - 5X, $24.90, Lovesick
Stay cool this summer in a take on the tank top that's anything but basic. The light rayon knit is perfect for sunny days when you want to let out your inner witch.
4. The Short List
Warning Lace Shorts, Sizes 14 - 24, $54, Carmakoma
If faded denim cut-offs aren't your style, try these lined lace beauties on for size. Long enough to bring a little edge to a work wardrobe, but stylish enough for an evening out, these just might become your new summer essentials.
5. Simply Sexy
The Kelly Maxi Skirt, Sizes XXS - 6X, $40, Smart Glamour
For those busy days when you just need to throw on something easy and go, this maxi skirt will bring all the effortless, sexy style you need. And it's available in sizes up to a 6X, with additional custom options.
6. Something Up Your Sleeve
Siren Top, Sizes 1X - 3X, $42, Zelie For She
Stay cool without losing the drama in this breathable, bell-sleeve top that will have you slaying all summer long. The cropped length is perfect for showing a little skin, and the soft V-neckline is just begging to be accessorized with a bold pendant or choker.
7. Show Off
Jazz Lace Crop Top, Sizes 1X - 3X, $89, Youtheary Khmer
If you love to incorporate lingerie into your look, this sheer lace box top is a great choice for showing off a sexy bralette. Who said romance had to be sweet?
8. All In One
Tina High-Low Jumpsuit, Sizes 1X - 3X, $138, Monif C.
When it's too hot to bother with mixing and matching layers, this daring jumpsuit design will help you maintain your signature style with ease. With a tailored bodice and wide, cut-away legs, the Tina packs a whole lot of glamour into one piece.
9. Not-So-Basic Bodysuit
Club Lounge Cold Shoulder Bodysuit, Sizes 14 - 24, $33, ASOS
Add a versatile basic with an edgy attitude to your wardrobe this season. This ribbed, cold-shoulder bodysuit is the perfect foundation layer for dozens of sexy outfit options.
10. Don't Cage Me In
The Onyx Caged Maxi Romper, Sizes S - 5X, $58, Rebdolls
There's a lot going on with this bold romper design, and it's all amazing. From the cage detail neckline to the layered shorts and maxi skirt bottom, this is a look that will have you feeling cool and looking hot, no matter what weather summer throws at you.
11. Siren Song
N'Kechi Dress, Sizes S - 3X, $98, Rue 107
Look your most irresistible in this gilded black frock with voluminous, lace mermaid sleeves. The off-the-shoulder neckline keeps this dark summer style right on trend.
12. Bold Balance
Crop Lace-Up Top, Sizes 14 - 24, $49, City Chic
Balance a high neck with a cropped length in this sexy lace-up top from City Chic. This sleeveless style is gothic summer style at its best.
13. All Tied Up
Three Way Tie Dress, Sizes 1X - 3X, $119, Yona New York
Work a little fashion alchemy with one versatile dress that can become three. After all, who doesn't love having more options?
This summer, let your edgy style shine with a statement-making wardrobe in your favorite midnight hue. These 13 dark and daring designs will help you work your magic all season long.
Images: Courtesy Brands