12 Necessary T-Shirts For Every Badass Woman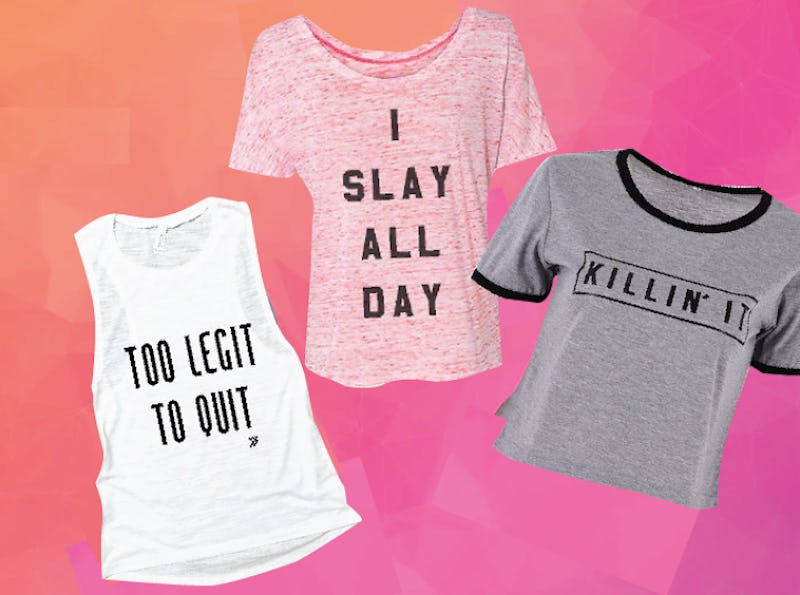 If sarcasm is your best friend (it's mine) and you're a bit sassy, you're already showing off the inner rebel in you. Take it a step further by rocking a sarcastic, angsty shirt that tells it how it really is. A witty shirt is an awesome way to show everyone just what you're thinking without having to go the extra step of actually saying it.
I've found that slogan shirts with hilarious sayings are a great way to make a statement without someone misinterpreting your sassy tone. (Hey, a little bit of attitude never hurt anyone). Personally, I'm all about the sarcasm. I probably take it too far from time to time, but as I say, it's all a part of my charm (insert smirking emoji here).
The next time you get dressed in the morning, give everyone a piece of your mind with an attitude-filled sarcastic shirt that says what everyone was thinking anyway. If anything, you'll at least be rocking a great conversation piece shirt that will be sure to turn heads the next time you find yourself walking down the street.
1. You're Killin' It
Top Letter Printed Tee (Sizes S-XL), $5, Amazon
You're killing it and you're not afraid to tell the world (#humblebrag).
2. You Do What You Want
I Do What I Want Tee (Sizes S-XL) , $32, Amazon
Just in case your general demeanor was unclear, there's this slogan shirt to let the world know exactly what you're up to.
3. Not You
Kid Dangerous Not You Tank (Size L) , $32, Amazon
Let your shirt do the talking (hopefully everyone who runs into you has a sense of humor). The super soft racerback tank is the perfect addition to any sassy girl's wardrobe, and it's pretty clear you've got no time for time wasters.
4. Stay Tough
Tough Cookie Starbucks Parody (Sizes S-XL), $16, Amazon
Whether you're heading off to a workout or just want a visual reminder of your own fierceness, this tough parody on the Starbucks logo has you covered.
5. Set The Bar
'I Set The Barre' Muscle Tank (Sizes S-XL), $17, Amazon
You set the bar for everyone else, and you also happen to kill it in the studio. This tank is making all the right moves.
6. Slay All Day
You slay all day long, and you've even got the flowy shirt to prove it. Really identify with the message? Snap it up in eight more colors for every day of the week — and then some.
7. Sorry I'm Not Sorry
Kid Dangers Sorry Not Sorry Tank (Size S-L) , $32, Amazon
How many times have you uttered the words, "Sorry, I'm not sorry?" I know I've said it before (or at least thought it). This witty tee is perfect for those unapologetic moments, as the checked box says it all.
8. Hustle
Hustle Hand Screened Tank Top (Sizes L-2XL) , $27, Amazon
You're not afraid to get to work, but sometimes wearing a word of encouragement gives you the mental push you need.
9. Too Legit To Quit
Too Legit To Quit Muscle Tank (Sizes L-2XL), $27, Amazon
You don't give up without putting up a fight, and this soft tank will be that reminder when you're facing the particularly tough challenges in life.
10. Until You Own It
Dream It And Work It (Sizes XS-XL), $30, Amazon
Queen Bey is rarely wrong, and this shirt is about to be your new best friend.
11. I'm Not Your Bae
Human Not Your Bae (Size S-XXL) , $29, Amazon
You've probably found yourself having to fend someone off that you're not interested in at least once in your life. You also probably wish that you had this tank on when that was happening. It's a great way to paint a picture to a creeper that, "No, I'm not your bae." The printed sweetheart tank will either spark a great conversation with a funny person or help repel the weirdos.
12. Okay, Bye.
Kid Dangerous BYE Sweatshirt (Size S-M) , $40, Amazon
Do you ever want to tell someone "BYE," and then just walk away? If you're not nodding your head yes, then I think you must be forgetting it happening. For those days where you just can't be bothered and don't want anyone to approach you, throw on this crewneck sweatshirt. It totally gets the message across to everyone (there is really no room for interpretation here).
Bustle may receive a portion of sales from products purchased from this article, which was created independently from Bustle's editorial and sales departments.
Images: Pexels (1); Amazon (12)