The Kylie Cosmetics Birthday Restock Date Is Here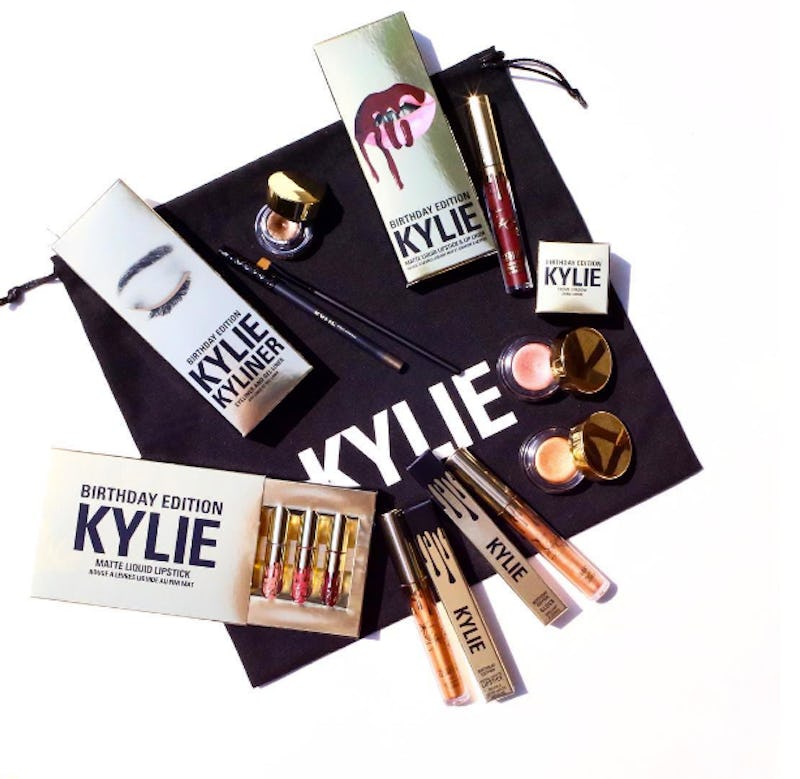 In case you missed the news, the Kylie Cosmetics Birthday Collection basically broke the internet Monday when it launched. Jenner announced the birthday collection Sunday, and it's full of all new products including the brand new Kyliner eyeliner kit and creme eyeshadows, along with a bunch of other fun stuff. Some of the new products predictably sold out super quickly, which of course left fans wondering when the Kylie Cosmetics' Birthday Collection will restock. Well good news fans, the restock is coming in a few short days.
That's right, disappointed fans. The restock is coming super soon. According to an Instagram on the Kylie Cosmetics page, the restock of the Birthday Collection will happen this Thursday, Aug. 4 at 1 p.m. PST. It's super soon, right? And if you were like me and couldn't make it to the kyliecosmetics.com checkout today before the birthday collection immediately sold out, set those alarms now for the restock. I mean, with all those amazing new products hitting the market for the first time, people are dying to get their hands on the latest offerings. I know I am.
As usual, Jenner and her team have been super good about updating fans about the next restock. This one came almost immediately after the sellout.
According to her Snapchat, Jenner said 300,000 people visited her site when the Birthday Collection first launched Monday, which was a new record for the brand. Crazy, right? And considering every single product is currently sold out, fans are going to be super pumped about this. And Jenner's message to her fans on her personal Instagram was super sweet:
SOLD OUT!!! Wow we had a crazy amount of people on the website today did not expect this! Thank you for all the love it inspires me and motivates me to always do the best I can for you guys and continue to come out with the coolest and best quality makeup! Don't worry if you missed out we will be back this THURSDAY at 1pm.
Jenner clearly cares a ton about her fans and their experience with her cosmetics company, and this restock will clearly make them pumped.
I'm right there with them. Set those alarms now, fans!
Image: @kyliecosmetics/Instagram