Kendall's DIFF Sunnies Give Back To Charity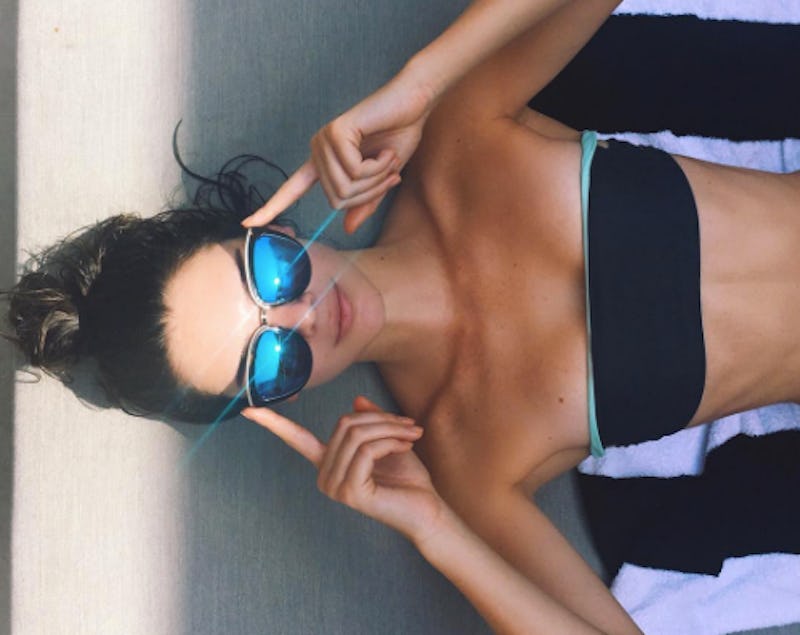 Summer might be slowly coming to an end, but a great pair of shades lasts through any season. And no one knows that fact to be true more than the Kardashian-Jenners, which is what makes this partnership perfect. Kendall Jenner teamed up with DIFF Eyewear to make you feel even better about buying a new pair of sunglasses. Because who doesn't want to look and feel great all at the same time?
If you're looking for a sign to invest in a new pair of sunnies, then this is it. According to Jenner's Instagram post about the partnership, she's joined fashionable forces with DIFF Eyewear to spread the love and give to those in need. The company already has a one-for-one policy, meaning that they give a pair of glasses for every pair the sell. Well, for just 24 hours only, they're doubling all their donations thanks to Jenner.
That means for $50 to $75, you can get a trendy pair of sunnies and give two pairs to others. Does it get much better than that? I think not. Like I said before, this sale will only last for 24 hours though, so you'll want to act fast. With seven different styles in tons of colors, this is one shopping opportunity that you won't want to miss.
Whether you're loving the pair that Jenner's sporting or looking for a different style, there's honestly no better time to shop. DIFF has everything from classic to a little quirky. Here are some of the most popular styles, so you can shop accordingly. But don't think it just ends here, each style has tons of different frame and lens options.
Rose Matte Black Blue Mirror, $85, Diff Eyewear
If you're looking for an exact replica of Jenner's shades, then these are the ones for you.
Cruz Gold Frame Grey Lens, $75, Diff Eyewear
These are a tad bit more classic, but still just as stylish.
Dime Black/White Frame Grey Lens, $60, Diff Eyewear
Or maybe you're looking for something to stand out.
Dime II Wild And Free Clear Frames, $75, Diff Eyewear
Does it get any more modern than this? I think not.
Kota Motley Frame, $50, Diff Eyewear
These funky shades are just as classic as they are quirky.
Riley Black Frame, $60, Diff Eyewear
Because summer isn't over yet, people!
Milo Tortoise Frame, $75, Diff Eyewear
These could easily be worn throughout the fall as well.
There's never been a better time to shop!
Images: KendallJenner/Instagram (1), diffeyewear.com (7)