7 Kylie Cosmetics Poppin' Gloss Dupes To Shop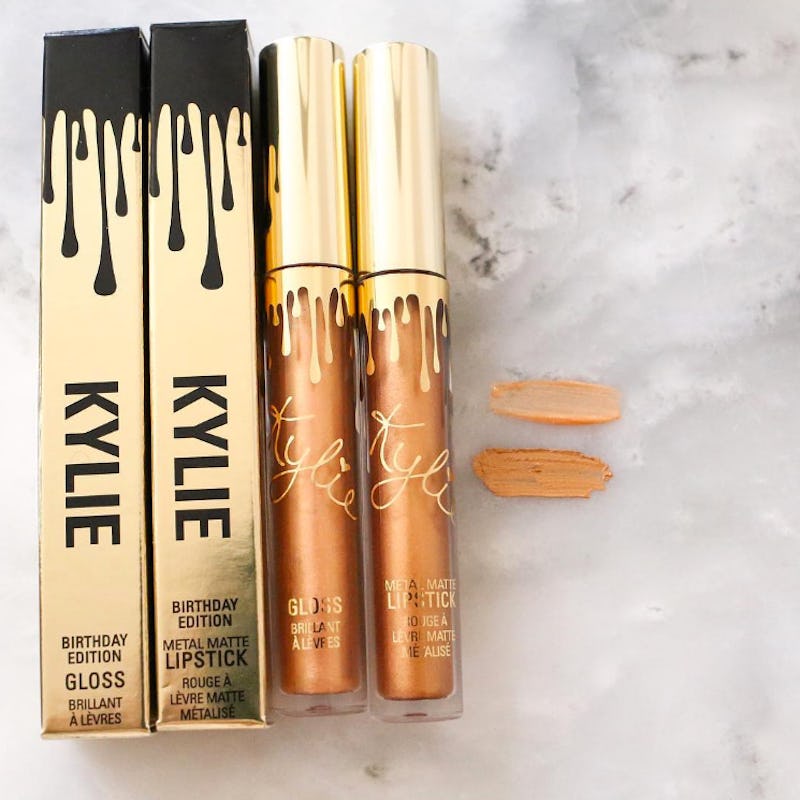 Lip gloss is back, baby. The ultra wet and sweet girly look has returned from the early 2000s, after being sandwiched by the '90s era of matte lipstick the latest obsession with even drier formulas. Kylie Jenner has revived the lipgloss love with her latest shade, and if you want more of that good gold lippie, shop these seven Poppin' Gloss alternatives that are just as golden.
Jenner released Kylie Cosmetics' Birthday Collectionon Monday, a $195 haul of gold-drenched cosmetic products. She included new matte metallic and regular liquid lipstick shades, matte and cream eyeshadows, and even an eyeliner kit called Kyliner (see what she did there?). Things are only getting bigger and better for Kylie Cosmetics, and their new golden lipgloss called Poppin' is one of the most innovative products to date.
Poppin' is a shimmering gold gloss with a wet, shiny finish that is perfect alone or mixed with other glosses or even lipsticks. It's bright without looking weird, so this is surprisingly wearable for all kinds of occasions. It retails for $16 and is only on sale (as far as I know) until Jenner's birthday on August 10 on kyliecosmetics.com. After that, we can only hope she keeps it in her collection.
Kylie Cosmetics Poppin' Gloss, $16, Kyliecosmetics
If not, no worries. Here are a few of my favorite golden alternatives.
Yves Saint Laurent Gloss in Gold, $32, Amazon
It's a lot more money, yes, but a lot more available! Snag this dupe before someone else does.
Bobbi Brown High Shimmer Gloss in Canary, $25, sephora
Mix a golden gloss with a deeper shade for some shine.
Hourglass Extreme Sheen High Shine Lip Gloss in Imagine, $28, Amazon
This one's described as a metallic warm gold with a shimmer finish.
Dolce & Gabbana Lipgloss in Gold, $32, sephora
Of course this isn't formulated with real gold like Kylie's, but it's such a close dupe no one would know the difference!
Covergirl Lip Lava in Lava Glow, $4, Amazon
For just $4 you can steal Kylie's golden look from the drugstore! This has such a pretty golden glitter to it.
NYX Glam Lip Gloss In Stone Foxy, $6, Amazon
Play up the warm gold tones in this gloss by priming your lips with a warm nude.
7. Kardashian Beauty Lip Plumping Shimmer Gloss in Queen Bee
Kardashian Beauty Lip Plumping Shimmer Gloss in Queen Bee, $10, Ulta
This formula is hands down one of my all-time favorite glosses. It shimmers and smells like honey, all while tingling your lips while it plumps.
Image: Kylie Cosmetics/Instagram