11 Ways To Waterproof Your Makeup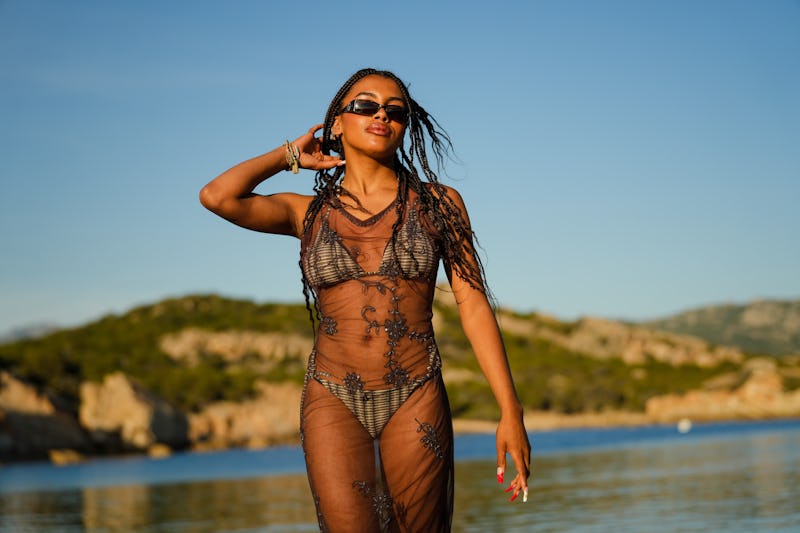 Edward Berthelot/Getty Images Entertainment/Getty Images
If you've spent all summer trying to figure out how to waterproof your makeup, but still haven't found the solution, don't lose hope just yet. Beauty insiders and professionals are revealing their favorite tips and products to help keep makeup fresh and intact in any season. Hot weather may be ruthless when it comes to makeup — hello sweat, humidity, and general mugginess — but with the following tips, you'll hopefully be able to avoid looking like you're, well, melting.
As someone who wears a full face in the summer, trying to apply makeup to withstand all the harsh elements of the season is like trying to find a pot of gold at the end of the rainbow: Tiring, discouraging, and dang near impossible. Trust me when I say that I've had my fair share of melty-summer-face to know that such is the case.
But according to some beauty professionals and industry pros I spoke to, wearing makeup in the summer might not be as hard as we think. In fact, the advice they passed along via email regarding how to waterproof makeup is actually all about easy swaps and additions that'll ensure our made-up visages last through any kind of harsh summer weather.
So without further ado, here are 11 tips for waterproofing your makeup, as recommended by the beauty pros themselves.
1. Lighten Up
Garnier Miracle Skin Perfector Anti-Aging BB Cream , $11, Amazon
If you've been wearing the same makeup since the start of the year, that might be your biggest problem. New York dermatologic surgeon and RealSelf contributor Dr. Sejal Shah recommends lightening up your makeup routine in the summertime when the weather is harsher.
Switching out the foundation you've been using since winter might feel weird, but Shah tells me that "less is more when it comes to makeup, so try to use as little as possible." Swap out heavy foundations and concealers for lighter, breathable products like tinted moisturizer or BB cream that will last longer in the heat.
2. Swap Powders For Stains
The Body Shop Lip & Cheek Stain , $14, Amazon
It's no coincidence that your powder makeup looks streaky and unnatural after a long day in the seasonal heat. Shah recommends either going light on the powder (a thin dusting will avoid looking cakey in heat and humidity) or switching to stain products. For example, you can work a stain blush into your skin so that it's not just sitting on your face, waiting for the weather to ruin it.
3. Look For Multitasking Products
Stila Stay All Day Waterproof Brow Color , $21, Amazon
Opting for waterproof products in the summer will ensure long-lasting makeup. But waterproof beauty items that are also conditioning and guarantee no smudging? Those are what you want in any season, according to Stila Cosmetics' Global Executive Director of Creative Artistry Sarah Lucero.
Using a product like Stila's Stay All Day Waterproof Brow Color will not only keep your eyebrows on fleek in the dead of summer, but will also "condition brow follicles upon application and boast all day wear without smudging or running," Lucero tells me.
4. And Waterproof Ones
Stila Stay All Day Waterproof Liquid Eye Liner , $22, Amazon
Let's be real here: Most of makeup's issue with nature has to do with water. Whether it's rain, humid moisture, or even sweat, cosmetics don't always make it out alive (especially when those three things happen at the same time during the summer season).
But something like Stila's Stay All Day Waterproof Liquid Liner should really, well, stay on all day long. "It glides on super smooth, lasts all day, and never smudges." Now that's the kind of success you want from a waterproof makeup item.
5. Use Primer
L'Oreal Magic Lumi Primer , $11, Amazon
If you're not using primer already, you kind of should be. Shah says, "Use a primer to hold your makeup in place."
If that's not a good enough reason to add one more step to your beauty routine, then I don't know what is.
6. Use Primer With SPF
Murad Invisiblur Perfecting Shield Broad Spectrum SPF 30 , $65, Sephora
If you want to take it one step further, opt for a primer with SPF. Celebrity makeup artist Jennifer Hanching recommends the Murad Invisiblur Perfecting Shield SPF 30 for its ability to act as a perfecting, smoothing primer with the added benefit of sun protection.
Hanching tells me that it "does not change the foundation and it acts as a mattifier as well so I can cancel out a step of using a mattifying primer." With this on your skin, you not only ensure a long-lasting base, but also get that added SPF protection your skin needs in the summer.
7. Layer Your Mascara
Benefit Cosmetics BADgal Waterproof Mascara , $19, Ulta
Layering makeup in the summer might sound tempting. Double the product strength to defeat double the heat, right? But when it comes to waterproof mascara, Shah says it's important to be weary of the product's drying formula, as well as the fact that it often requires lots of rough rubbing and tugging on the sensitive eye area in order to remove.
"One way to protect your lashes is to use a non-waterproof mascara first, then follow it with the waterproof mascara [so] the first layer acts as a buffer," she tells me. This way, you can layer to make your lashes last longer without having a tough time with them come makeup removal.
8. Opt For Oil-Free Products
Clinique Stay-Matte Oil-Free Makeup , $24, Sephora
In order to get a base that's truly clean and ready to work long-lasting makeup into, consider avoiding moisturizers and other skincare products with oils in them, Shah says. Using an oil-free formula during the summer will keep skin hydrated and prep it for your cosmetics without contributing extra oil that will inevitably show through your powder and foundation.
9. Blot When Necessary
Clean & Clear Oil Absorbing Sheets, 50 Count , $6, Amazon
Having shiny skin is one of the biggest consequences of summer weather (I know this firsthand). But how do you treat it? Shah says the answer is simple and cheap: "Use blotting papers to eliminate shine in seconds." If you need a quick fix, many people also swear by industrial toilet seat covers for excess blotting.
10. Avoid Too Much Luminescence
NYX Cosmetics Born to Glow Liquid Illuminator (variety pack) , $16, Amazon
You might by trying to get your highlight on fleek, but Dr. Shah says to "avoid anything that is too luminescent." Products with light-enhancing capabilities may lure you in, but remember that when they're mixed with oil and shine, your look can go south real fast.
"A hint of glow is perfect, but anything [with] too much shimmer will make you look shinier," Shah adds. Since most of us are trying to avoid the effects of summer makeup, it might be best to take it easy on the shine.
11. Take Care With Removal
Desert Essence Organic Jojoba Oil , $9, Amazon
Just because the weather isn't cooperating with your full face look doesn't mean you can get rough with your makeup removal. Shah says those hard-to-remove waterproof products won't make it easy, either, so carefully removing makeup becomes much more important.
"Make sure you are removing your makeup adequately at the end of the day, especially anything waterproof or long-lasting." She recommends using something oily to remove waterproof mascara or other items of its kind, which will also condition your lashes and skin.
Fall may be just around the corner. But at least with these professional and industry insider tips, you can make the most of your makeup at any season. So blot, prime, and waterproof away.
Images: Edward Berthelot/Getty Images Entertainment/Getty Images; Courtesy Brands