The Better Together Kat Von D Shadows Are Amazing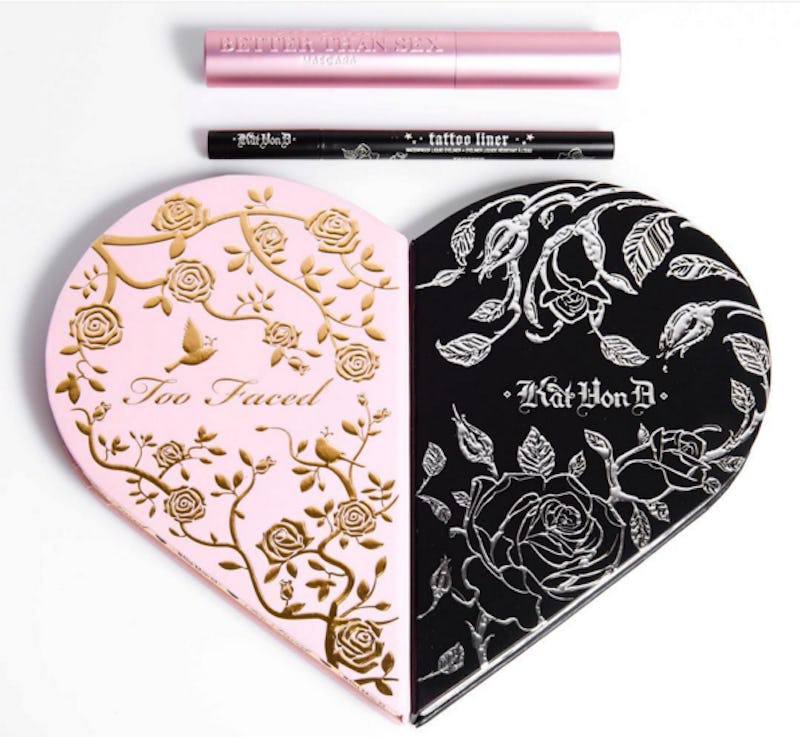 Ever since news broke that Too Faced and Kat Von D are collaborating on an eyeshadow palette, I have been dying for details on the shades. Well, now we finally know what's inside that heart-shaped packaging. Which Kat Von D eyeshadows are in the "Better Together" palette? You may now be wondering. Here is the 411.
The two makeup labels may seem like an odd pairing. Too Faced is all about bubbly and playful makeup that has lots of sparkles and loads of pink, while Kat Von D beauty caters to that badass rocker chick with a whole lot of edge. Some might say the two are complete opposites, but that's exactly what makes this partnership so special.
Kat Von D took to Instagram to debut their side of the highly-anticipated palette, and it's totally stunning, obviously. Beauty junkies can look forward to six brand new eyeshadows — yes, you read that correctly. The never-before-seen colors include a bluish charcoal gray, shimmery silverish gold, jet black, pure white, off-white, a sparkly peach, and a bright red. The shades are perfect for creating a dark smoky eye with a bit of color, and even work for some subdued daytime looks.
Check out the gorgeous shades.
Oh. Em. Gee. I need these colors in my life.
This closer look reveals the stunning finishes of all the shadows, which appear to be both shimmery and matte.
The palette is set to launch on December 26th. Let the countdown begin!
Image: KatVonDBeauty/Instagram