See The Entire TOMS x Prabal Gurung Collection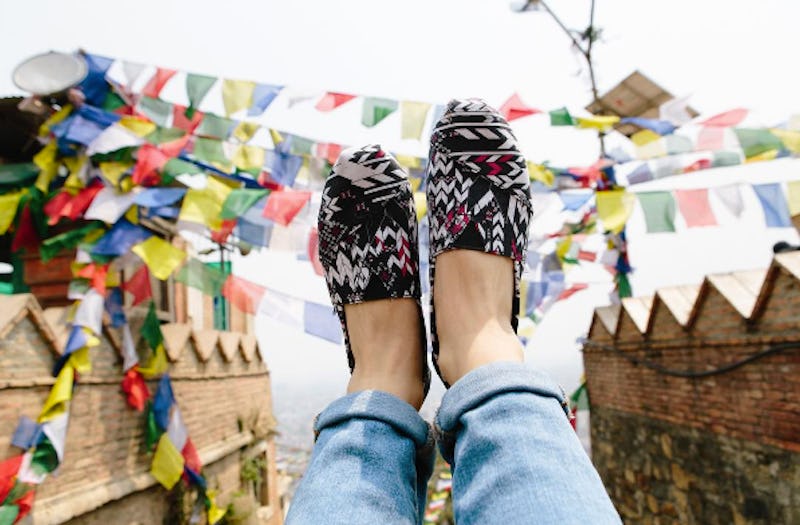 When two fashion designers collaborate, you know it's going to be good. This time, it's for a good cause, too. Toms and Prabal Gurung have teamed up to bring your four new shoe styles and and help raise money all at the same time. What's in the new shoe collab? It might not be huge, but there's a fall footwear design for everyone out there.
You're probably already familiar with Toms' one-for-one business model. Basically, you buy a pair of shoes and the brand gives one to someone in need. Well, now they're teaming up with the Prabal Gurung to bring you four new shoes and help raise money for his charity of choice. According to Us Magazine, for every shoe bought, Toms will donate $5 to Shikshya Foundation Nepal. The foundation helps support education for underprivileged children in Nepal, which is especially important to the designer.
"What I realized is that the only reason a boy like me from Nepal could dream big and come to a country like America," Gurung told Vogue. "And think I could make a living and a name for myself, is simply because I was educated and had the opportunity to go to good schools. Education gave me the freedom to dream bigger."
According to the publication, all of the designs were inspired by a trip that Gurung and the Toms team took to Nepal. The four designs all stick to a black, white, and red color theme. The collection might be small, but there's everything from the traditional Toms slip-ons to winter boots. Odds are you'll find something to fit your style.
1. Black And Red Classics
Toms x Prabal Gurung Black And Red Fair Isle Women's PG Classic, $59, toms.com
The slip-on shoe is a Toms classic, but it's getting a fashionable update.
2. Printer Sneaker
Toms x Prabal Gurung Black Snow Leopard Women's PG Del Rey Sneaker, $98, toms.com
The two even thought up a high fashion meets function sneaker.
3. Black And White Slip-On
Toms x Prabal Gurung White Snow Leopard Women's PG Classics, $65, toms.com
Not a fan of the red? No worries, they've got you covered.
4. Fur Winter Boots
Toms x Prabal Gurung Black Suede Contrast Women's PG Winter Boots, $129, toms.com
Last, but definitely not least, are these suede and fur winter boots.
This collab won't be around forever, so you should get over there and shop while you still can.
Images: prabalgurung/Instagram (1), toms.com (4)