20 Music Video Looks From The '90s You Loved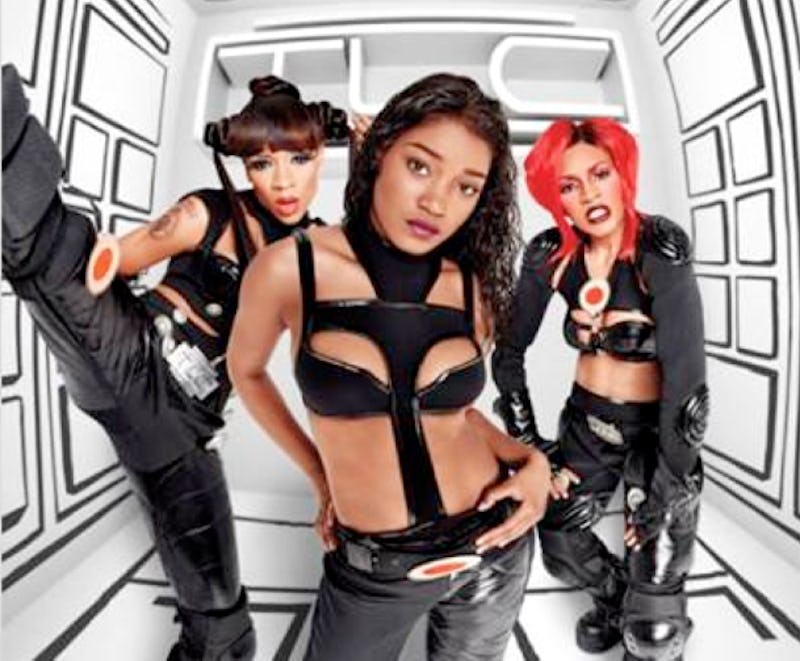 Back in the heyday when MTV would replay music videos all day, everyday (the '90s), so much of our time was spent watching the same music videos on loop. Aside from getting the lyrics stuck in my head, the '90s music video looks also looped around and around, so much so that I still remember them today. Though the raps, choruses, and bridges will always give me major nostalgic feels, so do all the super cool outfits.
Aside from the amazing television shows and movies that circulated during the time (I'm looking at you, Full House, Fresh Prince Of Bel Air, My Best Friend's Wedding, and Spice World), music videos were in their own world of obsession. Though short, they transported me to a different world, one where everyone wore the coolest looks, choreographed cheesy dances, and totally rocked out while staring longingly into the camera.
Whether I was watching Aaliyah on screen, or Natalie Imbruglia, the Spice Girls, Brandy, or Mariah Carey, there were always music video outfits that I was totally jealous of. I mean, crop tops, bright colors, chokers, grungy looks, and cute dresses were all among the music video ensembles, and I couldn't get enough of them. Pretty sure I'm wearing glasses today because I had my eyes glued to the television for hours. Ok, that's not how it works, but still.
I'm taking a trip down memory lane and reminiscing about the best looks from my favorite music videos back in the dreamy days.
1. "No Scrubs"
So. Much. Yes. These three were unstoppable, and so were their looks.
2. "Say My Name"
These crop tops! The shine!
3. "Heartbreaker"
This music video had two iconic Mariah Carey looks. That pink top will forever be in my brain.
4. "Just A Girl"
Gwen's sports bra and pants combo in this music video was so cool to me. Still is.
5. "Wannabe"
Everyone, and I mean everyone remembers these looks. And the jealousy that came with them.
6. "Torn"
Yes, Natalie, to this casual chic look.
7. "Try Again"
Aaliyah always had the best outfits, and this one doesn't disappoint.
8. "The Boy Is Mine"
Another gem in which two outfits simultaneously exist. Love both.
9. "You Oughta Know"
The all-white look is still a winner today.
10. "Baby One More Time"
Britney had so many iconic looks in this music video, but this gym look was my fave.
11. "If You Had My Love"
This silver bikini!
12. "The Rain (Supa Dupa Fly)"
These suspenders are the coolest statement I've ever seen.
13. "Bills, Bills, Bills"
Brb, copying this look for tomorrow.
14. "Candy"
So simple, but so good.
15. "Honey"
Mariah's looks were so on point in the '90s, but I especially loved this sailor-themed look in "Honey."
16. "So Into You"
Yes to that pink halter crop top.
17. "Doo Wop (That Thing)"
Miss Lauryn doing the damn thing.
18. "Get Your Freak On"
This camo is killing it.
19. "Stay"
Lisa's glasses and plain black tee was, and still is, my aesthetic.
20. "Criminal"
This look still stands today!
Brb, going down a deep hole and watching all of these music videos before bed! Consider these videos my style inspiration for the rest of the week. Next time you need help picking a fit, think: What would '90s stars wear?
Images: YouTube