The ABH Foundation Sticks Come In So Many Shades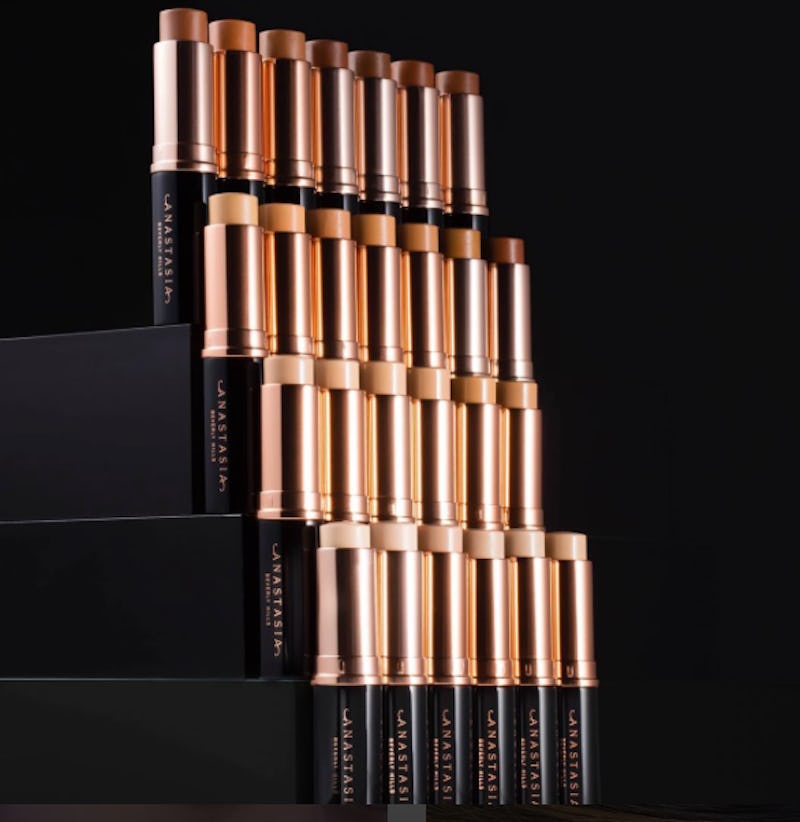 If you haven't perfected what foundation works best with your skin type and for your skin tone, we may have your knew favorite match — Anastasia Beverly Hills' newest product, the foundation stick. But what shades do the Anastasia Beverly Hills foundation sticks come in exactly? There's going to be so many new shades, you won't have trouble finding a color to add contouring to your makeup routine.
With companies like ABH, you can use a skin tone matching chart to help you choose the best shade for your skin since there are 19 new stick ABH foundation shades and four highlighting and contouring shades. Plus, there will be seven more shades that will be released later this fall. So in total, you will have 30 different glam shades, which is such an amazing selection to choose from. The foundation is also formulated for combination/oily skin types making it easy for all skin types to try out the contouring/highlighting trend with the foundation sticks.
The ABH foundation sticks are $25, and if they end up lasting you a while, it's a pretty good bargain compared to some other contouring kits. The new collection will be released on the company's website on Aug. 18, but if you're looking to try them in person, you can find them in department stores and retailers including Ulta, Sephora, Macy's, and Dillard's at the end of August, according to ABH's Instagram.
Just look at those beauties!
If you don't know exactly how to use the foundation, highlighter, and contouring sticks together to complete your look, ABH has plenty of YouTube tutorials to help you practice.
We can't wait for the Thursday launch!