13 Film Icons Who Championed Tomboy Style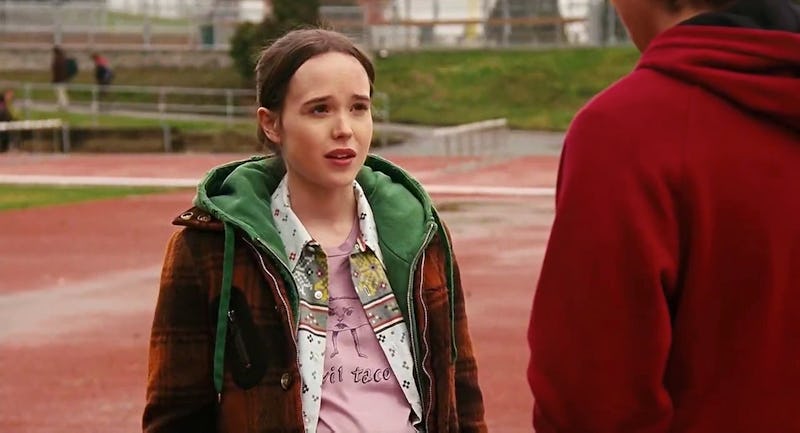 This may sound surprising to some, but Juno, released in 2008, was probably the first time I saw an unashamed tomboy take center stage on the silver screen. Since watching the movie for the first time, I've come to notice the visible lack of female characters championing tomboy style in mainstream cinema. That's not to say there weren't any characters before her who rejected feminine aesthetics. I'm sure there are many. But Juno's lack of interest in all things feminine wasn't a main point of interest for her character. There were no cringe-worthy one-liners or suggestions that proclaimed she "wasn't like other girls." Instead, Juno, in all her glorious tomboy vibes, was simply able to exist.
Ever since then, I've kept an eagle eye out when watching movies for other positive representations of tomboy style onscreen, and unfortunately, they seem far more scarce than I'd like to think. Sure, there are characters who aren't full-on femme and girls who keep it casually cool, like Emma Stone's Olive Penderghast in Easy A. But more often than not, those who choose not to don dresses onscreen fall into the makeover trope trap. Their flannel shirts and cargo pants are swapped out for a healthy lick of lipgloss and four-inch kitten heels; their identities scrubbed away in favor of stereotypical femininity and a chance to bag the jock boyfriend.
However, all hope is not lost. Consider the below a starter pack: A handful of films that do a good job of championing tomboy style with 13 of the best characters to offer us endless wardrobe inspo.
1. Juno Duffy In Juno
Back in 2008, Juno cemented the hipster archetype with an endless supply of distressed tees, thrifted flannel shirts, and American Apparel-style hoodies.
2. Kate Libby In Hackers
Weaving an oh-so-'90s post-internet aesthetic with a killer pixie crop, Kate Libby (played by a teenage Angelina Jolie) defined the hacker aesthetic long before Wikileaks ever existed.
3. Imperator Furiosa In Mad Max: Fury Road
Playing the ultimate badass in a post-apocalyptic world, Imperator Furiosa (depicted by Charlize Theron) and her hardware-heavy uniform snagged costume designer Jenny Beavan an Oscar for Best Costume Design.
4. Tai In Clueless
Tai may be best remembered post-makeover in all her sassy brilliance (like insulting Cher with the killer one-liner, "You're a virgin who can't drive"). But before meeting Cher and Dionne, Tai's look was more grunge than glam.
5. Cheryl & Tamara In The Watermelon Woman
Featuring not one but two badass tomboy protagonists with amazing '90s wardrobes, The Watermelon Woman came under some disappointing controversy at the time of release when it was suggested that the film should not have received partial NEA funding due to one of its lesbian sex scenes.
6. Bliss Cavendar In Whip It
Forced to compete in beauty pageants to please her mother, off-duty Bliss Cavendar's wardrobe is more reminiscent of a punk band front-woman than a pretty in pink prom queen, and features endless amazing vintage band tees.
7. Graham In But I'm A Cheerleader
Graham's all-pastel uniform proved that tomboy style doesn't necessarily equal a blanket ban on the color pink.
8. Juliette Paxton In Bend It Like Beckham
Rocking an around-the-clock soccer uniform long before tracksuits and sportswear became catwalk staples, Juliette Paxton (played by Keira Knightley) proved that sporty shorts are in no way just for the boys.
9. Susanna Kaysen In Girl Interrupted
Susanna Kaysen (portrayed by Winona Ryder) showcased that fact that pulling off a breton stripe isn't for true Parisians only.
10. Toni In The Fits
Providing some much-needed tomboy representation onscreen for the pre-teens, The Fits follows 11-year old-boxer Toni as she learns lessons of confidence from a dance troupe practicing at the same gym she frequents.
11. Debra In Empire Records
The now-cult teen classic perfectly depicted teenage apathy when sad girl Debra shaved her head on a whim in the toilet during a shift at the record store.
12. Tank Girl In Tank Girl
Based on the graphic novel of the same name, Tank Girl and her color-heavy, saturated wardrobe combined hard-femme pieces such nuclear bullet bras with off-duty combat chicness.
13. Watts In Some Kind Of Wonderful
Championing tomboy style for the post-New Romantic generation of the '80s, Watts makes a strong case for a waistcoat comeback in 2016.
While tomboys onscreen may be nowhere near as well-represented than their ladylike counterparts, their styles should not be dismissed as unimportant. Whether they're rocking a waistcoat, championing post-internet aesthetics, or donning sportswear on the daily, these women have as much style insight to offer us as any other character might.
Images: United Artists (2); Warner Bros. Pictures (2); Paramount Pictures (2); First Run Features (1); Fox Searchlight Pictures (2); Lionsgate (1); Redbus Film Distribution (1); Columbia Pictures (1); Oscilloscope Laboratories (1)