Morphe Makeup Bags Are Super Affordable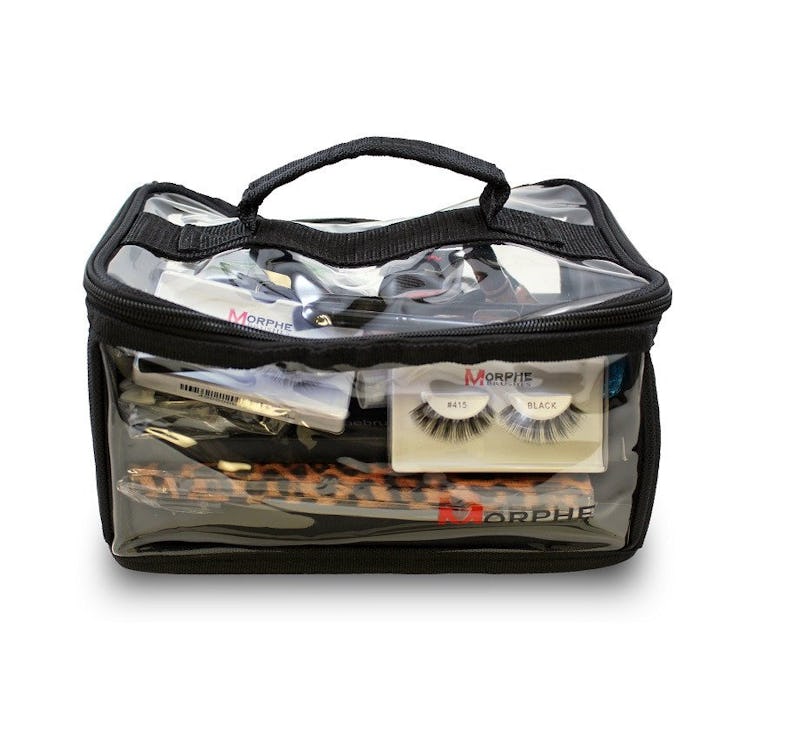 Finding a makeup bag that makes traveling a breeze is easier said than done. But, if you could trust anyone to point you in the right direction when it comes to carrying your makeup with you wherever you go, it'd be beauty vlogger Jaclyn Hill. She recently recommend using a Morphe product, and now you're probably thinking, OK, sure, but how much does a Morphe makeup bag cost? Well, you're in luck. Not only are these carrying cases great for on-the-go storage, they're also super affordable.
Hill Snapchatted videos while packing up for her trip to L.A., and she showed off her Morphe makeup bag. She was raving about how incredible it was because it can hold nearly all of her products. She did admit that she had to pack a few things separately, but hey, she is a beauty guru, you know? I mean, let's be honest — not all of us are traveling with that many products in tow. So, just one of these pouches would probably do the trick.
Bags range from $39.99 to $11.99 on the Morphe site. It seems like the exact one Hill was using is only $19.99, so when I say these cases are seriously affordable, I mean it! Be sure to stock up on one of these before your next trip. That way, you can keep all of your products in one convenient, easy-to-carry case.
According to Hill's Snapchat, this holds everything but her lip products or her brushes. But still. Almost everything she'll need for nearly two weeks away? That's impressive!
If you'd like to get your hands on that kind of toting power, check out some of the different options Morphe has to offer.
1. Loader Set Bag
Loader Set Bag, $19.99, Morphe
Get your makeup carrying skills to Hill's level in no time.
2. Roomy Set Bag
Roomy Set Bag, $24.99, Morphe
Want something that's a bit bigger? They've got that, too!
3. Taker Set Bag
Taker Set Bag, $11.99, Morphe
If you're looking for something small enough to throw in your purse or your weekender, well, then this is the one for you.
4. Packer Set Bag
Packer Set Bag, $29.99, Morphe
This bag's great for keeping you organized. With so many pockets and compartments, you're sure to have a place for everything.
5. Collector Set Bag
Collector Set Bag, $17.99, Morphe
Hoping to literally carry your makeup everywhere? One that comes equipped with a shoulder strap will help you do just that.
Images: Jaclynrhill/Snapchat (1); Courtesy Morphe (5)