Swatches Of Ofra's Chrome Lippies Are Gorgeous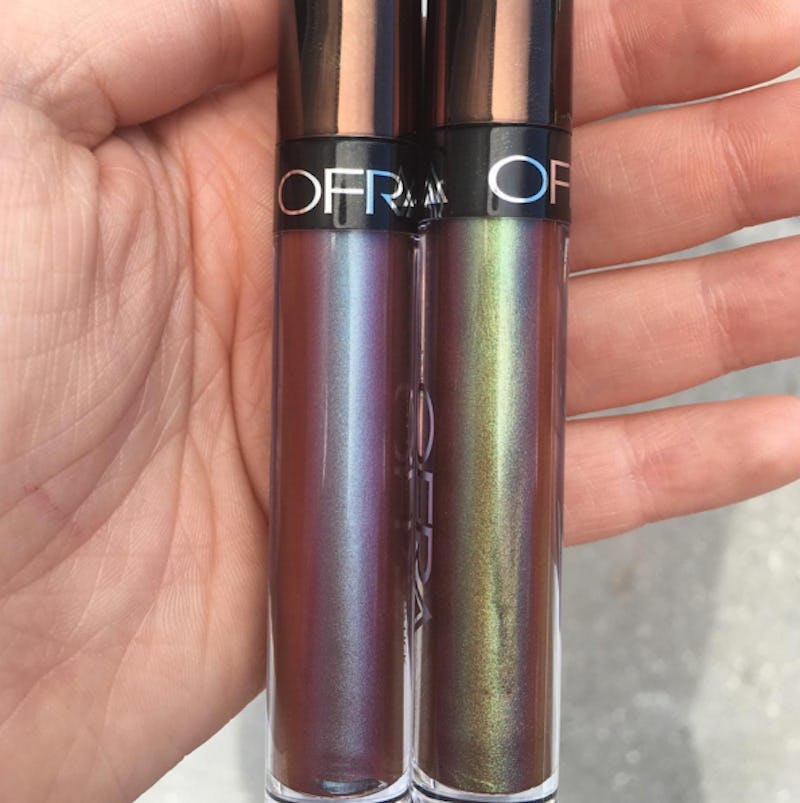 Ofra Cosmetics, the brand behind the gorgeous golden Rodeo Drive Highlighter that has got everyone's attention, is back it again with another wow-worthy product. The label is launching a collection of new chrome lipsticks, and it takes the metallic lippie trend to a whole new level. Swatches of Ofra Cosmetics' metallic chrome lipsticks are finally here, and they will totally blow your mind.
Ofra has been teasing their new lipsticks all over social media, and on Monday, the company finally gave us a peek of what the shades look like on. According to Ofra Cosmetics' Snapchat, the mini collection consists of five triple and double chrome-based colors including: Emerald City, a greenish gold, Fantasia, a blueish violet, Wonderland, a bright purple, Atlantis, a pinkish peach, and Utopia, a vibrant magenta.
Judging by the arm swatches, all of the shades are highly-pigmented and they all possess an intense metallic shimmer that can be spotted from miles away. Sure, there are tons of other metallic lipsticks on the market, like Kylie Jenner's Metals for example, but Ofra's versions definitely stand out for amongst the rest for their super deep sheen.
Hoping to snag a piece of the metallic action? You won't have to wait long.
The chrome lippies are officially available for purchase starting Friday Sept. 2 at ofracosmetics.com.
Ready for the stunning swatches?!
Wowza. I will definitely be counting down the days until these beauties drop.
Image: OfraCosmetics/Instagram