8 Halloween Costumes For The Eternal '90s Kid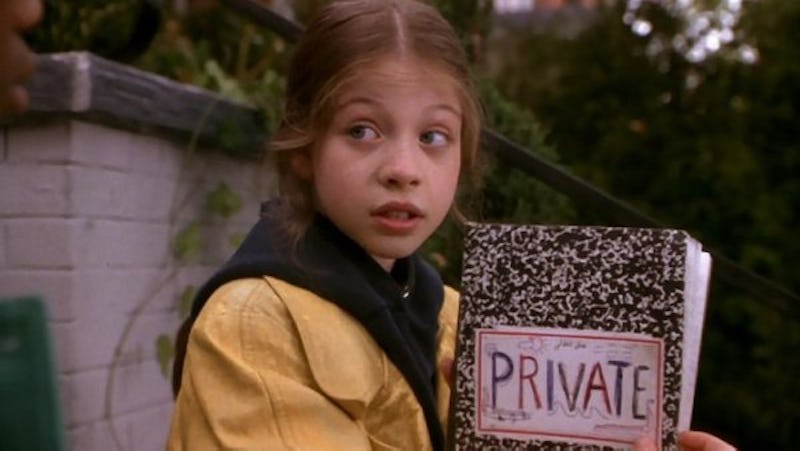 There are few things I miss more in this world than the '90s — 'twas a simpler time, you see. We were blissfully ignorant to the dangers of children consuming buckets of sugar, kids spent their Fridays in front of the TV for TGIF, everything was neon, flannel, or floral printed, and we learned that you should never ever tell your significant other that you want to be on "a break." So to honor those extraordinary moments of yesteryear, model your last-minute '90s Halloween costume after some of the greatest characters the decade gave us.
There are so many wonderful, hilarious, and inspiring '90s icons to choose from, but at least you'll have options if you are attending multiple Halloween parties this weekend. Or you can get a head start on next year's costume, since the '90s will never die. A lot of these items can be found in your closet, thrift stores, or on Amazon (bless you, same-day delivery), so you can assemble these looks quickly and easily. More time to pregame with some Hocus Pocus and Casper, AND eat all the good candy, am I right? Here are a bunch of rad '90s Halloween costumes you can throw together quickly.
1. Clarissa Darling
Whenever Clarissa explained it all, she did so wearing bright, mismatched clothes. It was spectacular. Her signature items were leggings, combat boots, oversized printed tops, vests, and her hair in a scrunchie. However you assemble a look with those items, you'll look as cool as she did.
What You'll Need:
Blue Top, $13, Pink Queen
Ark Co Fringe Vest, $50, Nordstrom Rack
Denim Shorts, $18, MakeMeChic
Boohoo Print Legging, $14, BooHoo
Dr. Martens Blue Boots, $90, 6pm
Scrunchie Hair Accessory, $12, Etsy
Blonde Wig, $40, Etsy
2. Steve Urkel
Steve Urkel of Family Matters fame is quite possibly the most stylish nerd that has ever lived. He wasn't at the time, but since his signature look included suspenders, skinny jeans, oxford shoes, and bold glasses, he was basically the OG hipster. You'll probably wear all of these pieces again, so it's kind of the perfect costume.
What You'll Need:
Melissa McCarthy Seven7 Skinny Jeans, $69, Lord and Taylor
Aéropostale Mens Red Shirt, $17, Aeropostale
Red Suspenders, $15, Amazon
3. Cher Horowitz
Even though the '90s were two decades ago, the cool queen of Clueless still has the most technologically advanced closet I have ever seen. How is that possible? But her signature look is a printed skirt, tiny tee, a blazer or cardigan, knee socks, and chunky heels. And if you go with her yellow plaid look below, everyone will know exactly who you are at first sight.
What You'll Need:
WearAll Open Front Cardigan, $14, WearAll
Dorothy Perkins White T-Shirt, $9, Dorothy Perkins
Plaid pleated Skirt, $13, Pink Queen
White Heels, $82, PopMap
River Island Backpack, $32, RiverIsland
Fluffy Pens, $8, Amazon
4. Elaine Benes
Seinfeld's Elaine was the '90s fashion icon we all needed. She dressed comfortably, functionally, and wore exactly what she wanted – very Man Repeller-esque. She usually wore dark colors and had her hair puffed up in a hair clip.
What You'll Need:
Girls On Film Shirt Dress, $25, ASOS
River Island Ankle Socks, $5, RiverIsland
Nine West Oxford Shoes, $60, Nine West
Orelia Hair Clip, $8, ASOS
5. Stick Stickly
Stick Stickly! The unforgettable host of Nick in the Afternoon... who was also a popsicle stick with googly eyes. He was pretty strange, when you think about it, but since he had such a simple look, he's the perfect Halloween costume.
What You'll Need:
*Crew T-Shirt, $25, eBags
Anya Hindmarch accessory, $79, Selfridges (You certainly don't need these stickers, but make sure the eyes you draw are googly like these.)
6. Dana Scully
FBI Agent Dana Scully was a no-nonsense, alien crime solving goddess. And even though X-Files is no longer on, her legacy as a brilliant bad-ass researcher lives on.
What You'll Need:
Chicos Long Sleeve Shirt, $89, Chicos
Theory Wool Jacket, $61, thredUP
Studio 253 Stretch Pants, $40, Kohl's
X-Files Prop Mulder or Scully Wallet With Badge, $65, Etsy
7. Harriet the Spy
Harriet was the perfect '90s role model for little girls. She was endlessly curious, independent AF, and all of her spy gear was made by her. I can't even count how many hours I spent walking around my neighborhood with a notebook and pretending my neighbors were up to no good. (It wasn't as creepy as it sounds, I promise.)
What You'll Need:
Black T-Shirt, $25, eBags
BDG Rain Jacket, $70, Urban Outfitters
Old Navy Blue Jeans, $48, Old Navy
Converse Black Shoes, $45, Harvey Nichols
Composition Book, $10, CyMax
8. Daria
Daria was the sarcastic introvert that spoke to all of us who has no use for being seen as "cool." Daria loved to read, eat pizza, hang with her BFF Jane, and avoid immature situations with peer pressure. She was, and still is, the BEST feminist cartoon character ever.
What You'll Need:
Green Blazer, $115, Yoox
A Line Skirt, $25, Luxury Divas
Charlotte Russe Mid Calf Boot, $46, Charlotte Russe
Retro Nerd Glasses, $7, Amazon
Long Brown Wig, $60, Etsy
Images: Nickelodeon Movies; Giphy; Polyvore