Delicious Ways To Celebrate Nachos Day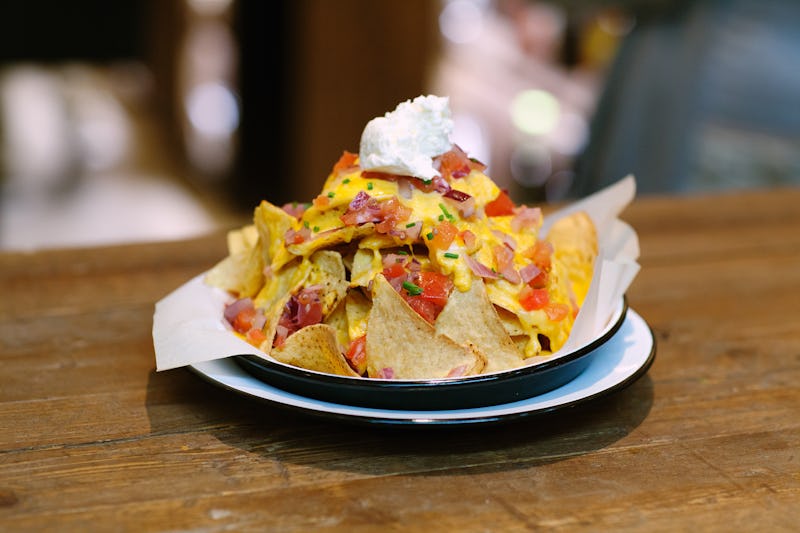 Rafael Elias/Moment/Getty Images
With the future of America hanging in the balance, most Americans likely feel stressed AF. One thing to look forward to before Election Day (Nov. 8 — please, please vote!), however, is Nov, 6's National Nachos Day, aka the most important day to celebrate in the entire year. This is an entire day dedicated to embracing your love of nachos in all forms: breakfast nachos, cookie nachos, you name it! Because nachos deserve more than the edible spotlight on Super Bowl Sunday — they deserve their own damn day. They're that good.
When you think about it, there's no other meal that's quite as wonderful and simple as a hot plate of nachos. You need a base of tortilla chips, melted cheese on top, and you can really do anything you want in between those two layers. And for dessert nachos, the base can be cookies, brownies, or graham crackers, and some sort of sweet melty goodness on top. What you choose to put on top of the chips and beneath the cheese (or on top of the cookies and beneath the melted sweetness) is completely up to you. Your nachos can reflect your mood, and you can choose to share them, or eat the entire plate on your own. Not a bad way to spend the day, am I right? Here are a few delicious ways to celebrate National Nachos Day!
Eat Nachos For Every Meal
Wake up. Make the coffee. Make the nachos. Go to work. Make the nachos. Come home from work. Have a glass of wine. Make the nachos. With the right recipes, you can have scrumptious breakfast nachos (like these from Joy The Baker), lunch, nachos, and dinner nachos. They don't need to be all the same, as there are hundreds of nacho recipes you will absolutely love.
Nosh On Snack And Dessert Nachos Too
Oh, you thought nachos were just for regular old meals? You thought wrong. You can make smaller nacho plates for quick snacks, and you can also forego the traditional bean and guac center and create your own dessert nachos! They can include cookies or graham crackers on the bottom, fruit or crumbled sweets in the middle, and melted chocolate or caramel on top. These nachos, from Foodie Crush, include sweetened tostada chips, strawberry, avocado, and mango salsa in the middle, and some melted pepper jack cheese on top.
*Wipes drool from chin*
Try To Share Your Nachos
Nachos were created by a man named Ignacio Anaya, who was the maître d' in a Texas restaurant in 1943. On a hectic day, he was without a chef and needed to whip up some food for his hungry patrons. He cut tortillas into triangles, melted cheese over them, and topped it off with jalapeños.
As this dish is meant to feed several hungry humans, you should try to share your nachos. But since I'm an only child and sharing food is a foreign concept to me, I suggest that you make an honest effort once, and then if there are no takers, enjoy them solo. Because, nachos.
Embrace The Cheesy Puns
This is the nature of a food-themed holiday, so just lean into it. "Nacho average holiday" or "in queso-mergency" are just the tip of the punny iceberg.
Get Your Nachos For Free
While this holiday is still gaining momentum around the world, plenty of restaurant chains are in it to win it. In 2016, several major food chains even offered deep discounts or free nachos to their customers. So keep an eye out for free food, because that's truly the best gift of all.
Hydrate To Ward Off A Nacho Hangover
Stuffing yourself silly with nachos on nachos on nachos is perfectly fine, but just make sure you keep sipping that water between bites. With all the dairy, carbs, and salt that are staples of this perfect dish, you don't want to suffer through a nacho hangover tomorrow. Stay hydrated!
Feel Zero Guilt
This has been a very strange year. You've earned this day of nachos. You need this day of nachos. And you should feel free to eat as many plates of nachos as your cheesy little heart desires. It only comes once a year, after all.
Image: Rafael Elias/Moment/Getty Images, Foodie Crush, Joy the Baker; Giphy (5)