Here's Your Daily Horoscope For November 23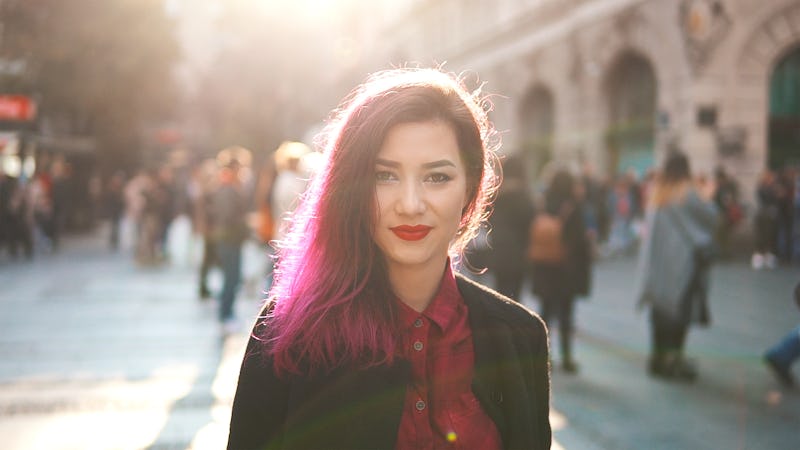 We're constantly fascinated by what our zodiac sign says about our lives, whether it's which signs are most compatible, the best sex positions for each sign, or how each sign handles conflict in relationships. That's why Bustle has enlisted Mecca Woods, a New York City-based Astrologer of MyLifeCreated.com to tell us all about how astrology is affecting our lives each day. Today's topic: your daily horoscope for November 23, 2016.
Mercury (communication) and Saturn (reality, duty) sync up quite nicely in broad-minded Sagittarius today which encourages us to put our serious thinking caps on. Under the cosmic influence of these planetary powers we may find ourselves coming up with the perfect plan to meet a major goal. This aspect is excellent if we need to do anything that involves fact-checking, research, commerce, or a professional presentation. By mid-afternoon the Moon (emotions) shift into relationship-oriented Libra, putting us all in the mood for romance, beauty, and relationship-building. When the Moon stops by for a chat with the Sun in expansive Sagittarius later in the evening, we may find that we by with a little help from our friends both new and old.
Read below to see what today's stars mean for your sign.
And remember to tune into Bustle's weekly horoscopes video live on Facebook every other Monday at 4 p.m. ET for a rundown of your weekly horoscope.
Aries (March 21 - April 19)
Look to acquiring new experiences, new skills, or new partnership to help you boost your resources or your professional reputation as the inspiration or insight you receive could lead you to a more rewarding place. It's time to get out of your rut and see the world through new eyes.
Taurus (April 20 - May 20)
Money is the center of your attention today as you get a cosmic nudge to improve your finances. Use today to map out a get out of debt plan, apply for a loan or funding, or make a major investment with long-term benefits — like life or health insurance. Get your biz in order.
Gemini (May 21 - June 20)
A collaboration or partnership, whether in love or business, could be mutually rewarding today if communication, creativity, and fairness are at the foundation. If you need to negotiate an agreement or contract, mark today as a good time to initate the conversation.
Cancer (June 21 - July 22)
Today may feel akin to getting pushed through a wormhole which means you'll have to make sure you can keep up and keep your wits about you. Guard your health, get rest, eat well, and don't be afraid to ask for help at home or at work if needed. It's OK to share the load.
Leo (July 23 - Aug. 22)
Your romantic life could offer up some sweet surprises today as the potential for dates and mates will be higher than usual. However, know that this is a good time to get absolutely honest with yourself about what you want from love. Only a dedicated lover will do.
Virgo (Aug. 23 - Sept. 22)
Your home and private life are your focus for today as you find yourself pushed to improve your sense of groundedness and stability. As a part of this home improvement, it may be time to upgrade, renovate, or rearrange your living space to calm and positively the energy around you.
Libra (Sept. 23 - Oct. 22)
Today you might want to explore how your feelings and thoughts can act like magnets — enabling you to pull what you desire to you as well as all the stuff you're not too thrilled about having. It may be time to toss any self-limiting beliefs, especially if they're rooted in scarcity.
Scorpio (Oct. 23 - Nov. 21)
If money has been a challenge for you — whether it's how you spend it, how you save it, or what you're doing to make it — today is a good one to come up with a money strategy that works. Don't be afraid to enlist the help of a financial expert to help you set realistic goals with your cash.
Sagittarius (Nov. 22 - Dec. 21)
You've ever heard that phrase — speak what you want into existence? This needs to be your mantra today whether speaking to yourself or with others. You have some serious cosmic mojo behind you now to help you materialize what you've been wanting. Put it to good use.
Capricorn (Dec. 22 - Jan. 19)
Don't be shy about calling for a time out today. It's time to give your mind a rest. Look to meditation, therapy, or a brief stroll around the block to help you clear out your psychic cache. Having a clear head can help you to make space for the things you really desire.
Aquarius (Jan. 20 - Feb. 18)
You might find your free-spirited soul in need of some adventure today as you're cosmically encouraged to connect with people who can help some of your biggest dreams come true, thus opening up a brand new world. Think strategically when it comes to networking.
Pisces (February 19 - March 20)
With your professional star on the rise, it's time to get your words, thoughts, and ideas in front of people who can help you to further capitalize on the stellar reputation you're building. If you have a presentation or proposal to pitch, or you want to meet with VIPs— today's your day.
Images: Fotolia; Caroline Wurtzel/Bustle