Ali Slayed 'The Voice' Semi-Finals With A Classic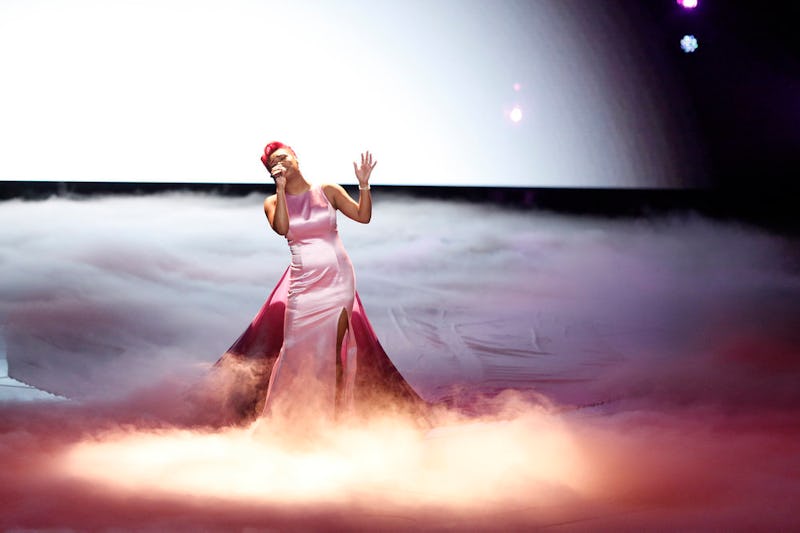 It's semi-finals time! With only two nights of real competition left in the game, the pressure is on for The Voice contestants—their performance in the Top 8 will make or break a shot at the finale. One contestant who won't have to worry, though, is Team Miley's Ali Caldwell. The fiery artist slayed as always, but it was the meaning behind the song that really shined through. Caldwell performed "I Will Always Love You" by none of than her coach Miley's iconic godmother, Dolly Parton. By assigning this song to Caldwell, Miley gave her mentee the ultimate vote of confidence—a gesture that is extremely important at this late point in the game.
Caldwell has been a favorite ever since the beginning. She has blown the coaches away week after week with crazy amazing performances. Her vocals are unmatched and her personality is magnetic. Not only is Caldwell one of the most talented artists on The Voice Season 11, she's one of the most talented artists ever on this show. She has what it takes to be a real star and coach Miley clearly agrees. By assigning Caldwell a song by one of the most important people in her life—her godmother—Miley has given her approval. She's in it to win it with Caldwell, and the two might just go all the way together.
The competition is tight this season, but Caldwell is right up there in the front of the pack. Her power-packed pop vocals are fun and easy to listen to—there's no question her voice was made for the radio. Only one results show separates her from The Voice finale and—if America votes the way I think they will—she already has a ticket to the Final Four in her hand.
Image: Tyler Golden/NBC