Were You A Jessica or An Elizabeth Wakefield?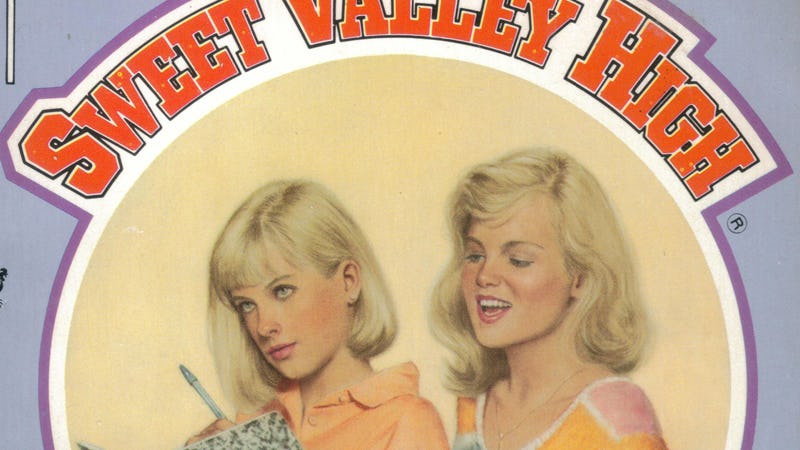 If there's one thing that Francine Pascal's seminal Sweet Valley High series taught us — and believe you me, there's more than just one lesson at the heart of SVH , even if most of them involve forgiving friends for hooking up with your boyfriend and remembering to cover your drink at prom — it's that you can never judge a book by its cover.
Or, perhaps more accurately, you can never judge the inhabitants of a book by their cover. We're talking, of course, about Jessica and Elizabeth Wakefield, the central stars of Pascal's long-running and multi-faceted series, and a pair of twin sisters that handily (and repeatedly) reminded us that just because they looked identical didn't mean that they actually were identical. Oh, not at all.
Despite a hefty number of storylines involving one or both of the twins masquerading as the other for various reasons, it was always clear to the reader exactly who we were dealing with, mainly because Pascal didn't balk at drawing some very clear lines between the sisters. Elizabeth was the "good" twin, a studious, smart, caring young lady who valued her friends and her career ambitions. Jessica was, well, we hesitate to say the "evil" twin, but she sure managed to pull off some pretty nefarious schemes in her teen years. She was certainly the more daring of the duo.
If you were a fan of Pascal's series, there's little doubt that you identified with one of the twins, but were you a Jessica or an Elizabeth? Let's find out.
YOU WERE A JESSICA IF...
YOU WERE ALWAYS CLASSIFIED AS "A BAD GIRL."
Just because you liked to stir up a little bit of trouble and gossip behind people's backs and even occasionally pretend to be other people (in Jess's case, it was obviously always Elizabeth) and not let a little thing like "being nice" get in your way doesn't make you a bad person, okay? It just makes you crafty.
YOU WERE THE MOST POPULAR GIRL IN YOUR HIGH SCHOOL.
Even with all your stunts, tricks, and troubles, everyone couldn't help but adore you.
YOUR HIGH SCHOOL SPORT OF CHOICE WAS CHEERLEADING.
Second only to cheerleading? Cheerleading power struggles.
YOU WERE SO INTO THE IDEA OF BEING IN A SORORITY, YOU MANAGED TO JOIN ONE IN HIGH SCHOOL.
Sure, anyone can join a sorority in college, but a real dedication means making one up in high school and convincing only the most popular girls to get on board with you. And, no, there wasn't any hazing. That's too mean.
YOUR NICKNAME SOMEHOW INVOLVED A NATURAL DISASTER.
Remember "Hurricane Jessica?" We bet everyone at Sweet Valley High still does.
YOU WERE SUPER-JEALOUS OF YOUR MORE "TOGETHER" FRIENDS AND SIBLINGS.
For all Jessica's big-talking, she was always upset that Elizabeth possessed an unmistakable talent for making everything that went wrong — especially at Jessica's hand — perfectly right again.
YOU WERE UNABASHEDLY, TOTALLY, INSANELY BOY CRAZY.
Hey, Jessica knew what she liked.
BUT YOUR FAVORITE TYPE OF GUY WAS DEFINITELY THE "BAD BOY."
Remember hot surfer Christian Gorman, who died in a gang battle between Sweet Valley and Palisades High gangs? Bad news.
YET YOU STILL HARBORED A MASSIVE, UNDYING CRUSH ON THE ONE DUDE YOU COULDN'T HAVE.
Which would often rear its ugly head in the form of just being really, really mean to each other. Very middle school.
YOU WERE THE LIFE OF THE PARTY OF EVERY SINGLE EVENT YOU ATTENDED.
Even if people nearly died at those parties (sorry, Margo).
YOU WERE AN ELIZABETH IF...
YOU WERE A GOODY TWO-SHOES.
For all Jessica's bad behavior, Elizabeth was always there to be a shining example of how good Wakefield girls could actually be.
YOU WERE THE BRAINIEST GIRL IN YOUR HIGH SCHOOL.
Jessica may have been the most popular girl around, but Liz was a total brain who used her intellectual skills for good, scholarly pursuits (and, hey, she was also pretty popular on her own, too).
YOUR HIGH SCHOOL SPORT OF CHOICE WAS WORKING ON THE NEWSPAPER.
Hey, hardcore journalistic integrity takes just as much work as throwing pom-poms into the air.
YOU WERE EXTREMELY CONCERNED WITH BEEFING UP YOUR HIGH SCHOOL RESUME WITH EXTRACURRICULARS.
Like a high school sorority, of all things. (Remember when Jessica made Liz and Enid join her high school sorority? And how they wanted everyone to know they were members "in-name-only?")
YOUR NICKNAME WAS JUST A SIMPLE RIFF ON YOUR ACTUAL NAME.
Short, sweet, and very classy, just like Liz. No Hurricanes to be had here.
YOU WERE THE ONE WHO ALWAYS GOT YOUR FRIENDS OUT OF TOUGH SITUATIONS.
While Hurricane Jessica was always busy getting herself, her friends, and even random passerby into big trouble, it was Elizabeth that could be counted on to help them out of it — even if it involved major legal ramifications.
YOU WERE TOTALLY INVESTED IN YOUR HIGH SCHOOL SWEETHEART.
Even if he cheated on you with a "modeling partner" named Simone (and eventually jilted you for your own twin, what a jerk).
MOST OF YOUR HIGH SCHOOL PALS WERE FRIENDS YOU'D KNOW FOR YEARS AND YEARS.
Like your jerky high school sweetheart, who you'd crushed on since kindergarten.
YOU TENDED TO ABSTAIN FROM PARTAKING IN DRUGS AND ALCOHOL AT PARTIES AND DANCES.
Except for that one time your own sister spiked your own drink in order to steal the prom queen title from you — which had some pretty serious consequences for everyone involved. Just say no.
YOU KNEW EXACTLY WHAT YOU WANTED TO DO PROFESSIONALLY BEFORE YOU EVEN GRADUATED HIGH SCHOOL.
Elizabeth was always clear-eyed about her dream to become a journalist, and it paid off for her big time.
So, how'd you make out — are you a Jess or a Liz?