The Best New Roller Coasters to Ride This Summer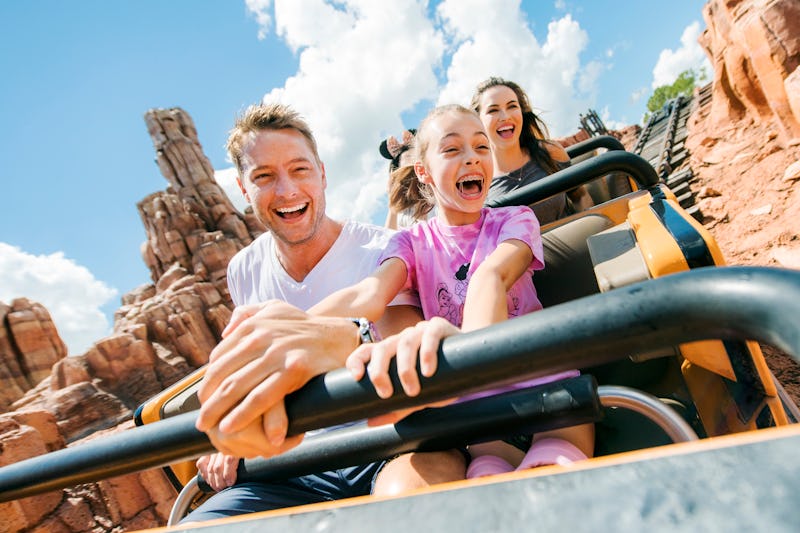 Handout/Getty Images Entertainment/Getty Images
We recently rounded up the ten best roller coasters in the U.S., from Six Flags Great Adventure's record-holding Kingda Ka, to Cedar Point's now-classic Giga Coaster Millennium Force. With inclines reaching 400 feet and speeds reaching well over 100 miles per hour (not to mention to the technological wackiness that is the "4-D coaster"), it might seem like these steel and wood giants will have little trouble maintaining their high ranks in the world of thrills. But, already, a new slate of coasters debuting this season are posing serious challenges to their supremacy. Which left us wondering: What are the best NEW roller coasters we should check out this summer?
From Six Flags Great America's triple-record-breaking Goliath and Kings Island's "female-inspired" Banshee, to a new indoor coaster in Vegas and a Harry-Potter-inspired ride that includes holographs, these attractions are pushing limits in terms of both technological innovation and sheer terror. We came up with a list of the best roller coasters (and one thrill ride) debuting this season. While scare-factor isn't necessarily the most important element to consider when evaluating a coaster, we made our list with true enthusiasts in mind, and ranked the rides from least to most terrifying. Check out the POV videos, and then hurry over to the park nearest you.
10. Seven Dwarfs Mine Train, Magic Kingdom, Buena Vista, Florida
What some roller coasters lack in staggering height and speed statistics, they make up for in rich thematic detail. Seven Dwarfs Mine Train in Magic Kingdom in Florida will be "the centerpiece of the [park's] 'New Fantasyland' expansion," according to USA Today. As the family-style coaster takes riders through a series beautiful mines and a veritable nostalgia-for-Disney dreamscape, concerns about thrills will fly right away — with your hat.
9. Roar-o-Saurus, Story Land, Glen, New Hampshire
Story Land's new roller coaster, Roar-o-Saurus, may not have a 400-foot incline or a top speed of 90 miles per hour, but it has probably the snazziest cars of any roller coaster in the country — scaly green dragons that snake along the track, which is perched amid the spectacular mountainous landscape of New Hampshire. The woodie promises to be a family-coaster classic for years to come.
8. Flying Turns, Knoebels Amusement Resort, Elysburg, Pennsylvania
Roller coasters typically come with sets of rails — they're what, you know, keep the cars from flying off the tracks. But Flying Turns, a new roller coaster at Knoebels Amusement resort in Pennsylvania, does away with such soundness-of-mind-assuring components. Modeled on a bobsled track, the coaster, which opened late last fall and is enjoying its first full season this year, contains a lift, drop, and turns just like any other thrill ride. But in doing away with a track that locks each car in place (except for on lifts), the ride also gives passengers a sense of freedom — and nerves-destroying tension.
7. El Loco, Adventuredome, Las Vegas, Nevada
You'd think the five-acre indoor amusement park in Las Vegas might have reached its maximum roller coaster capacity long ago. But, earlier this year, Adventuredome unveiled its latest ride, El Loco. Despite the silly name, the coaster offers some serious thrills: A 90-foot drop, G-forces reaching 1.5, speeds reaching 45 mph, and more than 1,300 feet track — all within a time frame of 75 seconds. Intense thrills, jam-packed on top of one another, all of it over before you can take a breath? We couldn't think of a better salute to Las Vegas if we tried.
6. Harry Potter and the Escape from Gringotts, Universal Studios, Orlando, Florida
If you've traversed all that the world of Harry Potter has to offer and fear you've hit the end, fret not: There is now officially a roller coaster inspired by the book. Harry Potter and the Escape from Gringotts, in Universal Studio's Wizarding World of Harry Potter, is an entirely indoor ride that boasts some seriously sweet tech, including a holographic image of Helena Bonham Carter (as Bellatrix Lestrange). The ride is located in the new, massive expansion of the Wizarding World of Harry Potter, which includes a to-the-T reconstruction of Diagon Alley.
5. The Thunderbolt, Luna Park, Coney Island, New York, New York
Coney Island's Luna Park invested some $9 million in this bright orange steel roller coaster, which will thrill visitors alongside the legendary Cyclone — arguably the most famous, and one of the oldest, roller coasters in the world. Opened in mid-June, the new roller coaster, unlike the jittery woodie near to it, will send readers down a 90-degree drop from a height of 125 feet. At speeds reaching 65 mph, riders will jet through four inversions, including a loop and a zero-G roll.
4. Lightning Run, Kentucky Kingdom, Louisville, Kentucky
Kentucky Kingdom in Louisville reopened for the first time since 2009 this year, with a new roller coaster in its bag of tricks. Lightning Run, a bright blue steel coaster, features a 100-foot drop and features speeds of up to 55 mph. The ride did receive some flak upon its unveiling: A park visitor filmed a portion of the track that "swayed" when the cars went over it, and the video spread quickly via social media. But the park's marketing director responded by saying that the coaster had passed all safety inspections and that a portion of the track moves "by design." Assuming that's true, this "extra feature" should kick up Lightning Run's horror factor by a few notches.
3. Banshee, Kings Island, Mason, Ohio
Kings Island's new Banshee ride is the longest inverted coaster (meaning the kind where you "hang" from the track above) in the world. Sporting seven inversions and reaching a top speed of 68 mph, the roller coaster measures more than 4,000 feet — nearly a mile. The park also boasts that it's its first "female-inspired" coaster, although it's hard to detect the feminine influence apart from the color of the track, which is a pleasant raspberry pink.
2. Zumanjaro, Six Flags Great Adventure, Jackson, New Jersey
Zumanjaro: Drop of Doom isn't technically a coaster, but it's attached to one, and gives more than your average coaster's share of thrills and suspense, which is good enough for us. Built onto the face of Kingda Ka, the tallest and fastest roller coaster in North America, Zumanjaro is a vertical-drop ride that takes passengers to a staggering height of 415 feet and lets them loose as they plummet to the ground at 90 miles per hour.
This would be plenty unnerving enough without the presence of another roller coaster--and its horrified passengers — overhead. The juxtaposition of the two rides is a formula for out-of-this-world thrills. When the ride finally opens for good this summer (it's suffered some delays), you can expect lines for it will rival those for Kingda Ka, which, as any Six Flags Great Adventure attendee can attest, are eternal.
1. Goliath, Six Flags America, Gurnee, Illinois
Six Flags Great America is smashing three records with one roller coaster this year: Goliath will be the tallest and fastest wooden roller coaster in the world and will also have the steepest wooden drop. To boot, it's got two inversions — a rarity for wooden coasters. Goliath, whose 165-foot climb soars over the park's skyline, has already drawn considerable attention — not only as an accident-in-pants scream-fest but as a feat of design and engineering as well. It's the season's clear winner.