This Beer Has What In It?!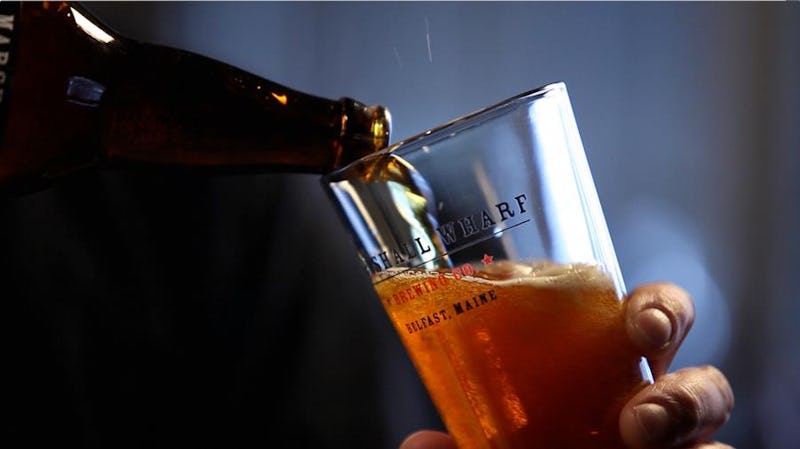 In an effort to differentiate itself from the plethora of craft beers flooding hipster communities around the country, Maine-based company Marshall Wharf Brewing Co.'s Sea Belt beer features a rather fishy ingredient: seaweed. That's right, 60 pounds of wet seaweed goes into every 200 gallons of the beer. After every batch of seaweed is dried, it is dumped into the mix, resulting in a "more malty than hoppy, earthy like the scotch ale that it's based on, but a bit more salty, thanks to the sugar kelp." I'll have to take their word for it, because I'll be sticking with a regular pint.
Just in case you thought this was the apex of unusual beers, I'd like to draw your attention to five more of the most surprising craft beer flavors out there.
1. Right Brain MANGALITSA PIG PORTER
In Traverse City, Michigan, Right Brain Brewery has concocted a porter brewed with real smoked pig heads and bones. The result, apparently, is "very toothsome, and showcasing a flavor experience similar to taking a soft pretzel, wrapping it in ham, and dipping it chocolate." Even if I wanted to indulge in that flavor, I'd prefer to keep it in solid form.
2. Flying Dog PEARL NECKLACE OYSTER STOUT
In case you are at a loss as to what kind of beverage pairs well with oysters, Flying Dog Brewery has invented a beer that incorporates the brine of local Rappahannock River Oysters to create the "perfect compliment to everyone's favorite aphrodisiac."
3. Mikkeller BEER GEEK BRUNCH WEASEL
Mikkeller Brewery in Copenhagen brews a beer using weasel feces. Well, to be totally clear, it uses coffee made from weasel feces. According to the company, "the fussy Southeast Asian animals only eat the best and ripest coffee berries. Enzymes in their digestive system help to break down the bean. Workers collect the bean-containing droppings for Civet or Weasel Coffee. The exceedingly rare Civet Coffee has a strong taste and an even stronger aroma." Attention Mikkeller: using a euphemism like "fussy Southeast Asian animal" to describe these rodents does not make this any more appealing.
4. MAMMA MIA! PIZZA BEER
This brew puts a margarita pizza into the beer mash and steeps it "like a tea bag." The pizza is topped with tomato, oregano, basil, and garlic. During the boiling process, hops and spices in a cheesecloth bag are added, and the cooled liquid is transferred to a fermentation vessel. At least the pizza they use features a whole wheat crust.
5. Lost Rhino BONE DUSTERS PALEO ALE
Finally, a collaboration between beer and science! Lost Rhino Brewing Company discovered a wild yeast species while collaborating with a fossil hunter from Paleo Quest, a nonprofit paleontology and geology advocacy group. The yeast, a product of protected whale fossils found in Virginia, apparently has "fruity and very unique characteristics." Basically, it's a beer made from whale bones. Cheers.
Image: Three Tides & Marshall Wharf Brewing Co./Facebook