5 Ways To Make Your Dorm Room Feel More Like Home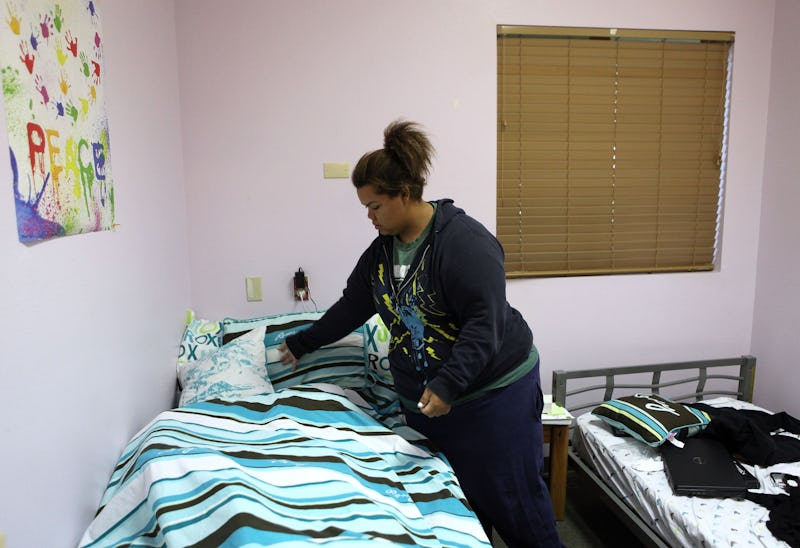 Justin Sullivan/Getty Images News/Getty Images
I hate dorm rooms. Hate. With their drab, prefab furniture, cinder-block walls and awful lighting, they can be difficult to jazz up. I am a person who likes her feng shui (or, at least, her color schemes), so when I arrived in my first-year room and saw what I'd be working with, my heart sank right into my toes -- I was in for a challenge. But, within a few months, I'd created a little nest that I was proud to call my own, away from the bustle of college life. And, since I'm a little married to my beloved residential college at the University of Virginia, I even chose to live in another dorm room last year. I'll be moving into my third in two weeks.
Wondering how to forge a loving relationship with your tiny little space too? Here are a few tips and tricks I'd like to pass on to anyone who's trying to put together a shopping list for that first move-in week.
Note: many of these tips involve breaking the rules. But rules are boring, especially overly restrictive dorm decor rules. Out with them, I say! Just hide your contraband when the fire marshals do a sweep and, of course, be extra careful when handling candles.
1. Rugs
I cannot adequately sing the praises of a good rug. Most dorms have either bare floors or basic, ugly carpeting. Snagging a soft, bright floor covering will not only make you feel like you're not living in a prison, but it will provide a seating area for visitors (and come on ... there will be times when you have more people over than you can seat in your one or two chairs). Make sure you get something that's easily vacuum-able — I got a shag rug once and deeply regretted it when I stepped on a cookie I'd dropped there. Also, try to go for darker colors, as they won't show stains as easily.
And there will be stains. Trust me.
These rugs are from PBTeen, which can be a little expensive, but their sale prices are fairly reasonable. Some other options: Target, Bed Bath and Beyond, and IKEA.
Dottie Rug, $79 - $399, PB Teen; Threshold Fretwork Rug, $22-270, Target
2. Curtains
Curtains take some finagling to hang (last year, my curtain rod was, er, artfully taped to the wall with duct tape), but they're definitely worth it. They make your wall less of a bare wasteland, and they can be very useful if the blinds that come with your room don't work very well. Since curtains can run you a pretty penny, stick to basic curtain rods and thinner fabrics. My curtains are sheer voile, and I adore them — they give my room a soft, purple glow.
Bed Bath and Beyond has the best selection of cheap curtains, especially if you use your consumer savvy and sign up for their coupons.
Crushed Voile Curtain Panels, $20- $40, Bed Bath and Beyond; Nickel Finish Cafe Drapery Rod, $5- $13, Bed Bath and Beyond
3. Posters and Pictures
Nothing says "dorm room" like "off-white, hideous expanse cinder-block walls." The best way to forget they're even there? Cover them up. Just be careful about how you do so, since taping pictures over every part of the wall can make it look messy. Instead, try picking a large "statement piece" that draws your attention. Then frame it, if you can. Frames will add a little extra oomph, making your poster look intentional instead of like you accidentally threw it towards the wall and it stuck.
Why not try a print by your favorite artist, or a band poster? For these kinds of things, check out Etsy, Amazon, and museum and/or band merchandise sites.
Minimalist Platform 9 3/4 Poster, $15-38, etsy; The Decemberists Hard Rock Live Poster, $30, Decemberists Shop; Chrysanthemums (from the Isabella Stewart Gardner Museum), $12, Gardner Museum
4. Lighting and Candles
If your dorm is anything like the ones at UVA, it will have awful, nakedly fluorescent lighting that doesn't even work half the time. My advice: take care of your own lighting. I like having a lamp on my desk and one right next to my bed, but you can use any combination of desk and standing lamps. You don't have to drop too much dough on these — basics from Walmart or Target won't break the bank. Just don't buy the octopus lamps. They'll melt. Promise.
Also, invest in some candles. Yeah, yeah, I know. I'm telling you to bring an open flame into your dorm room. Please just use common sense — don't put them under your curtains, for the love of all that is holy — and you'll be fine. Also, make sure your smoke detector is working before you light up a whole display of Yankee Candles, all right?
That said, making your dorm room feel like home isn't just about the way it looks, and candles will make your room smell great as well as look great. You can pick up candles from pretty much any craft store, although my favorites are the Paddywax Library Collection candles. I have a Thoreau-scented candle that I light whenever I'm writing papers. It smells pleasantly like juniper (although who decided that Thoreau smelled like juniper? These are the questions that keep me up at night ...).
Room Essentials Stick with Cork Shade, $16, Target; Paddywax Library Collection Candles, $8-21, Paddywax
5. Personal Touches
Finally, add something that marks the room as yours, as a dog might pee on a fire hydrant. (OK, sorry, that's a little gross. Don't pee on your dorm room. Not even if you're blackout drunk.) For me, this was indulging my inner five-year-old princess and buying a canopy for my bed. With Christmas lights. It's called the, er, Lady Cavern, and it is my pride and joy. (God, I really hope that UVA housing doesn't see this picture.)
And I've gotta tell you, whenever I climb into the Lady Cavern, everything is perfect and I sleep like a baby.
Should you wish to construct your own Lady Cavern, you can do so with mosquito netting from Bed Bath and Beyond, a string of Christmas lights, and a tall, kindly friend to help you. If that's not your thing, you could hang a tapestry on your wall or set up your collection of owl figurines (both of which I have seen other people do). There are tons of DIYs out there for you to try.
Nile Bed Canopy, $30, Bed Bath and Beyond; Lucky Penny DIY Vase, Vone Inspired; DIY Marquee Letters, Grey Likes Nesting
Now that you know what you're going to put in your room, check out these 11 easy dorm room recipes so you don't starve in between classes.
Images: PBTeen, Curtains & Curtains, Alphonse Mucha, Paddywax Candles/Facebook; Elizabeth Ballou