Here's How to Make Iced Coffee At Home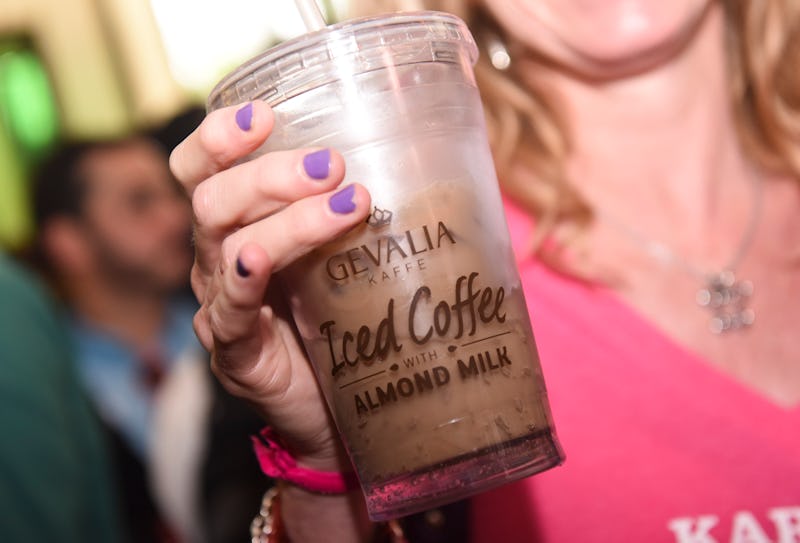 Vivien Killilea/Getty Images Entertainment/Getty Images
I think it's safe to say that iced coffee qualifies as a nectar of the gods: it's delicious, highly caffeinated, and makes for the perfect summer treat. The only downside to such an incredible beverage? Like many god nectars, it comes with god nectar prices, ranging anywhere from $3.50 to $4.50 a cup which, when added up, can be terrible news for any cold brew-lover's bank account. This is why, after stumbling upon the Zoku Iced Coffee Maker, courtesy of The Awesomer, I have decided to start making my own iced coffee at home, and attempt to save about $20 a week. (I think I can hear my roommate jumping for joy somewhere.)
Luckily, there are quite a few options when it comes to making iced coffee at home. If you're also eager to turn your kitchen into the ultimate iced coffee laboratory, take a look at these gadgets and accessories. You may even already have one or two just sitting around your cabinet, patiently awaiting their iced coffee cultivating debut(s). …
1. Iced Coffee Maker
So you have access to hot coffee, but want iced coffee, huh? Why not skip the whole watered-down mess you get when adding ice to the hot coffee and let this Zoku Iced Coffee Maker cool it in only MINUTES. Fool proof, for sure.
2. Cold Brew Coffee Pot
There are quite a few cold brew coffee pots on the market, but as far as design and accessibility goes, the Hario Mizadashi Cold Brew Coffee Pot gets my vote.
3. Cocktail Shaker
In a pinch, try turning hot coffee into iced with a cocktail shaker. A special thanks to Chow for enlightening us on this quick technique!
4. French Press
Have a French press sitting around? And you're a fan of cold brew? The Kitchn has a great how-to for using that old French press to make delicious cold brew overnight.
5. Mason Jar
Nothing screams iced coffee louder than a Mason jar. Not only does it give your coffee that Sunday brunch look, but it's also one of the most cost efficient ways of making at-home cold brew coffee. Pair it with a strainer and cheese cloth (or folded paper towel) and follow Chow's instructions for the perfect cup of chilled coffee. Pitchers and tupperware containers also work well for this method!
6. Nut-Milk Bag
Eager to get experimental? Try Business Insider's cold brew method and use a nut-milk bag and become the ultimate home-based barista.
Want to get really nerdy about iced coffee? For presentation, try keeping your iced coffee in a carafe and serve with paper straws. Want it on-the-go? Try one of Eco-Products' cold cups!