The 10 Biggest Party Schools In the U.S. Are...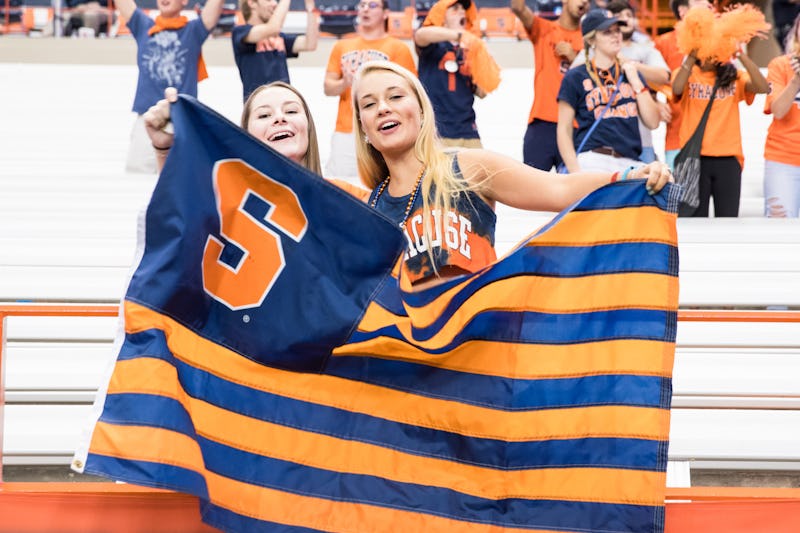 Brett Carlsen/Getty Images Sport/Getty Images
Well, the Princeton Review's 2014-2015 ranking for best party schools in the U.S. is out, and guess who took the top slot? It's Syracuse University! Congratulations, Syracuse! May the beer flow freely and your trash cans full of questionable beverages never run dry!
Although the party school listing is thought to be kind of frivolous, I actually think it's a pretty useful tool. Although obviously college is primarily meant to be an educational stepping stone (make sure you actually go to your classes, guys!), there's a lot more to it than just book learning. It's a whole social experience as well, and the overall environment will pretty dramatically affect how happy you are. If you like your social scene a little wild and a touch crazy, you'll do well at a party school; if, though, you're like me and huge crowds make you want to hide in your room and never come out, you'll probably want to steer clear of 'em. There are other ways to have a good time than partying, but if partying is your jam, than by all means, go forth and party.
Also, this isn't to say that these are bad schools; au contraire. The Princeton Review has also ranked Syracuse, for example, as the number two Best College Newspaper, the number four Top Undergraduate Entrepreneurial Program, and the number five Best College Radio Station. Indeed, Syracuse itself issued a statement after the rankings were released noting, "We do not aspire to be a party school." According to AP, the university cited its "long-established reputation for academic excellence with programs that are recognized nationally and internationally as the best in their fields." They just also know how to have a good time — or at least, how to have a very specific type of good time. Fun fact: According to the Huffington Post, Syracuse is the first private institution to claim the top spot since 1993 (it was Tulane that year).
Here's the full ranking, counting down from 10 to one:
10. University of Florida
9. Bucknell University
8. University of Wisconsin – Madison
7. Penn State University
6. Lehigh University
5. University of Illinois at Urbana-Champaign
4. West Virginia University
3. University of California, Santa Barbara
2. University of Iowa
1. Syracuse University
Images: Elstad Ranch/Flickr; Adventure Time Wiki