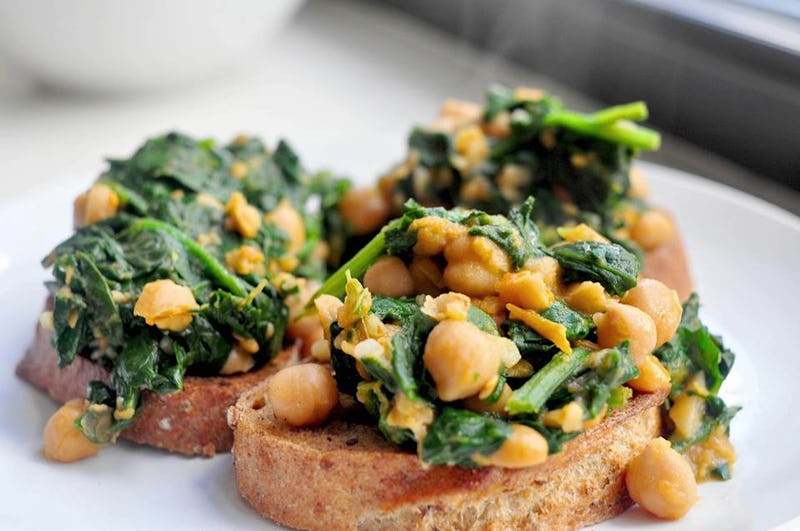 Imagine spending only four dollars on food...a day. Now, imagine maintaining a healthy diet on that same four-dollar-a-day budget. Sounds pretty difficult, huh? This is the challenge people on food stamps, or SNAP (Supplemental Nutrition Assistance Program), face when making choices at the grocery store. Enter our hero of the day, Leane Brown, who authored Good and Cheap , a cookbook aimed to help those on food stamps who eat for under four dollars a day. The best part? Not only are the recipes healthy and delicious, but the book is currently available for free as a PDF.
According to NPR, Brown wrote Good and Cheap as her thesis while pursuing a MA in Food Studies at NYU. She got the idea for it after moving to the states from Canada, where Brown noticed that people on a low income struggled to maintain a healthy diet. Since she first posted it in April, Good and Cheap has been downloaded by almost 200,000 people, according to TIME.
Brown explains the importance of cooking and eating healthy, even when on a steep budget, in Good and Cheap:
"Learning to cook has a powerfully positive effect. My hope is that this book will empower people to become better, more conscious cooks, able to conjure deliciousness in any kitchen, anytime, anywhere. Good cooking alone can't solve hunger in America, but it can make life happier—and that is worth every effort."
At first glance, one probably wouldn't know that the book was written for people trying to eat for four dollars a day. Why? First of all, the photos! Filled with high-quality images of the prepared recipes, Good and Cheap easily competes with Pinterest boards or Martha Stewart cookbooks. Then of course, there are the recipes themselves, which seem more like expensive brunch selections than any budget meal I'm used to. Who on earth could resist the idea of eating Mexican sweet corn, potato leek pizza, or a helping of savory summer cobbler?
The big question here: how? How does one afford to make whole-wheat jalapeño cheddar scones, a pastry that would probably cost upwards of $4 (an entire SNAP user's daily budget), at any coffee shop or bakery?
Her secret, or should I say, secrets: buying versatile foods that can be used in more than one dish, "thinking weekly", starting a pantry, and, of course, butter. This is only the tip of the iceberg when it comes to the advice she gives in her book. She also manages to keep cost per serving low — some recipes are only 60 cents per serving, like lentil soup, according to TIME.
Considering SNAP provides 46.2 million low-income people with the opportunity to purchase food, according to NPR, I think Brown deserves some applause. Naturally, she wants to take her book a step further by printing it and providing copies for free or at a discounted price to those without Internet access (more applause). Visit her Kickstarter page to donate and/or learn more about Cheap and Good. Because after all, who doesn't deserve a healthy diet (or a jalapeño cheddar scone)?
Images: Good and Cheap/Facebook