Dunkins' New Product Will Blow Your Mind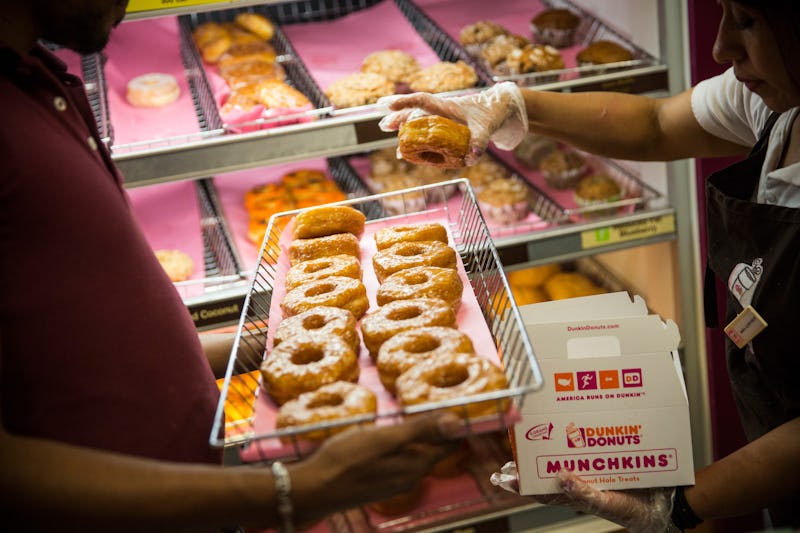 Andrew Burton/Getty Images News/Getty Images
Doughnuts and coffee are one of the world's greatest food combinations. Sure, they may be bad for you — but we're talking match-made-in-heaven perfection here: The tang of the coffee cuts the sweetness of the pastry, leading to ultimate breakfast nirvana. So why is it that it look so long for someone to come up with the idea of a coffee-flavored doughnut? No idea, but Dunkin' Donuts finally picked up the slack. Hoorah! Coffee and doughnuts for all!
According to Food Beast, there are two flavors to choose from, both infused with the chain's own Original Blend coffee: The Glazed Coffee Crème doughnut and the Coffee, Crème and Sugar doughnut. The first variety consists of a glazed shell stuffed with coffee buttercream and topped with a drizzle of chocolate; the second, meanwhile, also employs a coffee buttercream-filled glazed shell, although this time it's topped with powdered sugar. They'll only be available for a limited time (of course), so snap yours up while you can.
While we're on the subject, does anyone else think these other breakfast sweets could benefit from a hint of coffee (or tea, or hot chocolate, or whatever)? BRB — my kitchen is calling to me…
1. Coffee Pie
If I ran a coffee shop of my own, I would call this one "Dale Cooper Pie." I imagine it would be a coffee-infused pecan pie or something similar.
2. Coffee Muffins
3. Coffee Waffles
A coffee-flavored syrup atop a plain waffle sounds absolutely divine, doesn't it?
4. Coffee Pancakes
Or mocha chip ones. That'll do.
5. Coffee Monkey Bread
Like doughnuts, monkey bread can be a little too sweet on its own — but cut it with some coffee and you're in business.
6. Earl Grey Scones
These already exist, so hurry up and get baking!
7. Hot Chocolate Biscuits
The important thing would be to make sure there's just a hint of cocoa and sweetness — too much of either would overpower it.
Got any to add? Tell us on Facebook or Twitter!
Images: Giphy (5); Rebloggy; Famous People Drinking Tea/Tumblr