This fast food chain is selling cronuts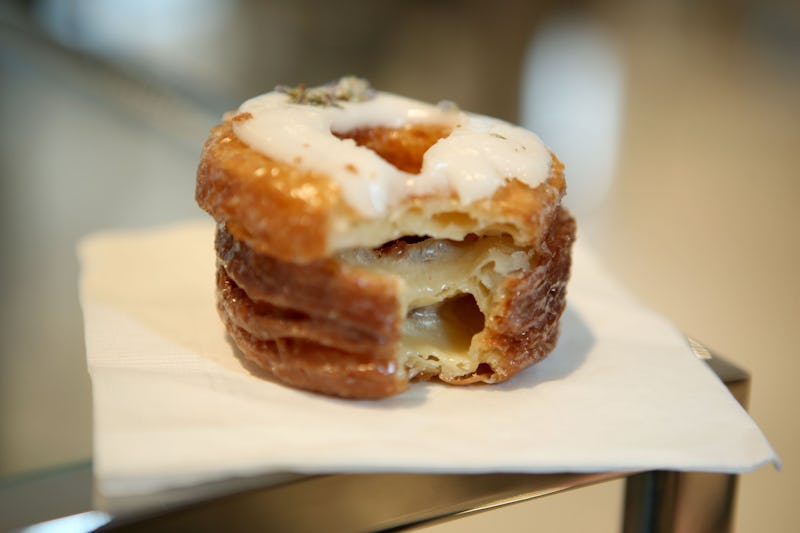 Ari Perilstein/Getty Images Entertainment/Getty Images
Even though I was still living in New York when Dominique Ansel's now-infamous Cronut took the city by storm, I have never actually eaten one. Don't get me wrong; I love my pastries — but somehow, I just couldn't justify standing in line for hours on end for one. There's a limit as to how far I'll go for my food, and that, apparently, is it. But, hey, guess what? Now we can get something resembling, but not completely identical to, a Cronut, without the insane wait and hefty (for a pastry) price tag! True, we'll be getting our croissant donuts at Jack in the Box… but hey, it's something, right?
We first heard the rumor via Foodbeast that the fast food chain was starting to test out their not-Cronuts somewhere in California back in June; now the rumor has been confirmed, thanks to a press release, with the flaky treats hitting Jack in the Box locations everywhere starting Aug. 7 (or, as some of us like to call it, today). They go for 89 cents apiece, with a three-piece order setting you back $1.99 — three bucks cheaper than the $5 price tag of Ansel's creations. Of course, the difference here is that Cronuts are baked fresh daily in limited batches, while Jack in the Box's versions are likely frozen hockey pucks until someone sticks them in an oven for a few minutes, but ...
Apparently the croissant donuts will only be available for a limited time, so if you want to give one a shot, hie thee to thy local Jack in the Box to snap 'em up before it's too late. Alas, I myself am still out of luck; searching my zip code for a nearby Jack in the Box on the burger chain's website brings up this charming and hilarious message:
… I'm not driving 450 miles for a croissant donut.
Ah well. At least I can still make something sort of like them at home thanks to this recipe from YumSugar; odds are they won't be that far off from Jack in the Box's version. Now if you'll excuse me, I have to go see a man about some Pillsbury croissant dough.
Images: mahrzzz/Instagram; Giphy