And the 10 Sexiest Subway Stops in New York Are…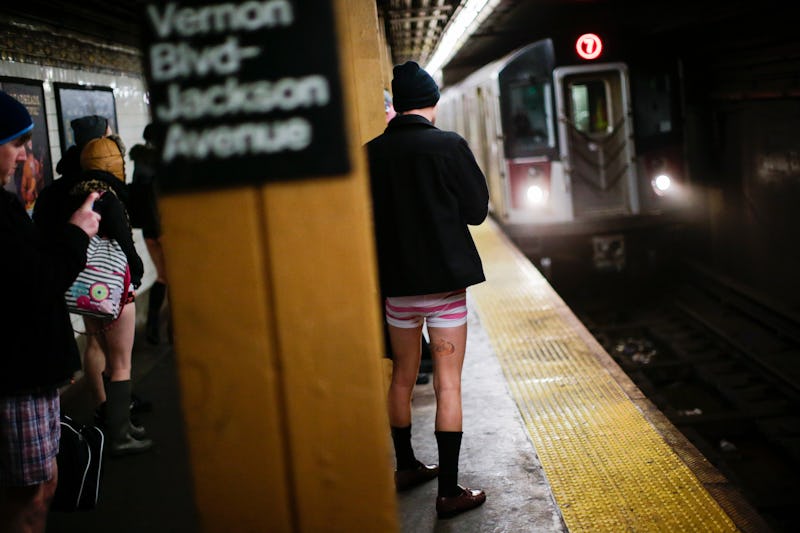 Eduardo Munoz Alvarez/Getty Images News/Getty Images
New York City is many things, and sometimes, sexy is one of them. Even so, I would argue that the New York subway is pretty consistently one of the least sexy things about the city — especially in the summer. Between the roaches, the rats and mice, the oppressive heat, and the mass of sweaty bodies… let's just say it's not exactly the stuff dreams are made of. The New York Post, however, evidently disagrees with me; in fact, they've gone so far as to determine the 10 sexiest subway stops in New York via what I'm sure is a terribly complicated algorithm full of crazy math and lots of research.
Actually, on second thought? It probably wasn't too complicated, as generally the ranking seems to depend on how attractive the people you're likely to see at each stop are. The paragraphs describing why each stop made the list rely heavily on looks: One gal interviewed for the piece is described as having a "flirtatious smile and killer curves" who "gets hit on frequently on the train"; one of the guys consulted for a sound byte apparently has "long blond hair, a beach bum's lazy smile, no shirt"; another interviewee noted that the closer you get to a specific station, "[the crowd] does get a lot more attractive"; and so on. Sure, the defining characteristic of each stop — what sort of industry is located there, whether or not it's in a party neighborhood, etc. — might have had some bearing on the decision; but at the end of the day, it's just a little extra flavor to divide all those pretty people up into categories.
Personally, I think it's doing the city a disservice by defining it solely based on the relative attractiveness of a small selection of people who spend a lot of time in and around it; maybe that's just me, though. Check out the full listing at the New York Post ; for the curious, though, here's the short-and-sweet version, including exactly what sort of pretty person you're likely to find where.
P.S.: Is anyone else kind of curious about how these stops measure up against that whole "how safe is your subway stop?" thing the Daily News put together a few months back? Are stops full of pretty people likely to have more crime, or less? I know, I know — correlation is not causation. Still, though — you kind of have to wonder, don't you?
1. 125th St. (A, B, C, and D trains)
Why: Pretty partiers.
2. Beach 90th St., Rockaway (A train)
Why: Pretty surfers.
3. Broadway-Lafayette (B, F, D, and M trains)
Why: Fashion and professional pretty people (models).
4. Dyckman St. (A train)
Why: Clubs and professional pretty people (actors).
5. 59th St. (6 train)
Why: Really expensive fitness classes populated by extremely in-shape pretty people with a lot of disposable income. (Maybe this is where all those mysterious millionaires hang out?)
6. Fulton St., Fort Green (G train)
Why: Pretty faces attached to trendy people.
7. 23rd St. (N and R trains)
Why: Smart and ambitious pretty people. Just, y'know… pay no attention to those pesky bedbugs.
8. Bedford Ave., Williamsburg (L train)
Why: Pretty hipsters.
9. Franklin St. (1 and 2 trains)
Why: Where pretty people go to prettify themselves.
10. Metro North to Yankee Stadium
Why: Pretty sports fans who can afford to take something other than the subway to the game.
Images: Giphy