Prepare Yourself For This Sweet Comeback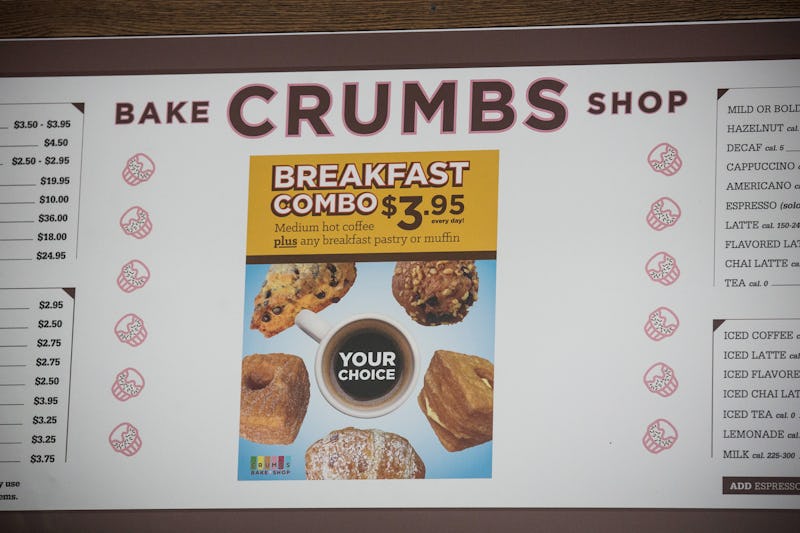 Andrew Burton/Getty Images News/Getty Images
A mere month and a half after cupcake mammoth Crumbs shuttered the doors of every single one of its bake shop locations, seemingly forever, new hope has emerged: Crumbs is reopening, and those beloved, super-sized pastries will return! Like some kind frosting-covered Lazarus, Crumbs is set to rise from the deep thanks to businessman and CBC star Marcus Lemonis. The New York Post confirmed on Tuesday that Lemonis' $6.5 million bid to purchase the bakery chain went unchallenged. The result? Crumbs will return! And soon! How soon? Well we don't know exactly when yet — but we do know that the bakery is set to emerge from bankruptcy on August 26.
Rumors about Lemonis' intention to buy Crumbs first started swirling almost immediately after the bake shop initially shut down. Lemonis, who hosts the reality show The Profit, and Fischer Enterprises first signed on to provide financing to the chain in July; by the time Crumbs filed for bankruptcy on July 11, they had already offered $1 million to minimize the damage. Shortly thereafter, Lemonis put in a bid for $6.5 million to acquire Crumbs entirely. The deal was that if no one beat his bid by August 19, then Crumbs was his — and lo and behold, that's exactly what ended up happening. A new era for Crumbs is upon us!
Alas, though, the acquisition hasn't cured all of Crumbs' ills. 21 of its "least profitable" stores won't be reopening at all; furthermore, Melita Bakery, which one supplied to Crumbs, had to lay off 75 of its workers — nearly a third of its workforce, according to the Wall Street Journal — in the wake of the chain's bankruptcy filing. Honestly, the thing that made me feel the worse when we heard Crumbs was closing in the first place was all the people who inevitably lost their jobs as a result of it. Here's hoping, though, that the revamp generates more jobs once business starts picking up again.
Crumbs will also probably look a little different than it used to once it reopens, although that may not be a bad thing. Lemonis noted recently on CNBC that the haven of deliciousness was always "meant to be a bake shop — not a cupcake shop." As such, it will likely also stock items from other brands owned by Lemonis: Key West Key Lime Pie, Matt's Cookies, Mr. Green Tea, and, as we previously stated, Sweet Pete's Candy. It's possible that Dippin' Dots, owned by Fischer, will make an appearance as well. Are Dippin' Dots Ice Cream Cupcakes on the way? We can hope!
Images: Giphy