The New 'Flappy Birds' Is Here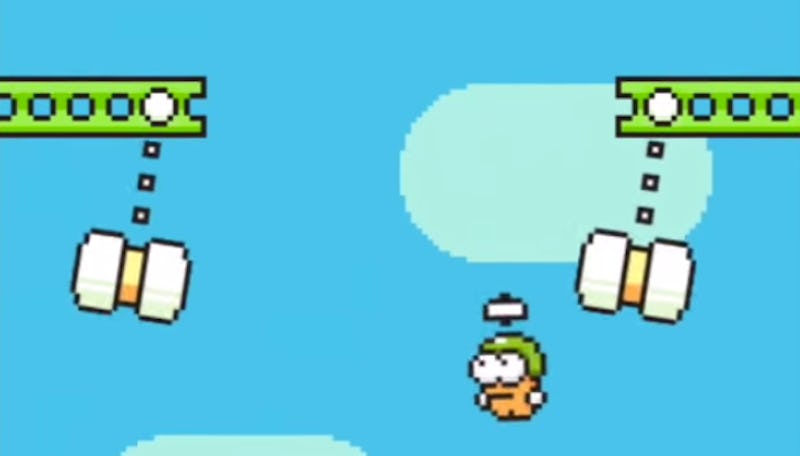 Are your fingers ready for the next game from Flappy Bird creator Dong Nguyen? Or will your dreams of victory be pulverized by the onslaught of green pipes? Nguyen's newest game Swing Copters will be released this week and it looks just as difficult as his original success story. I'm expecting much more stress, yelling at screens and tense thumbs just thinking about the game — but I'm also flapping with excitement to have a break from reading a book while on the train to work. I don't need literature when I have mobile games, right?
Here's a refresher on Flappy Bird if you were living under a rock when everyone was addicted. The game was released in May 2013, but didn't blow up until early 2014. Nguyen was reportedly making $50,000 in ad revenue a day during the craze, but took it down from the App Store because the popularity was too much. It was reported that phones with the game were being auctioned off on eBay for as much as $90,000. The game was eventually re-launched, but not before a flurry of knockoffs were made (including Flying Cyrus and Tappy Bieber ).
Swing Copters' gameplay looks pretty similar to Flappy Bird, but instead of advancing, horizontal players are now going up, and tapping on the screen now makes your copter-dude sway left or right. The biggest difference looks like the aspect of the game that might make it even more difficult than Nguyen's first creation. Say goodbye to those stationary green pipes and hello to gates with swinging hammers of doom. The extreme difficulty of Copters seems to mirror Bird, which is what kept people playing. There's an intense need to get past at least the first barrier. Is it perseverance, or addiction? Either way, you can check out a video of the game being played below:
Ready to be hooked again? Swing Copters comes out on Thursday and is expected to be free, but you can pay a one-time charge of $0.99 to get rid of ads. Good luck, gamers.
Images: TouchArcade/YouTube