Where to Go When the Zombiepocalypse Comes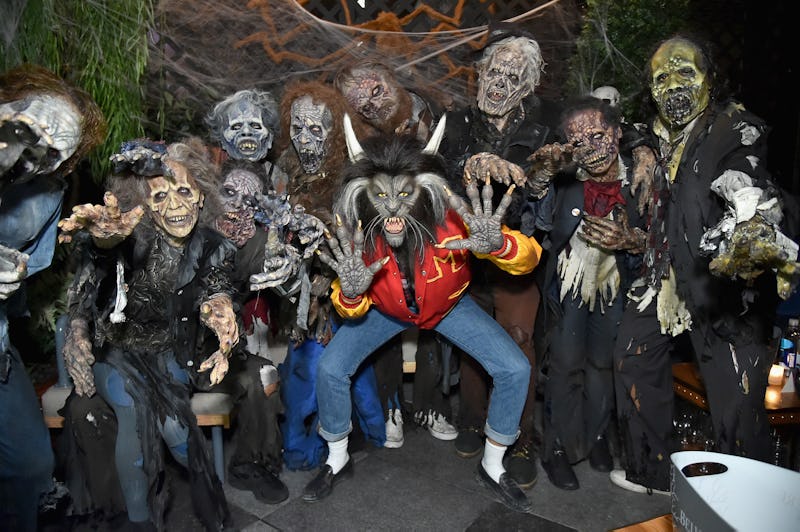 Mike Coppola/Getty Images Entertainment/Getty Images
It's the zombie apocalypse! Do you know where your escape plan is? If you've got one of these snazzy and practical posters, you're all set — it'll be hanging on your wall. Toronto-based art studio Design Different has created a series of Zombie Safe Zone Maps showing you exactly where you should go and how to get there when The Walking Dead becomes reality. For nine major cities in the U.S. and Canada, these maps not only give you directions, but also tell you how long it'll take to get there; furthermore, they give you the lowdown on what sorts of resources you'll find when you arrive. Because let's face it: When civilization collapses, Google Maps won't really be an option anymore, will it?
You'll find a lot of national parks and other similar areas as the destinations; this makes rather a lot of sense, as such spaces not only have tons of natural resources like food and water, but also the right terrain to hide and/or defend yourself as necessary. It's suggested that New Yorkers go upstate about four and a half hours to Moose River Plains; at an elevation of 2,700 ft., it features natural springs, good fishing, and average high temperatures of about 75 degrees Fahrenheit:
Those living in Dallas would do well to head to Sabine National Forest, about three hours and 45 minutes away from the city. Although its elevation isn't as high as Moose River Plains (only 315 ft.) and its high temperatures are a little toasty (94 degrees. Ugh), it, too, has excellent fishing and natural springs. Water and food? Not a problem:
And of course there's an escape route for Toronto, from whence creator Ryan McArthur and the other Design Different masterminds hail. If you, like McArthur, live up north, hie thee to Algonquin Provincial Park, which has an elevation of 1,900 ft., natural springs, and fishing and hunting (anyone else sensing a trend?). It's about three and a half hours away from the city:
There are plenty of other cities to choose from; you can even have Design Different customize your own town for you. How thoughtful!
Of course, once you've got your escape route in place, you still need to come up with a plan and make sure you've got the tools you need to carry it out. This includes having a readily accessible vehicle, first aid supplies, your very own Daryl Dixon, and pretty much everything in the Open Company's Go Bag. Also, I'd recommend brushing up on these disaster preparedness tips; not limited to zombies, they're applicable to any wide-scale disaster you can imagine, from tornados to sharknados. It never hurts to be ready for anything.
To take a look at the rest of the maps and to buy one yourself, head on over to Design Different's website. Happy zombie hunting!
Images: Design Different