New Site Pairs Flash Fashion and Retro Selectivity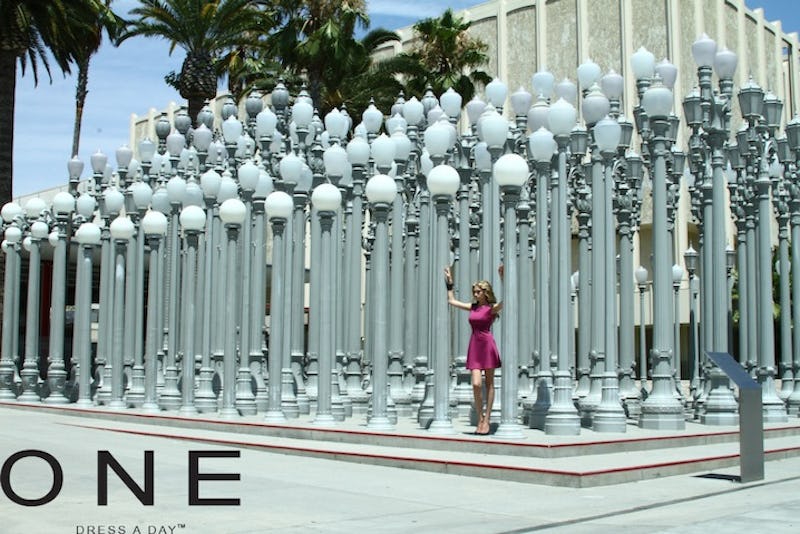 Bruno Schiavi, owner of Jupi Corporation, design partner with the Kardashian sisters, and self-described "fashion whisperer," is always looking for gaps in the fashion market. His latest effort along those lines is a website called One Dress a Day, which launched last week and is already selling out their cocktail-friendly designs. Schiavi's concept is simple: One new, limited-edition dress per day, 365 days a year, available from XS-XL, each with its own brief styling video. As of Monday morning, he's debuted eight dresses that range from $139-$179, two of which have already sold out.
One Dress a Day hits two very desirable sweet spots in the world of fashion retailing. It taps into the immediate gratification of the internet by fulfilling our craving for new and right now — a different dress every day of the year? It's our childhood fantasy come to life. Somewhat counterintuitively, however, it's also a return to old-school selectivity — a haven of simplicity in a world of so many online shopping options, reminiscent of days spent browsing small boutiques, being waited on by salespeople and taken to the back room to be shown the latest stock (OK, maybe that only happens to royalty). Although the dresses are flashy and selective and new, they won't be available forever — each dress will only hang around the website for 30 days, or until it sells out. And if you hate the day's dress offering, there's nothing you can do about it for a solid 24 hours. In this day and age, that can feel like a lifetime.
Yes, a site like this means you'll avoid fashion horror stories like running into your ex's new girlfriend while wearing the exact same Anthropologie frock, though dresses have all been pretty predictable so far; if there are fashion risk-takers in the bunch, we haven't seen them yet. The debut dress was a pretty, basic, sequined LBD, but the emphasis on bodycon offerings (three out of the current eight dresses) just feels so... Kardashian Kollection. The riskiest dress so far has been a classic fit-and-flare tea dress shape in striking fern green with gold lace overlay and a droopy belt — sort of like something Anne Boleyn might wear if she were transported to Downton Abbey. Believe it or not, this was the first dress to sell out. The daily styling videos are awfully basic, too: One of them instructs us to pair a wild print with — wait for it! — neutral accessories.
Thankfully, Instagramed shots from an L.A. press preview party reveal that upcoming styles get a little more wild and a lot more sequined, which is one surefire way to get us to click "refresh."