The Best Spots to See the Leaves Change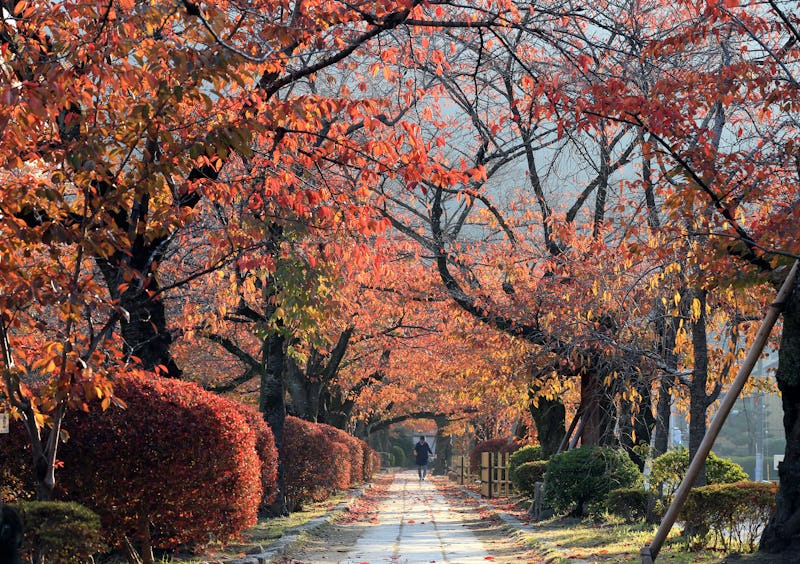 Buddhika Weerasinghe/Getty Images News/Getty Images
Fall is Earth's way of apologizing for taking summer away. As it redistributes sunshine to other parts of the globe, it appeases us with apple cider and flab-flattering sweater weather. In the long run, of course, fall is the great meteorological decoy: Soon enough, pretty trees turn into bare ones, ciders give way to medicinal teas, and cable-knit sweaters get cast aside in favor of leopard-print Snuggies. Behind those six paradisiacal weeks of autumn lie six months of cold winter, waiting to ambush us.
But, fall! It's impossible not to be seduced by the season. And what's the best part of it? Clearly, the pumpkinization of everything, hands-down. If you've begun to harass your local Starbucks, demanding they bring out the Pumpkin Spice Latte, no one blames you.
But after gorging on all that Pumpkin Cheesecake, and Pumpkin Dream Cake, and Turtle Pumpkin Ice Cream Cake, you'll need to get your once-beach-ready, now-hibernation-ready rear in motion. And there's no better reason to get out of the house and into the great outdoors during fall than "leaf peeping"— the official, and officially creepy, nickname given to act of driving and/or walking to see all those gobsmackingly beautiful leaves.
Yes, as far as climatological consolation prizes go, the charming, super-American tradition of watching the leaves turn is second to none.
Not sure where to go to see the leaves turn? We've got you covered (Snuggie-style.)
Route 100, Vermont
Route 100 is a classic among leaf lovers. The 200-plus-mile road snakes its way through almost the entirety of the state, beginning at Wilmington and ending near the Canadian border. Along way, the route affords serious views of foliage in transition. And while any of Vermont's small towns have charm in spades, Waterbury, right off 100, has the distinction of housing the Ben and Jerry's headquarters.
Blackstone River Valley, Massachusetts and Rhode Island
This region of New England — full name: Blackstone River Valley National Heritage Corridor — spans from Providence, Rhode Island to Worcester, Massachusetts. It's known as the "Birthplace of the American Industrial Revolution" and is listed on the National Register of Historic Places, which means it's mostly lacking in the overdevelopment that ravages much prime leaf-peeping regions. No matter which state you start in, postcard views of authentic New England bucolia await.
Kancamangus Highway, New Hampshire
The scenic Kancamangus Highway connects Lincoln and Conway, but, for peepers, it's less about either destination than the 34 miles of foliage between them. New Hampshire boasts plenty of other viewing spots — the Lake Sunapee region, near Dartmouth, is worth checking out — but no visit to the state during fall is complete without a drive along this route.
Route 169, Connecticut
This famous byway stretches from Woodstock, at the Connecticut-Massachusetts border, to Lisbon, in the state's southern region. Among the more notable stop-offs is Canterbury, a town that was initially settled in 1697 and maintains, with sites such as a traditional town green and the Prudence Crandall House, a distinct pre-revolutionary flavor.
The Old King's Highway, Massachusetts
The Old King's Highway, or Route 6A, follows the shore of Cape Cod, jutting out from the main coastline into the Atlantic. While the region is known as a summer destination, leaf peepers know the area — and this tree-lined road especially — does double duty as an autumn hotspot.
Bar Harbor, Maine
Practically any spot along Maine's coast is ideal for both leaf-peeping and wistful ocean-gazing, but Bar Harbor stands out. Once a summertime destination for the nation's elite, and now home to Acadia National Park, the area mixes a rich coastal-town feel with wide expanses of untouched landscape. It's also situated not too far away from Route 1, which, along with Route 100 in Vermont, is practically a mandatory pilgrimage site for dedicated leaf-peepers.
Halifax, Nova Scotia
Early leaf-peepers should consider crossing the border to Canada, where the first of the season's leaves take on color. Halifax, in Nova Scotia, is a good place to start. MSN recommends the Cabot Trail, a 65-mile route in nearby Cape Breton "described as one of the most scenic drives in the world."
Seneca Lake, New York
The Finger Lakes region in general sees an explosion of color in the fall, but if you have to decide on a lake, consider trading big, ever-popular Lake Cayuga for smaller, nearby Seneca Lake. The official Finger Lakes website recommends following NY 14 South, beginning at Geneva and finishing at Watkins Glen, where you can visit Watkins Glen State Park.
Poconos, Pennsylvania
Prime leaf-peeping season begins in September, up in Canada, and moves down the continent quite fairly quickly — the peak season in most New England states concludes around mid-October. But if you find yourself late to the party, try the foliage in the comparatively southern Poconos, in Pennsylvania. The area includes 127 varieties of trees and — because you can't see all of these in one day — countless lakeside camping sites and B&Bs. Before venturing, look to the region's official foliage tracker, which is updated weekly through the end of October.
The Maasdam
Leaf peeping is so popular that entire cruises are dedicated to it. One such vessel, the Maasdam, takes as many as 1,258 passengers from Boston to Montreal, either one-way or round-trip. Viewers see some of the most renowned peeping spots, including Bar Harbor, Maine, and Halifax, Nova Scotia, and others. With fares starting at $600, Maasdam is among the more affordable options, but there are plenty to choose from.