Moda Memorandum: My Vintage "G" Necklace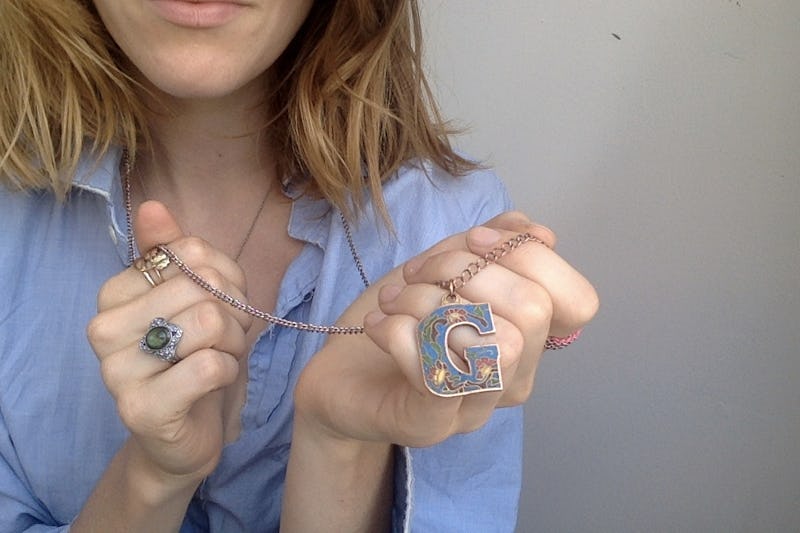 The shoes that carried you through a New York City summer, a perfume that reminds you of a freshman year crush, that ratty old t-shirt you can't ever seem to give away — these are the pieces from our closets and vanities that make personal style meaningful, and we're here to highlight them. Have your own story?
I was Christmas shopping for my friend when I spotted a gorgeous long necklace languishing in the corner of a tiny vintage store. It was the letter "G," strung on a delicate gold chain, decorated with red and yellow flowers on a blue enamel background. Neither of us have the letter "G" anywhere in our names (hers is Meriwether), but I bought it for her anyway. (It was expensive.) Even then, I think I was subconsciously buying it for myself.
During the winter of the G necklace, I was in something of a creative existential crisis — frustrated and unfulfilled, writing for no one in particular, uninspired by anything other than the imaginary worlds in my head that were getting dimmer as the Midwestern winter stretched on and on. I kept thinking back to a group of friends that Meriwether and I had right after college, with whom I'd spent some of my happiest post-college cocktail hours and late, lazy, champagne-fueled nights. We were all poets and fiction writers, skulking around Chicago for a year or two before everyone went their separate ways. And we didn't just drink — we had a writing group.
If you've ever been in a writing group before, you know how awful they can get, haunted by all the misunderstandings, stylistic clashes, and drama that typically accompanies a group of volatile, aspirational bohemians. Somehow, our writing group transcended all of that. Everyone just kind of got each other.
Writing is such a solitary pursuit that a warm, open room of readers is possibly the greatest gift a young writer can receive. My friend Chris was one of those readers, and when he really liked a piece, he'd write, "You are a triple-G: Genius, goddess, gangster."
When I saw the G necklace, the phrase came rushing back to me. I could see it, scrawled above the titles of my stories and Meriwether's poems.
I took the necklace home, put it away, took it back out, tried it on, and decided to wear it, just for one day. (Bad friend.) At one point, when I bent down to tie my shoe, the G necklace caught on the corner of the table — and when I stood up again, the beautiful gold chain snagged and broke. Disheartened, I put the letter charm back in the box and bought my friend another Christmas present.
A few weeks later, wandering moodily through the snow, I found a long chain strung around a fence post. It consisted of two mismatched pieces of chain held together by a rusty clasp. It was stained with something that looked like blood. It was hideous... and kind of legit. I snatched it off the fence post and strung on the letter G.
I wear my G necklace almost every day. I play with the chain, I put it on backwards to show off the letter's textured gold underbelly, I never tell people exactly what the G stands for. "Great," I say, or "Gatsby" or "gimlet" or "gravitas." I love wearing a letter that has no meaning to the outside world. The G necklace stands for something greater than the sum of those three words: genius goddess gangster. It reminds me that years ago, when my friends and I were even younger than we are now, we had faith in each other's work — and because of that, we were able to write exuberantly, and we loved doing it.