Steal Ariana Grande's "Love Me Harder" MV Look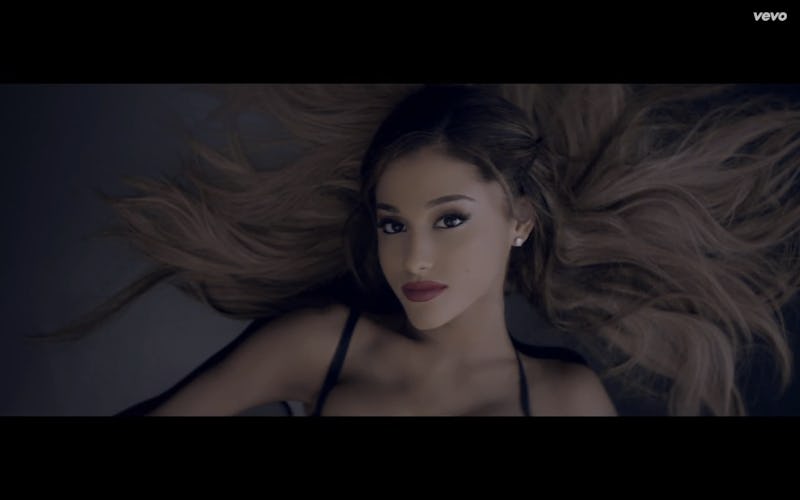 Diva drama aside, didn't Ariana Grande look amazing in her pretty darn sublime new music video for "Love Me Harder?" As the suggestive lyrics would, well, suggest, the whole thing is comprised of arched backs and some serious (we're talking level 11) bedroom eyes. Now, most of that's due to Grande's star power, but she got a definite assist from her retro/classic/awesome makeup.
So with that in mind, why not take said makeup for a spin? I'm not lying or being modest when I say I've got about zero percent of Grande's sexual charisma (not to mention her bone structure), but hey: cool makeup is cool makeup. And luckily, in this case, cool makeup also happens to be easy makeup! This look mainly boils down to dramatic eyes and lips, set against a backdrop of flawless (or fake-flawless) skin. See? It's deceptively simple. So let's start with the basics.
The Face:
For the face, you actually get to skip a step, because as far as I can tell, Ariana Grande's not wearing any blush. It may seem strange, but it actually works well, because the lips and eyes are so dramatic, that blusher might take it straight to the '80s.
(JK I love you forever, Annie Lennox)
Go for some serious foundation: I put on a thick layer of IOPE Air Cushion in 23 Cover — if you haven't heard of it before, check it out: it's a Korean BB cream that's great for layering. They sell a very similar product at Target (Laneige BB Cushion) that's both easier to find, and about $10 cheaper, if you want to try that out instead.
Conceal, conceal, conceal: Acne scars, dark circles — basically, anything in sight.
Brows: Go for defined, yet delicate. She's definitely got the youthful bright-eyed-and-bushy-tailed brow thing going, but it isn't to the Cara Delevingne level, if you know what I mean.
The Eyeshadow
Go for warm brown, neutral shades, and really pack it on. Go up past the socket line, and put the focus on the crease with a darker brown.
The Eyeliner
Go for intensity! I painted on a slight cat eye with my gel liner (Bobbi Brown Long-Wear Gel Eyeliner), then went back and waterlined all the way around the eye. Try to keep the bottom line as crisp as possible, though with the top line, feel free to smoke it out — I used a smudger brush and mussed it up with a touch of black shadow.
Oh, and don't forget the lashes. Falsies preferred, but not required!
The lips
Notice, if you will, the fact that Ariana's are a touch overdrawn. Cher Horowitz did it, so why not? I slightly overdrew, using a red lip liner (trust me, a little goes a long way — I feel like I went a touch overboard, and I barely even went outside the lines), then added my favorite retro brown-red (Make Up For Ever Rouge Artist Intense in #44) on top.
If you're feeling particularly brave (I wasn't) paint over your Cupid's bow entirely, to get Ariana's super pouty look.
Outtakes
I feel super awkward taking selfies and broadcasting them to the world, so this face is how I feel on the inside while I'm taking pictures of myself.
Also, I tried (and rather majestically failed) to recreate Ariana's pose:
My bone structure game may not be up to scratch, but — if I do say so myself — my hair volume game is pretty darn strong. I have (almost) as much hair as Ari, and look, Ma — no extensions!
Images: arianagrandevevo/Vevo; Rosie Narasaki