A Sneak Peek Of The Cara D/Pharrell Film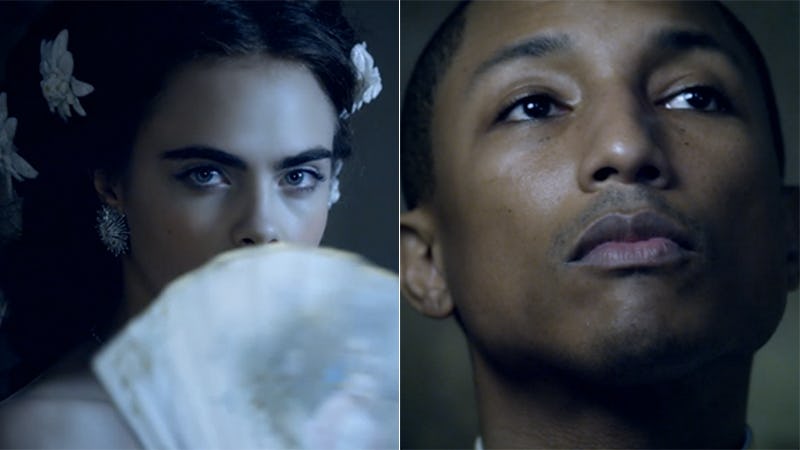 Well, we were promised the collaboration of the century, and it looks like that epic work of art has finally arrived. A 40-second preview of Chanel's new film starring Pharrell Williams and Cara Delevingne, Reincarnation, was just released. The supermodel with the greatest brows on earth and singer of our favorite pick-me-up song are finally releasing their own mini-movie? Get pumped, people!
Taking place in a middle of a castle, the supermodel and "Happy" singer reenact the moment Gabrielle Chanel fell in love with a jacket worn by an elevator operator while vacationing in Austria in 1954. Williams stares off into the distance and Cara. D. cools herself off with a vintage fan before they finally meet in the middle of a ballroom for a slow dance. Delevingne looks like an elegant princess with a giant gown and an updo filled with flowers , while Williams could easily star as a prince in the next Disney film. It's magical. It's whimsical. And — of course — it's a work of art that only Karl Lagerfeld could pull off.
The entire film won't be released until December 1 at the Chanel Métiers d'art collection in Salzburg (with Kendall Jenner in attendance, of course). But for now, here's a look at the teaser:
Photo: Chanel