Where are the People of Color in 'Into the Woods'?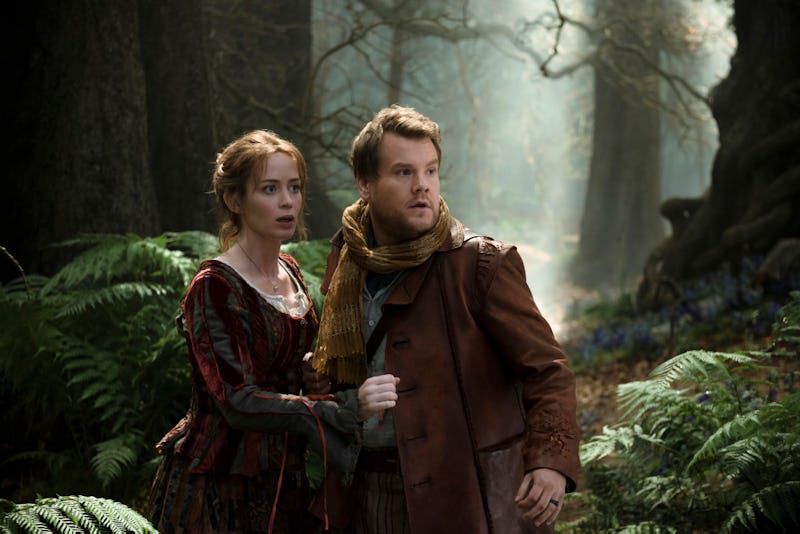 Into the Woods is nearly the perfect holiday film. From its award-winning cast (Meryl Streep, Anna Kendrick, Emily Blunt, Johnny Depp) to beautifully adapted ballads and gorgeous scenery, the film is brimming with both lessons to be contemplated and enough sing-songy action to keep you happily seated for the two-hour duration. With the opening "I Wish" tune to the glorious and unexpected ending, I was entirely enthralled. But my excitement was tempered when I realized a sad actuality: As far as I could tell, there was only one person of color in Into the Woods , and that person was an uncredited extra.
As someone who consumes media in spades, it's not uncommon to see a big-budget film with an all-star cast of white people. It's a tale as old as time, but what was most disturbing about my Into the Woods viewing experience was not the lack of PoC, but the fact that when one black man did materialize on screen, it was jarring. And that's not good, or healthy. I was so consumed in this world of whiteness, that seeing any sort of diversity made me realize immediately how pathetic it was I hadn't realized this lack of diversity before this point. I have no qualms against any of the actors cast — I truly think they all did a fantastic job, but how refreshing would it be to see a diverse cast? An ethnic Prince Charming, Red Riding Hood or Cinderella? Let's give critics one more thing to applaud.
We are in an age of filmmaking where not representing a populous in its many colors — in this case, the world of fairytales — is frowned upon. We've seen a million and one fairytale iterations starring the Aryan race, so it is a failed opportunity not to explore other options. Hollywood is embracing and cheering on those blockbuster films who give us something excitedly unexpected — a black superhero (see Marvel's Black Panther) or a kickass female heroine in a could-have-been male role (Captain Marvel, for example). Triumphantly, we've also seen a handful of queer superheroes emerge — but the superhero genre isn't the only cinematic resident that needs reworking.
Another reason the lack of PoC is disappointing, is the narrative itself would lend so beautifully to "unconventional" casting choices. Into the Woods is a transformative tale that takes an extreme 180 turn halfway through the film. The first half offers familiar stories of Cinderella, Red Riding Hood, Rapunzel, Jack (and his bean stalk) and more, while the second half twists these children's fables to surprising end. The film asks you to question everything you know to be true, to question what is right and wrong, and most importantly, to see beyond stereotypes. But this glorious lesson shouldn't be reserved for those of Milky White (pardon the reference) skin.
Into the Woods hits theatres December 25. Watch the trailer below:
Images: Disney