That New 'Pan' Song Ended With a Bang... Literally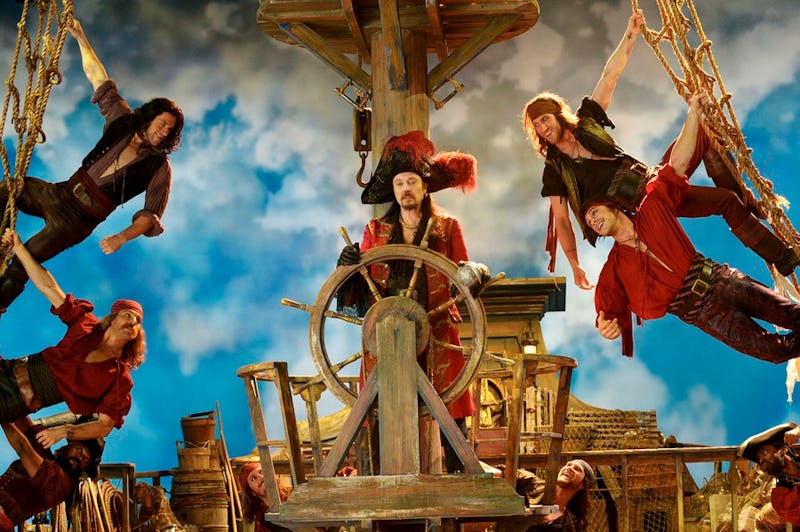 So we discovered that Allison Williams could handle the pressure of performing during Peter Pan Live!, but how about the iconic Christopher Walken? The oft-imitated (seriously, everyone has their own Walken impression), but never-duplicated star appeared on screen in full Captain Hook gear and sang a brand new Peter Pan song called "Vengeance." The Broadway-friendly song was about Hook's desire to take out, you guessed it, Peter Pan. Sample lyric: "Treasure's sweet, but nothing's sweeter than vengeance." (FYI, the tune was penned by Amanda Green, the daughter of one of the show's original lyricists.)
While Walken's singing left a lot to be desired and he more or less resembled Angelina Jolie in Maleficent, his trusty pirates (including a very muscular Smee) made up for the vocals aboard his ship.
Still, all was forgotten regarding Walken's shaky accent and even shakier singing once he started playing the piano and breaking out into a full-on tap dance. The actor— who has shown off his stellar dance skills before (see below: the still-awesome music video for Fatboy Slim's "Weapon of Choice") — lead the full ensemble in the song-and-dance number.
The whole thing, quite literally, ended with a bang, but we're still thinking the best is yet to come from Walken tonight.
Image: Virginia Sherwood/NBC