Netflix Is Producing a Nina Simone Documentary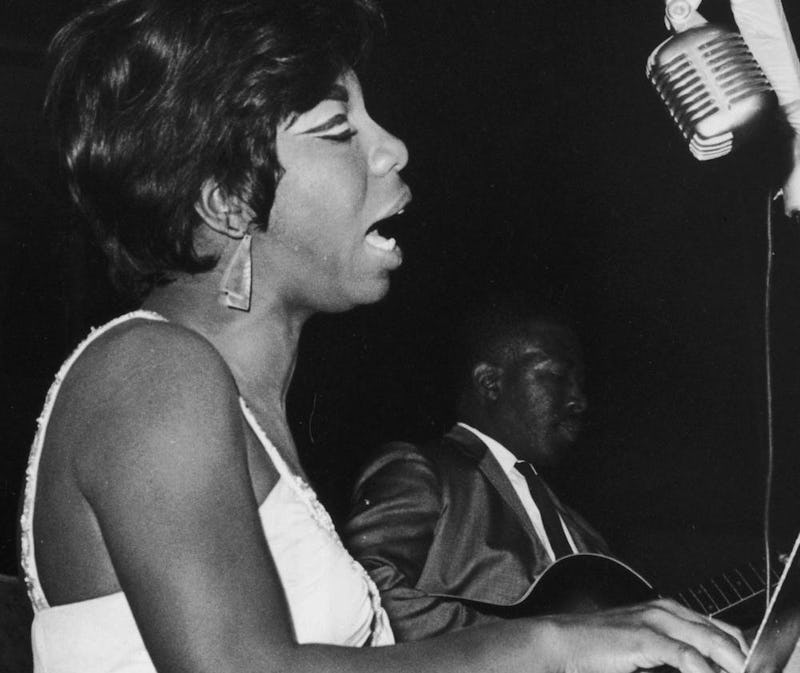 Netflix has just announced that it will debut an original documentary about iconic singer and activist Nina Simone. Entitled What Happened Miss Simone?, the documentary will be released in 2015 under the direction of Liz Garbus. Garbus is a renowned and versatile documentarian, having told the story of a prison in the Oscar-nominated The Farm: Angola, USA, a chess master in Bobby Fischer Against The World, and Marilyn Monroe in Love, Marilyn.
This marks the first time that Netflix has acquired a documentary at such an early stage. I love that Netflix has decided to back this project specifically, especially at this time in American culture. In addition to being "The High Priestess Of Soul," Simone was a devoted civil rights activist, using music to fight oppression in the '60s. Simone passed away at age 70 in 2003, leaving a legacy of justice and beautiful songs behind.
It's the kind of documentary that could easily fly under the radar, as so many in the genre tend to. But Netflix has provided a perfect home for true stories. The streaming service has already gotten behind a range of documentary projects, including The Square, the Oscar-nominated telling of the 2011 Egyptian Revolution, and the critically acclaimed Virunga, a recently released story of a national park in the Congo.
What Happened Miss Simone? will feature previously unreleased audio of Simone telling her life story to biographers. The documentary will also feature interviews and concert footage. In a released statement, Garbus said:
For each of her millions of fans, Nina feels like a treasured secret. With What Happened, Miss Simone?, I'm excited to help bring her passion, her music, and her story to the world.
The stakes are high; Simone is indeed a treasured figure, and fans often have high expectations for portrayals of their idols. And, of course, it can go horribly wrong. (The Aaliyah biopic comes to mind.) But Nina Simone's story is in capable hands. One thing I'm wondering about it is how exactly Garbus will grapple with the darker side of Simone's life, such as her infamous temper and mental health struggles. It would be a disservice to the truth to exclude these incidents, especially since they were covered up for so many years.
Garbus should be able to tell the story of a hero and a beautiful singer without excluding the flaws. And hopefully, it will recall a time when art was at its political height, perhaps pointing to ways in which artists unsatisfied with the current American justice system can express their frustration. Telling stories from the past can have a profound effect on the present.
Image: NinaSimone