'The Simpsons' Meets...'Frozen'? What?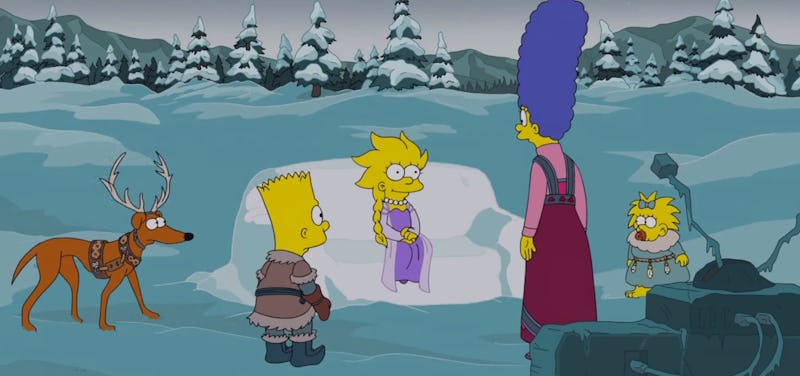 It's official: Frozen is the movie that cannot be stopped. It was pretty official before, of course, considering the movie is dominating even the Grammys, but still — it's clear that Frozen is here to stay. Case-in-point: It looks like now, even The Simpsons is taking on Frozen in its upcoming holiday special that airs this Sunday. The episode is titled "I Won't Be Home for Christmas," and, as it should be, Frozen is referenced a mere one minute and fifteen seconds after the opening credits.
The reference happens during the show's couch gag, which always differs with every episode. Since this is the Christmas special, and therefore a special episode, the couch gag runs longer than normal — and takes is through Springfield and, most importantly, The Simpsons' daily lives, as everyone gets into the Christmas spirit. Frozen doesn't actually show up until the end, as a title card reading "obligatory Frozen reference" (they're not wrong!) pops up on screen — but, when it does, I can guarantee it's nothing but perfection from there on out. The Frozen reference may be small and slightly strange for a show like The Simpsons, but it's also hilarious.
Check out this sneak peek of the holiday special couch gag, with Lisa doing her best Elsa impression, below:
The Simpsons' holiday episode will air this Sunday.
Image: YouTube