An HBO Veteran Plays 'The Red Tent's Favorite Son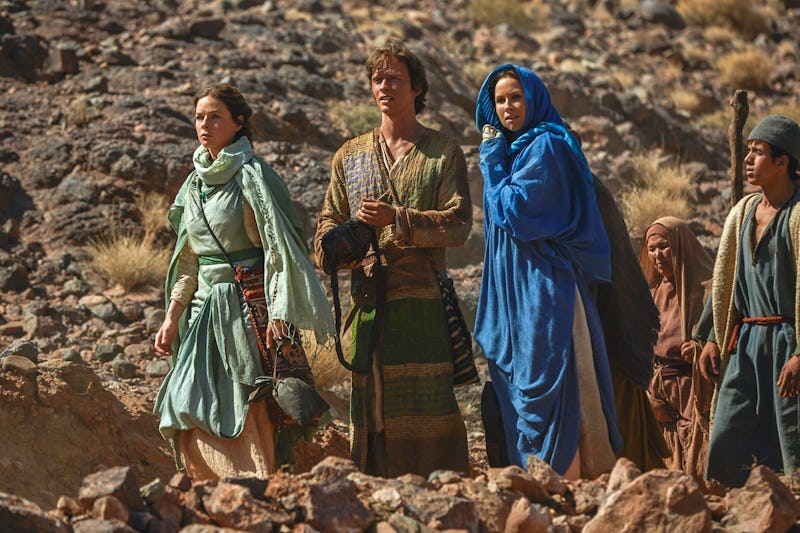 The cast of Lifetime's latest project is filled with familiar faces from film and TV, from Morena Baccarin to Minnie Driver, but who is playing Joseph in The Red Tent ? He of the Technicolor Dreamcoat and the musical based around it? British actor Will Tudor is Jacob's favored son, and he's used to playing characters who almost seem too good to be true. In the Bible, Joseph is an unambiguous good guy, while the rest of Jacob's sons are like a wave of destructive force, constantly jealous and causing wars or conflicts wherever they go. Joseph is the chosen son, and even though he eventually gets sold into slavery, he barely has a vengeful thought.
Joseph ends up being one of the only men (besides her husband) who Dinah, The Red Tent's main character, has a connection with. That connection will probably become more pronounced in the second half of The Red Tent airing on Monday night, as there's a scene from later in the book where Dinah reunites with Joseph after he has become the leader of Egypt. But besides playing the favorite son and brother in Lifetime's miniseries, what else is Tudor in? This will hardly be the last time you see him.
Tudor got his start on a few British shows, like the pregnancy drama In the Club , but his first big standout role was on HBO. He's played Olyvar for the last three seasons of Game of Thrones, a show that knows a thing or two about how to adapt long, tedious journeys to film in an interesting way. Olyvar is Littlefinger's male sex worker, who uses sex as a way to get information and pass it along, be it about a Tyrell or about Oberyn. The sexuality of the various characters can be used against them, and Olyvar is there to take notes and report back to Littlefinger.
He was recently added to the cast of Tomorrow , a movie executive produced by Martin Scorsese and directed by Martha Pinson, his longtime script supervisor.
It explores the struggles faced by veterans trying to get adjusted to postwar life, often trying to become accustomed to new wounds, both physical and emotional. Tudor's part hasn't been announced yet, but it's likely that he'll be playing a young soldier. Tudor hasn't had many other major roles yet, though the one-two punch of HBO and The Red Tent will surely help him book a few more.
Images: Joey L., David Appleby/Lifetime