Where Is Sam from 'Love Actually' Now?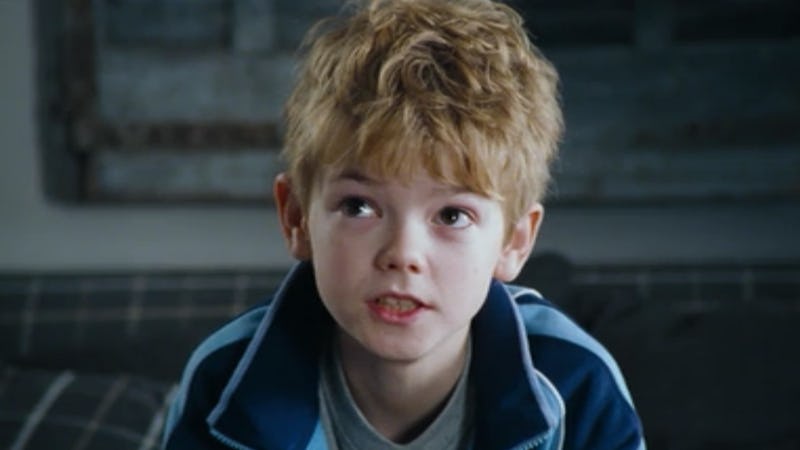 Christmas wouldn't be the same without my annual dose of the 2003 holiday rom-com Love Actually. The London-set Christmas tale, told through interweaving vignettes, is the ideal holiday film for a few reasons. One, it features a heaping of English accents, which, while not necessarily holiday-centric, happen to be particularly soothing — sort of like listening to a crackling fire. Two, it's a holiday film about all kinds of love, from familial to your very first. It's the story of the latter that gets me every single time I watch the film, mainly because there's really nothing cuter than watching a little boy realize that he's totally smitten with the cute girl in his class. In the film, Sam, played by Thomas Brodie-Sangster, recently lost his mother and confides in his stepfather Daniel (Liam Neeson) about his crush on Joanna (Olivia Olson), an American student in his class. Daniel convinces Sam to tell Joanna how he feels, which the little boy very nearly does at the airport before Joanna is set for departure — but, instead, simply says, "hello."
It's a sweet moment regardless, one guaranteed to warm your heart faster than any cup of hot cocoa. And, as anyone who has ever actually seen the movie can attest to, Sam is pretty much the cutest British kind anyone has ever seen. So what happened to the actor who made us feel all of the feels during the Christmas movie? Love Actually wasn't the last of Thomas Brodie-Sangster — nor was it the last time the actor paired up with his onscreen love interest. Here's what Brodie-Sangster has been up to since Love Actually hit theaters 11 years ago.
Nanny McPhee (2005)
Brodie-Sangster teamed up with his Love Actually co-stars Emma Thompson and Colin Firth for Nanny McPhee. Unlike his sweet role in Love Actually, Brodie-Sangster plays a troublesome kid who gives his father and his new nanny a heap of trouble... until Nanny McPhee decides to fire back with some magical discipline of her own.
Tristan & Isolde (2006)
Brodie-Sangster returned to his romantic roots with Tristan & Isolde, a love story about a warrior who falls for a princess. Brodie-Sangster plays a young Tristan, who is portrayed by James Franco as an adult.
Phineas & Ferb (2007-2014)
Brodie-Sangster lends his voice to the Disney Channel animated series as Ferb. In fact, it's on the animated show where he was reunited with his love interest from Love Actually — actress Olivia Olson has voiced Vanessa on the series since 2008.
Bright Star (2009)
Apparently Brodie-Sangster just can't stay away from romance. The actor played the brother of poet John Keats' lover Fanny in the fictionalized biopic.
Game of Thrones (2013-2014)
Brodie-Sangster nabbed an intense role as Jojen Reed on Game of Thrones. The actor had a recurring role on the third and fourth season of the HBO series before meeting an, umm, not-so-lovely fate.
The Maze Runner (2014)
Brodie-Sangster scored an epic role when he was cast as Newt in the adaptation of The Maze Runner. The actor will reprise his role in the sequel to the film, Maze Runner: Scorch Trials, currently in production.
Curious to know what the little kid from Love Actually looks like now? The 24-year-old actor (I know, I know — we're all so old, you guys) isn't a child star anymore. Here are some of his latest red carpet pics:
To us, Thomas Brodie-Sangster, you are perfect.
Images: Universal Pictures; Giphy; Getty Images;