'The Bach' Finally Broke Away From Its Formula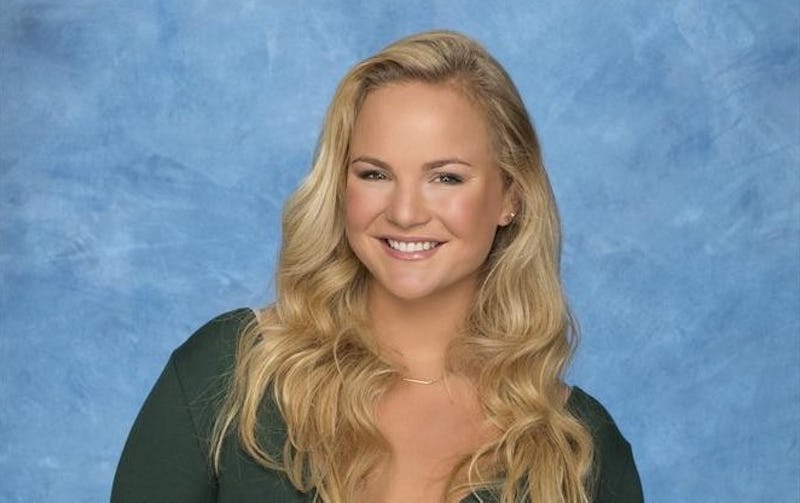 We're in the throes of the holiday season — AKA year-end vacation time — and more than anything, don't you just want to crawl under a blanket and watch hours of reality television? Well, that's the whole reason why The Bachelor exists, and while 2015's candidate Chris Soules isn't all that interesting, we'll have to rely on his potential wives for all of the exciting moments of the season. And if you ask me, I'm most excited to see Bachelor contestant Bo Stanley, a plus size model and former surfer.
And I don't think she's a standout just because of her size, although it is nice to see a Bach contestant who isn't a size 00 (and that includes the guys, by the way!). Actually, with her blond hair, tan, and awesome body, she looks exactly like a Bachelor girl, and Chris is crazy if he tries to pretend that she's not unbelievably gorgeous and tries to pull some BS about "not feeling a connection." It's really her head that makes her stand apart from everyone else. She's an accomplished woman who isn't appearing on reality TV just because she needs a paycheck. Her life seems awesome.
As a model, she's used to being on camera, which means that she won't be shy during the challenges, er dates. She hopefully won't lose her confidence, should the other women make her size a topic of conversation. But you don't go into modeling if you're lacking in self-confidence, so my bet is Bo will be just fine.
She also has a real career to return to — just look at her Instagram, and you'll be impressed by just how many jobs she has booked regularly. She's not just a pretty person who claims to be an "actress/model" on her resume, when what she really does is attend open casting calls hoping to become an actress or model. She's a successful model who books pretty large campaigns.
Bo is also an accomplished athlete, so she's used to performing under much higher stakes than a televised dating show. As a nationally ranked surfer, she's competed in some of the biggest competitions in the world, and now offers an all-girl surfing camp in California, which is yet another way she's able to support herself.
She's also committed to promoting body acceptance. Back in 2013, she participated in the "Healthy Is the New Skinny" campaign. Not only has she proudly posed in her bikini, un-Photoshopped, for the organization, but she's also written about how she learned to accept and love her body. On her Tumblr, she opened up about where she gets her confidence:
I used to feel the pressure from the media to be that "sample size 2" and was constantly critiquing my own body for what it was not. When I finally decided that was never going to be me, I let go of the negativity from the outside and began to focus on the inside. From there I began to love and honor my body as it was made to be. Every curve, muscle, and mark represents who I am and I would never want to change that for anyone.
And again, that's just one aspect that makes Bo a really fun contender for The Bachelor. I kinda don't even want her to win — because wouldn't she be amazing on Bachelor in Paradise? She could teach everyone how to surf and give all of the ladies mermaid hair.
Image: Craig Sjodin/ABC