'Chrisley Knows Best' is Gone For Awhile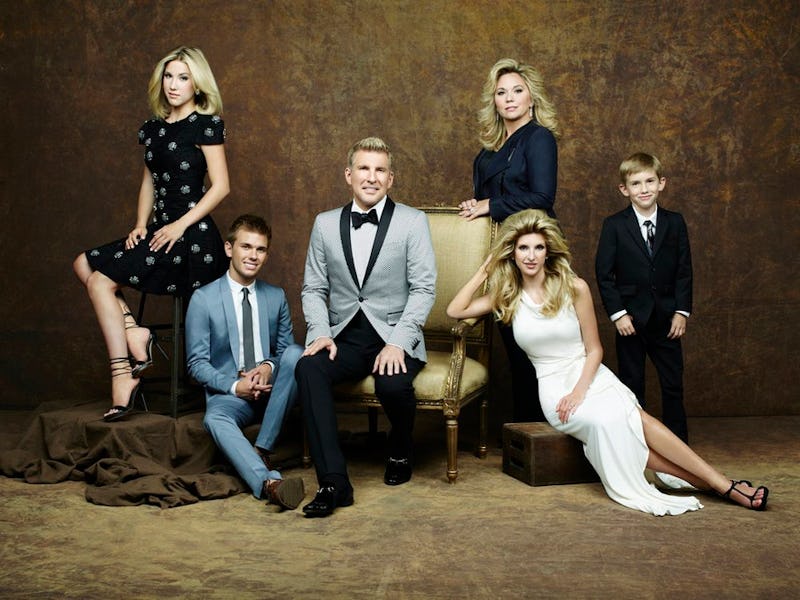 One by one, I am losing my favorite shows to the terrible winter hiatus. First, Scandal, then New Girl, and now, the reality shows are beginning to suffer. Unfortunately, USA's Chrisley Knows Best is next on the list, and I will miss that family terribly. After Tuesday night's season finale and Wednesday night's Christmas special, we will be experiencing a serious lack of my favorite reality show family... and probably for awhile. So when will Chrisley Knows Best Season 3 start?
No official date has been announced, but I can safely say that a Chrisley Season 3 is on its way. This fall, USA announced that they were picking up the show for a third season, since Season 2 ratings have been unsurprisingly stellar. If Chrisley follows pattern, I'd imagine we could see a Season 3 premiere sometime this spring, since Season 1 premiered last March, but of course, that's just a guess. And if it were up to me, the Season 3 premiere would be happening next week.
And when Chrisley Knows Best does come back, there's a lot to look forward to. I'm especially excited to see how Todd handles Chase leaving for college. He acts like his son gets on his nerves, but there's obviously a ton of love there. And I don't doubt for a second that, if Chase moves on campus, Todd's rules will stretch to wherever he may live. Do you seriously think he's going to stop tracking poor Chase's phone at this point?
But if you're already suffering from Chrisley withdrawals, don't worry — there's a lot you can do in the meantime to keep distracted, like:
Cruise Various Chrisley Instagrams
Mostly Chase's, because it is rife with adorable pictures of Chloe. And I cannot get enough.
Trim Your Tree with Chrisley Ornaments
This one can be found for $19.95 at the NBC Universal online store, along with various other Chrisley-related merchandise. Need an apron that says "You gotta risk it to get the biscuit?" You can buy that. Seriously.
Watch Old Episodes Over Again
Because do they ever get old? No, they do not.
Make a Chrisley-mas Card
This is a thing that actually exists on USA's website. All you have to do is upload a photo of yourself, and boom: You, too, can pose alongside Todd (who's wearing a very classy Santa hat). Send it to all your friends to get them in the mood, and if you need to include a last minute shopping list in case they're in the mood to give you gifts this holiday season, then so be it.
Images: Andrew Eccles/USA Network; NBC Universal Store; bricesandler, chrisleygifs/Tumblr