Christmas is a time for love, family, gift-giving, and laugher — and no one does Christmas hilarity better than Saturday Night Live. NBC will air A Saturday Night Live Christmas at 8 pm on Dec. 22, but in case you're busy that night where can you watch the best SNL Christmas sketches online? Currently, Netflix only has Seasons 37 and 38 available, but YouTube, Yahoo Screen, and Hulu are here for us in our time of need. Of course, A Saturday Night Live Christmas is a compilation of all of the best Christmas sketches, but we are already waiting for Santa to come, so do we really have to wait for NBC to air the show? I don't think so.
As I mentioned, you can watch all of Season 37's Christmas episode, hosted by Jimmy Fallon, on Netflix. The episode included cameos from Rachel Dratch, Amy Poehler, Horatio Sanz, Chris Kattan, and Tracy Morgan. Our modern-day replacement for Bing Crosby, Michael Bublé, was the musical guest and the video of his duets features Fallon spoofing on Sting, Justin Bieber, and Russell Brand.
But where else can you get in the SNL Christmas spirit? Now, you can't legally watch all of the great Christmas sketches (like Will Ferrell's Mark Jensen Family Christmas), but here are some other ways to catch some of the best of SNL Christmas:
Alec Baldwin's Schweddy Balls
The NPR Delicious Dish radio show sketches were some of my favorites from SNL in the 1990s. And the Alec Baldwin one with his Schweddy balls has to be one of the greatest Delicious Dish sketches — if not one of the best sketches period — of all time. Good times.
Santa's My Boyfriend
Poehler, Maya Rudolph, and Kristen Wiig sing about Santa being their boyfriend and all they want for Christmas is for Santa to leave his bitch of a wife.
Eddie Murphy's Mister Robinson's Neighborhood
Eddie Murphy's Mister Robinson's Neighborhood sketch went Christmas as he disguised himself as Santa to take Salvation Army donations.
Mary Katherine Gallagher's "Little Drummer Boy"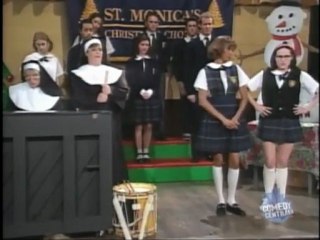 Rosie O'Donnell and the much-missed Whitney Houston joined the outrageous Catholic school girl sketch.
Steve Martin's Holiday Wish
From SNL's Season 12, Steve Martin shows us all what the holiday season is really about — millions of dollars, all encompassing power, 31-day orgasms, and revenge. And oh, yeah that crap about kids singing in the spirit of harmony and peace.
"I Wish It Was Christmas Today"
Although when Fallon hosted in Season 37, Sanz, Kattan, and Morgan all came back to re-perform the now-classic tune, you have to check out the original from 2001. Note how Fallon is such a little baby comic and please focus on Kattan and Morgan's moves.
Consumer Probe with Dan Aykroyd
What kid doesn't want a bag of class for Christmas?
And of Course: "Dick in a Box"
This digital short featuring Justin Timberlake and Andy Samberg is probably the most memorable Christmas-themed video SNL has done. And a great last-minute gift idea!
Image: Dana Edelson/NBC