Demetria McKinney Was Introduced to the 'RHOA'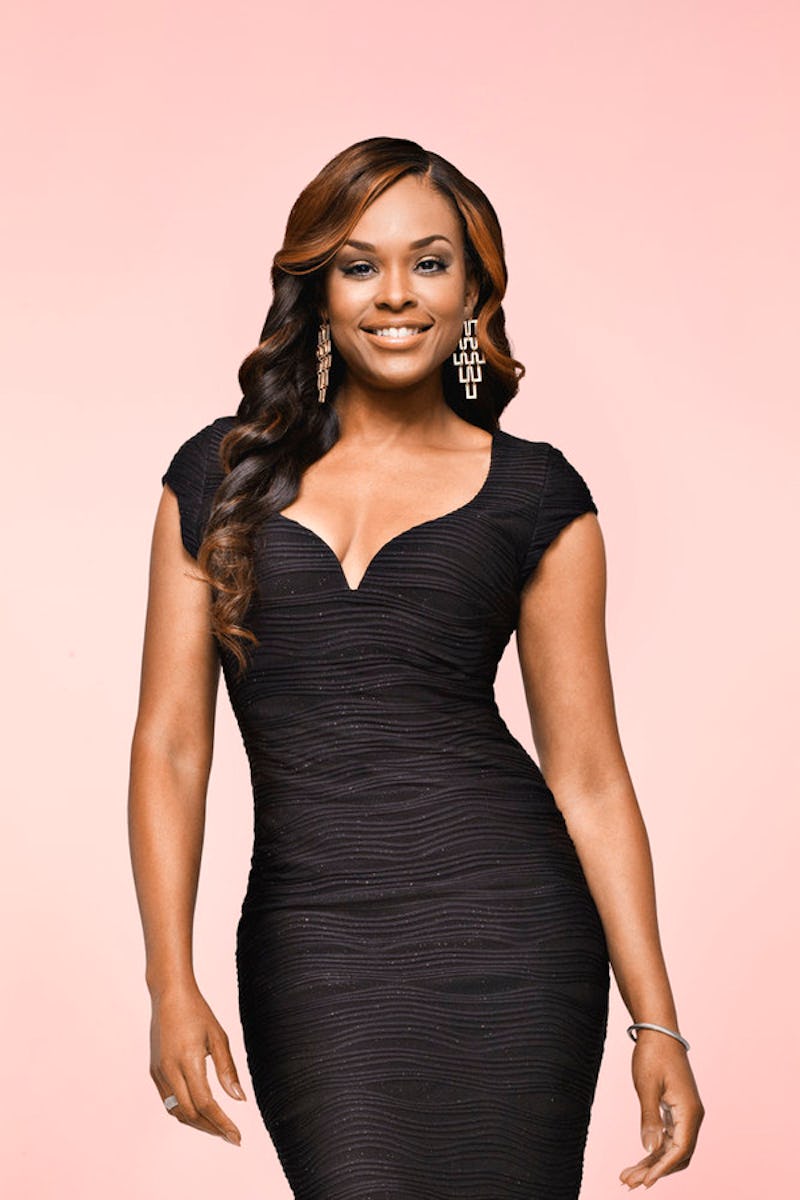 Tonight we finally got to meet the last new cast member from The Real Housewives of Atlanta, Demetria McKinney, an actress and singer who's a friend of Cynthia's. And she made an entrance, honey, by breezing into the Bailey Agency dressed for the red carpet, full hair and makeup over a coordinated white ensemble that she likely put on seconds before the start of the scene. And for those who were scrambling to place who this woman is, she also happened to announce all of her credits right when she walked into the room: she has a song, "100," featuring Da Brat, and used to act on one of Tyler Perry's sitcoms. What a lucky coincidence Bravo's cameras were here to capture such a useful piece of information!
But more interesting than Demetria's resume (though it's not too shabby, don't get me wrong) was how surprised the rest of the cast was that she even exists. It was news to Cynthia and Peter that Demetria is in a years-long relationship with producer Roger Bobb. She was under the impression that Bobb was single, as did Kenya, who tried to set him up with Claudia this week before Cynthia alerted them to Demetria's existence. Kenya looked like she was staring into the eyes of a two-headed ghost when Cynthia told them of Demetria and Roger's relationship.
And you know who Kenya can blame? Tyler Perry, who does not approve of inter-corporate fraternization, and thus set off a chain of seven year on-and-off secret dating, and provided a significant cover for the seemingly commitment phobic Roger Bobb, who doesn't bat an eye at missing Demetria's big music video premiere, which kinda makes it look like she's been justified in her paranoia about people thinking Roger is actually dating Kenya because they've at least been photographed together.
And Cynthia is not that supportive. Her example to reassure Demetria that Kenya wasn't really with Roger is that one time tabloids started a rumor that Peter was steppin' out (thank you, Serial, for making this phrase relevant again) with his own daughter? Not sure if that would make me feel better.
Also, what the hell was up with Roger Bobb's office? I know that he's not working with Tyler Perry anymore, but that looked like a poorly decorated doctor's office in an abandoned building. Just seven trophies and a foam printout of a magazine cover in the corner next to the door? That doesn't scream "successful producer" to me. Kinda like how Demetria's playback troubles didn't scream "successful music video star."
If anything, I think in the upcoming episodes Roger and Demetria need to iron out not just the tech in their respective workplaces, but also how serious their relationship is. But in the meantime, it's fueling a whole lot of RHOA drama.
Image: Alex Martinez/Bravo; Giphy (2)