Quinn & Carrie Take a Step Forward on 'Homeland'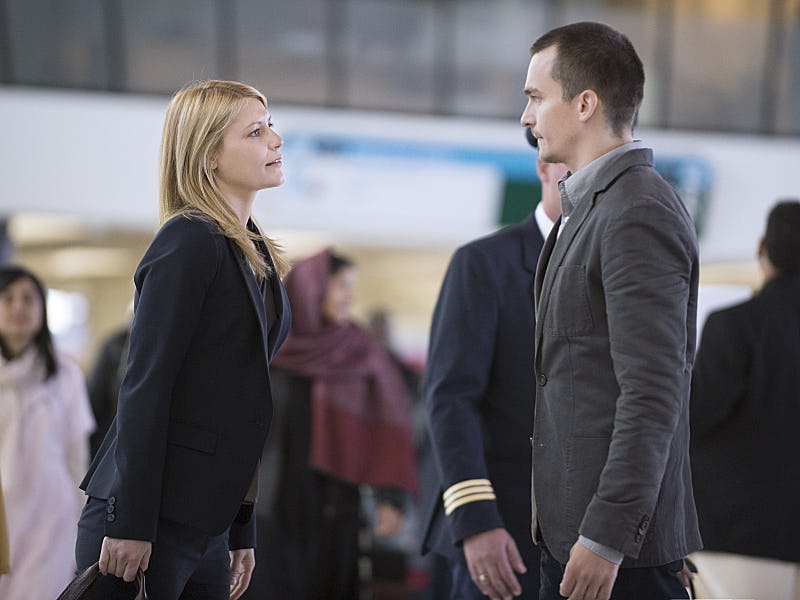 Well it's about damn time. After months of not noticing or realizing that they were perfect for each other Carrie and Quinn finally kissed on the Homeland Season 4 finale. The moment happened under rather strange circumstances, but the kiss was a "Long Time Coming," as accurately described by the episode's title, because I (and I'm sure most fans) have assumed for several episodes now that Quinn has feelings for Carrie, but never really said anything about it. I mean for Pete's sake, even Dar Adal knew about Quinn's affection for Carrie. It's pretty obvious. The only thing that wasn't obvious was how Carrie felt about him. But while the kiss was surely a moment fans will be happy to see, the resulting actions of both Carrie and Quinn involving their relationship may have almost certainly ruined their chances to be together, as Carrie couldn't commit to a relationship with Quinn until it was too late.
So how did the kiss happen in the first place? The episode opened with Carrie and her sister going through their father's belongings after he passed away (a storyline which was written because the actor who played Carrie's father, James Rebhorn, sadly passed away earlier this year). During Frank Mathison's funeral, Quinn shows up to the relief of Carrie and he spends the rest of the day comforting and supporting her through what was clearly a truly difficult time. By the end of the night, Quinn is the only guest left and on their walk back to his car, Carrie and Quinn finally can hold back no longer.
After the kiss, Quinn is clearly ready for a relationship with Carrie but she is hesitant, and for good reason. She tells Quinn "I'll just f**k it up" and that she's horrible in relationships. Quinn responds by saying he's seen her at her worst, so he's not worried about her problems, and that he has his own problems. But he also basically says that maybe they can be there for each other.
Carrie's right not to be too excited to jump back into a relationship as we all know what a colossal screw up the Brody relationship was. In the Season 4 finale, Carrie's mother returns to her life and she finds out that the reason she left was because she had cheated on Frank and was pregnant. So instead of trying to be in any kind of relationship, she decided to leave the Mathisons and put all of her focus on her son. This and Carrie's father's condition really puts Carrie's mistakes and personality into perspective, doesn't it?
But Carrie is not the only screwed up one in this situation. While Carrie was off finding more about her mother and herself in the process, she couldn't fully commit to Quinn the way he hoped, so what does he do? He goes right back into the Black Ops world that he had tried to quit when he thought he and Carrie had a future. Clearly Carrie is not the only one with serious issues in this potential relationship. While I do believe that in some ways, these two could really help each other grow past some of their flaws, I wonder and worry about how much they would lean on each other if they got together. Quinn goes back into a mission at the end of the season finale, so his future with Carrie is extremely uncertain, especially since any of these types of missions could end in Quinn's death.
Now let me make one thing very clear: I want Quinn and Carrie together. I am firmly on this ship. But I do genuinely hope that Quinn and Carrie can realize their flaws and try to work on them separately for a while before jumping into a relationship, because right now their personalities and their faults will just keep driving them away from each other, or worse, will cause them to really destroy each other if they get together too soon.
Images: Joe Alblas/SHOWTIME; hellyeahhomeland, quinnandcarrie/Tumblr