2014 Shows to Binge-Watch Over Christmas Break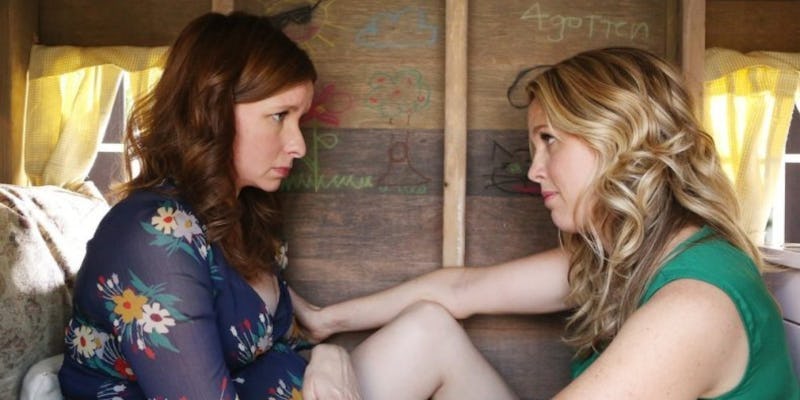 Once work is out, car and plane trips are braved, gifts are purchased and distributed, and you've run out of things to fight about with your relatives, you'll finally have time to do what the holiday season — or any vacation season, really — is all about: catching up on television you missed over the course of the year.
I'd be a fool to assume that you don't already have your binge-watching candidates prepped for efficient viewing. Naturally, mainstay favorites like Mad Men, Orange Is the New Black, and Sherlock already have their immovable seats in your lineup. But just in case you breeze through the usual suspects in the first two nights, there are plenty of other, lesser known pieces of small screen gold that 2014 has to offer.
Yes, some of the best TV shows from the past year might be ones you haven't yet attempted, or even heard much about. But now is the time to rectify this. (That reminds me: catch up on Rectify!) Check below for a handful of recommendations on binge viewing that you may not have already considered. Just because you haven't heard anyone talking about it doesn't mean it's not worth watching — and hey, this'll give you the perfect opportunity to get ahead of the game!
Olive Kitteridge
What Is It? A four-part miniseries, adapted from the novel by Elizabeth Stout, about the depressive turmoils of a retired teacher and wife living in seaside Maine.
Who's Involved? Frances McDormand stars as the title character, with Richard Jenkins and John Gallagher Jr. as her husband and son, and Bill Murray, Zoe Kazan, and Rosemarie DeWitt playing various supporting characters from their quirky small town. The series is directed by Lisa Cholodenko, who helmed the 2010 Best Picture contender The Kids Are All Right.
Where Can I Watch? HBO On Demand.
Why Should I Watch? First off, it's barely a commitment — the show consists of four hour-long episodes… and that's it. (So what have you got to lose, really?) Second, the artistry with which the varied stories of Kitteridge's seaside town are woven together, with drama and comedy alike, makes for a truly inspiring piece of finite storytelling.
Playing House
What Is It? A very sitcommy (but funny) sitcom wo lifelong best friends raising a baby together after the pregnant one's marriage comes to a halt and the other, a workaholic, loses her overseas job.
Who's Involved? UCB vets Lennon Parham and Jessica St. Claire, with the more recognizable names Keegan-Michael Key (of Key and Peele) and Zach Woods (of The Office and Silicon Valley) rounding out the supporting cast.
Where Can I Watch? The USA Network website.
Why Should I Watch? There's something to be said about the survival of the traditional sitcom in this desperately deconstructive era. Playing House is a plucky venture into the well-worn territory, breaking little new ground in terms of formula but managing plentiful laughs nonetheless.
The Honourable Woman
What Is It? A miniseries following the life and work of an Israeli-English businesswoman who unexpectedly inherits a large family company from her brother.
Who's Involved? Maggie Gyllenhaal is strong as the lead; Janet McTeer and a league of less familiar European actors (Stephen Rae, Lubna Azabal, Katherine Parkinson, Tobias Menzies, Eve Best) make up the supporting cast.
Where Can I Watch? Netflix!
Why Should I Watch? Because you've known Maggie Gyllenhaal for years and have always wanted to see her get a role worth her while.
The Affair
What Is it? A dramatic exploration of the aftermath of an extramarital affair on each of the two parties complicit and their loved ones.
Who's Involved? Dominic West and Ruth Wilson play the central duo; Maura Tierney and Joshua Jackson are their respective spouses.
Where Can I Watch? Showtime subscribers can view the series on the network's website or On Demand service.
Why Should I Watch? This one actually gained a bit of traction, though still doesn't compare in notoriety to any of the usual conversation dominators over at HBO or AMC. Though imperfect, the show is an interesting dramatic experiment with some laudable performances.
Review
What Is It? A remake of the similarly titled Australian series, Review is a mockumentary series about an all-purpose critic who reviews an array of real life experiences.
Who's Involved? You'll probably best know creator/star Andy Daly as the guy who dressed up as Ben Franklin in that episode of The Office.
Where Can I Watch? Comedy Central.com, Hulu Plus, and Amazon Prime.
Why Should I Watch? If you're in dire need of one-off watching — perhaps some quick entertainment to get you through a meal — this quirky, zany show fits the bill entirely.
You're the Worst
What Is It? Your ordinary sweet, compassionate love story... about two really self-absorbed, toxic human beings.
Who's Involved? English actor Chris Geere and American actress Aya Cash.
Where Can I Watch? FX's website.
Why Should I Watch? Because we're oversaturated with "dislikable characters," but this is a show that gets the gambit right.
Over the Garden Wall
What Is It? A cartoon miniseries about two brothers lost in an enchanted forest, enduring strange journeys (and some life lessons) along the way.
Who's Involved? Pat McHale, who worked on Adventure Time and The Marvelous Misadventures of Flapjack, created this fantastic miniseries.
Where Can I Watch? Cartoon Network's website, or (if you don't have a compatible cable provider) iTunes.
Why Should I Watch? Because it might actually make you cry (it made me cry), and you need that sometimes! On top of this, it's a loving tribute to a few different eras of classic Disney. I'm talking pre-Princess Era, even: Pinocchio, Alice in Wonderland, and the shorts from the '30s.
Rick and Morty
What Is It? A loving albeit sardonic embrace of Back to the Future, through the lens of Pinky and the Brain (or maybe I have that backwards), in which misanthropic scientific genius Rick and his sweet, dimwitted grandson Morty undertake a legion of sci-fi adventures together, all while their family struggles with equally grave domestic issues.
Who's Involved? Voice actor and animator Justin Rolland, and Dan Harmon, creator of Community.
Where Can I Watch? Cartoon Network's website.
Why Should I Watch? Because it's surprisingly funny (not the one-note gag you might expect), even more surprisingly empathetic, and, most surprisingly of all, quite complex in its sci-fi world building and canon creation. Bonus: it is my favorite new TV show of 2014, for whatever that's worth.
Images: USA (2); HBO; BBC; Showtime; Comedy Central; Cartoon Network (2)