'The Sing-Off's San Fran6 Have Reality TV Pedigree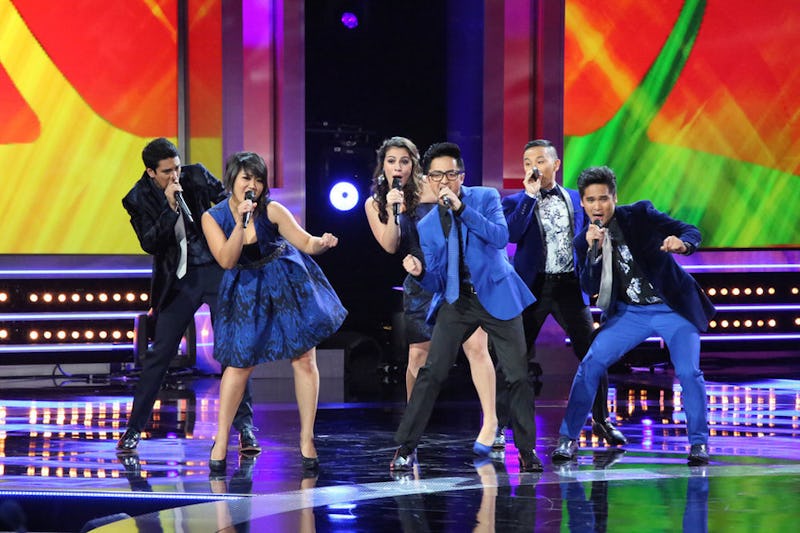 On NBC's one-episode special version of The Sing-Off, San Francisco-based a cappella group San Fran6 didn't quite make it through to the top three teams, but they made a great first impression on the nation's biggest music fans. If there had been more than one episode this season, they might have had the time to make more of an impression, maybe even make it to third or second place. But they have a reality show pedigree.
One of the group's members, Jaron Liclican, has already starred in another reality TV show before — the Filipino version of The Voice . He was in the first episode of blind auditions, singing "Feeling Good" to the panel of judges. While he didn't win that show, either, third time's the charm, right? Maybe it's time to hop on a plane, go to the UK, and compete on The X Factor. Or they could wait for The Sing-Off Season 6, since they're not opposed to repeat groups on this show. Because I really enjoyed San Fran6 — they still need a little practice, but there was a seed of a great group in there. A Sing-Off winning group.
And here are a few other key facts about San Fran6 to tide you over while we impatiently wait for them to release a few more covers to obsessively listen to.
They Were Unbelievably Green When They Performed on The Sing-Off
Some of the other groups were a lot more polished than San Fran6, which probably impacted why they were cut from the final three groups. But it's shocking how little time they spent together before performing on The Sing-Off. In their pre-performance interview, they admitted they'd only been together for a month and a half before appearing on the show. I can't imagine singing that well with people I met only six weeks prior. Well, I can't imagine singing that well ever, but you know what I mean.
They're Like Glee, Back When It Was Good
They're young, they're cute, they prefer to sing Top 40 pop songs, even though they're open to exploring other genres. All things that are hitting my Glee nostalgia. I know it's stupid to have nostalgia of something that's only a few years old and was never even all that great, but I just love multicolored coordinated outfits too damn much. Maybe I'll just call it Pitch Perfect nostalgia.
They Killed This Performance of "Bang Bang"
Ariana Grande is one of the few pop stars who has an amazing range to her voice, but she's propped up by a whole team of musicians, both instrumental and electronic. But San Fran6 recreated her sound perfectly here — and is a big hint about how great they'll be with just a little practice. Seriously, give them a year or two to practice and they'll be Sing-Off winners in no time.
Images: Evans Vestal Ward/NBC (2)